Abstract
Arsenic concentrations were measured in water, soil and arum (vegetables) samples using the Neutron Activation Analysis method and a correlation between arsenic concentrations in the samples was investigated. The case study at Bagerhat, Bangladesh revealed that almost all the water samples were contaminated by a hazardous level of arsenic that exceeding the World Health Organization recommended value of 0.05 mg/L for Bangladesh. Arsenic concentration of all the water samples ranged from 0.09 to 0.87 mg/L. The concentrations in soil and aurum samples were found to be in the range of 2.22–35.21 and 0.07–0.73 mg/kg, respectively. A positive correlation between arsenic concentrations in soil and water samples was observed. Aurum sample was found to be contaminated by arsenic to a harmful level if the corresponding water sample was also highly contaminated.
Access options
Buy single article
Instant access to the full article PDF.
USD 39.95
Price includes VAT (USA)
Tax calculation will be finalised during checkout.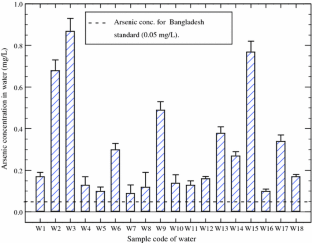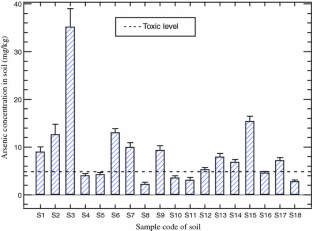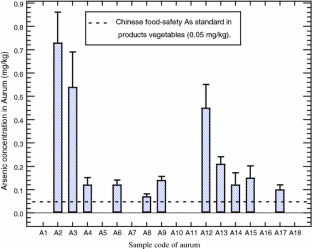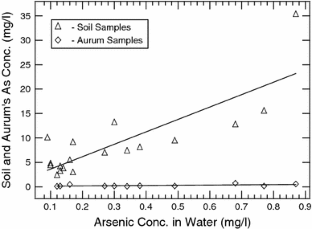 References
Al Rmalli SW, Haris PI, Harrington CF, Ayub M (2004) A survey of arsenic in foodstuffs on sale in the United Kingdom and Imported from Bangladesh. Sci Total Environ 337(1–3):23–30

Alam MB, Sattar MA (2000) Assessment of arsenic contamination in soils and waters in some areas of Bangladesh. Water Sci Technol 42:185–192

BADC (2002) Survey report on irrigation equipment and irrigated area in Boro/2001 season. Bangladesh Agric. Dev. Corp

BGS (2000) District mean groundwater arsenic concentrations: available: http://www.bgs.ac.uk/arsenic/bphase2/maps/nhs/DistrictMeanAsConc.pdf

Bhattacharya P, Welch AH, Stollenwerk KG, McLaughlin MJ, Bundschuh J, Panaullah G (2007) Arsenic in environment: biology and chemistry. Sci Tot Environ 379:109–120

Bugang JB (2006) China, Peoples Republic of FAIRS Product Specific Maximum Levels of Contaminants in Foods 2006. UFA Service. Report Number: CH6064

Chowdhury UK, Biswas BK, Chowdhury TR, Samanta G, Mandal BK, Basu GC, Chanda CR, Lodh D, Saha KC, Mukherjee SK, Roy S, Kabir S, Quamruzzaman Q, Chakraborti D (2000) Groundwater arsenic contamination in Bangladesh and West Bengal, India. Environ Health Perspect 108:393–397

Dhaka Community Hospital (2010) Arsenic pollution in Bangladesh. Retrieved 25 Jan, 2010, from http://www.dchtrust.org/arsenic_pollution_in_bangladesh.htm

Duxbury JM (2005) What are safe levels of arsenic in food and soils? International Symposium on Behavior of Arsenic in Aquifers, Soils, and Plants: Implications for Management Dhaka, Bangladesh

Hasnat MA, Smith W, Bayzidur R, Ziaul H, Umme K, Keith D, Rakibuddin M, Azahar A (2005) chronic arsenic exposure and adverse pregnancy outcomes in Bangladesh. Epidemiology 16(1):82–86

Islam MT, Islam SA, Latif SA (2007) Detection of arsenic in water, herbal and soil samples by neutron activation analysis technique. Bull Environ Contum Toxicol 79:327–330

Jahiruddin M, Islam MR, Shah AL, Islam S, Ghani MA (2004) Effects of arsenic contamination on yield and arsenic accumulation in crops. In: Shah MAL et al. (ed) Proceedings of Workshop on Arsenic in the Water-Soil-Crop Systems. BRRI, Gazipur Publication No. 147: 39–52

Jinaidah Correspondent. Arsenic found in coconut water and date-juice in Jinaidah area, Bangladesh (Daily Purbanchal in Bangla language). Retrieved Jan 21, 2010, from http://www.purbanchal.com

Meharg AA, Rahman MM (2002) Arsenic contamination of Bangladesh paddy field soils: implications for rice contribution to arsenic consumption. Environ Sci Technol 37:229–234

Moinuddin M (2004) Drinking death in groundwater: arsenic contamination as a threat to water security for Bangladesh. Occasional Paper Series: Program in Arms Control, Disarmament, and International Security (ACDIS) Occasional Paper series Available: http://acdis.illinois.edu/publications/OP.html

Norton GJ, Islam MR, Duan G, Lei M, Zhu Y, Deacon CM, Moran AC, Islam S, Zhao F-J, Stroud JL, McGrath SP, Feldmann J, Price AH, Meharg AA (2010) Arsenic shoot-grain relationships in field grown rice cultivars. Environ Sci Technol 44(4):1471–1477

Patel KS, Brandt KSR, Jakubowski N, Corns W, Hoffmann P (2005) Arsenic contamination in water, soil, sediment and rice of central India. Environ Geochem Health 27(2):131–145

Polizzotto ML, Harvey CF, Li GC, Badruzzman B, Ali A, Newville M, Sutton S, Fendorf S (2006) Solid-phases and desorption processes of arsenic within Bangladesh sediments. Chem Geol 228:97–111

Ravenscroft HB (2009) Arsenic in groundwater: a threat to sustainable agriculture in South and South-east Asia. Environ Int 35:647–654

Saper RB, Kales SN, Paquin J, Burns MJ, Eisenberg DM, Davis RB, Phillips RS (2004) Heavy metal content of ayurvedic herbal medicine products. J Am Med Assoc 292(23):2868–2873

Tamar Lasky WS, Kadry A, Hoffman MK (2004) Mean total arsenic concentrations in chicken 1989–2000 and estimated exposures for consumers of chicken. Environ Health Perspectives 112(1)

Ullah SM (1998) In Abstracts: International conference of arsenic pollution of groundwater in Bangladesh: causes, effects and remedies. Dhaka Community Hospital, Dhaka, p 133

Yu Chen PF, Mary G, Tariqul I, Alauddin A, Maria A, Graziano JH, Habibul A (September 2009) Toxicol Appl Pharmacol 239(2):184–192
Acknowledgments
We thank the Department of Physics, Jahangirnagar University for funding this work and Bangladesh Atomic Energy Commission (AEC) for allowing the experiment to be conducted in their laboratories. Thanks are for the interviewed people of Bagerhat for their assistance in collecting the samples. The staffs of the reactor unit and of the reactor laboratories of INST are acknowledged for their cooperation to conduct the experiment. Thanks are for Chris Chantler and Stephen Peter Best for their supports.
About this article
Cite this article
Abdullah, S.M.A., Islam, M.T., Islam, S.Z. et al. Analysis of Arsenic Concentrations and Correlation in Water, Soil and Aurum by Neutron Activation Analysis Technique: A Case Study in Bagerhat, Bangladesh. Bull Environ Contam Toxicol 85, 301–306 (2010). https://doi.org/10.1007/s00128-010-0075-0
Received:

Accepted:

Published:

Issue Date:
Keywords
Arsenic

Neutron activation analysis

Aurum

Same origin