Abstract
To investigate the effects of cadmium (Cd) on photosynthetic and antioxidant activities of safflower (Carthamus tinctorius L.) plants, two cultivars (Yuming and New safflower No. 4) were used for long-term pot experiment, under 0, 25, 50 or 100 mg Cd kg−1 (DW) soil conditions. The results showed that there is a large amount of Cd (148.6–277.2 mg kg−1) accumulated in the shoot of safflower, indicating this species might be a potential Cd accumulator. Exposure to 25–100 mg Cd kg−1 soil decreased the net photosynthetic rate by 25.6%–48.9% for New safflower No. 4, and 16.7%–57.3% for Yuming, respectively. The inhibition of photosynthesis might result from the limitation of stomatal conductance, reduction in photosynthetic pigment, and destruction of photosynthetic apparatus caused by Cd stress. Cd caused an enhancement of malondialdehyde (MDA), an increase in activity of superoxide dismutase (SOD) and ascorbate peroxidase (APX), and a decrease in catalase (CAT) activity for both cultivars. It seems that SOD and APX accounted for the scavenging of oxidant stress in safflower cultivars. The physiological response of safflower plants to Cd stress was cultivar- and dose- dependent. New safflower No. 4 exhibited high photosynthetic performance at high Cd stress, which may be contributed by high intercellular CO2 concentration, APX activity and Car/Chl ratio. In contrast, Yuming is more tolerant to Cd toxicity at low Cd level, in which an efficient antioxidant system is involved.
Access options
Buy single article
Instant access to the full article PDF.
USD 39.95
Price includes VAT (USA)
Tax calculation will be finalised during checkout.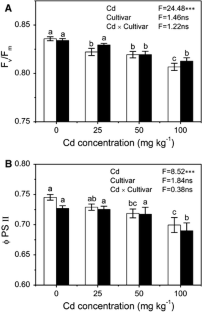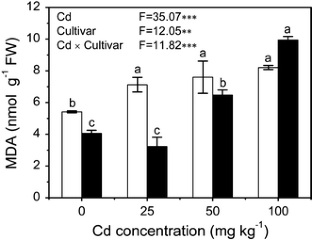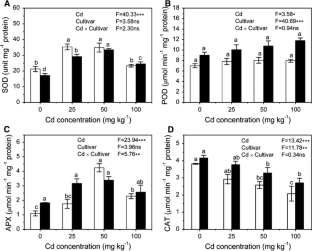 References
Aebi H (1984) Catalase in vitro. Meth Enzymol 105:121–126

Ait Ali N, Bernal MP, Ater M (2002) Tolerance and bioaccumulation of copper in Phragmites australis and Zea mays. Plant Soil 239:103–111

Baker AJM (1981) Accumulators and excluders-strategies in the response of plants to heavy metals. J Plant Nutr 3:643–654

Baryla A, Carrier P, Franck F, Coulomb C, Sahut C, Havaux M (2001) Leaf chlorosis in oilseed rape plants (Brassica napus) grown on cadmium-polluted soil: causes and consequences for photosynthesis and growth. Planta 212:696–709

Bassil E, Kaffka S (2002) Response of safflower (Carthamus tinctorius L.) to saline soils and irrigation I. Consumptive water use. Agr Water Manage 54:67–80

Baszynski T, Wajda L, Krol M, Wolinska D, Drupa Z, Tukendorf A (1980) Photosynthetic activities of cadmium-treated tomato plants. Physiol Plant 48:365–370

Beauchamp C, Fridovich I (1971) Superoxide dismutase: improved assays and an assay applicable to acrylamide gels. Anal Biochem 44:276–287

Benavides M, Gallego MS, Tomaro ML (2005) Cadmium toxicity in plants. Braz J Plant Physiol 17:21–34

Bhargava P, Kumar Srivastava A, Urmil S, Chand Rai L (2005) Phytochelatin plays a role in UV-B tolerance in N2-fixing cyanobacterium Anabaena doliolum. J Plant Physiol 162:1220–1225

Boominathan R, Doran PM (2003) Cadmium tolerance and antioxidative defenses in hairy roots of the cadmium hyperaccumulator, Thlaspi caerulescens. Biotechnol Bioeng 83:158–167

Bradford M (1976) A rapid and sensitive method for the quantitation of microgram quantities of protein utilizing the principle of protein-dye binding. Anal Biochem 72:248–254

Chaoui A, Mazhoudi S, Ghorbal M, El Ferjani E (1997) Cadmium and zinc induction of lipid peroxidation and effects on antioxidant enzyme activities in bean (Phaseolus vulgaris L.). Plant Sci 127:139–147

Chartzoulakis K, Loupassaki M, Bertaki M, Androulakis I (2002) Effects of NaCl salinity on growth, ion content and CO2 assimilation rate of six olive cultivars. Sci Hortic 96:235–247

Chien H, Wang J, Lin C, Kao C (2001) Cadmium toxicity of rice leaves is mediated through lipid peroxidation. Plant Growth Regul 33:205–213

de Azevedo Neto A, Prisco J, Enéas-Filho J, Abreu C, Gomes-Filho E (2006) Effect of salt stress on antioxidative enzymes and lipid peroxidation in leaves and roots of salt-tolerant and salt-sensitive maize genotypes. Environ Exp Bot 56:87–94

Dordas CA, Sioulas C (2008) Safflower yield, chlorophyll content, photosynthesis, and water use efficiency response to nitrogen fertilization under rainfed conditions. Ind Crop Prod 27:75–85

Ekmekçi Y, Tanyolaç D, Ayhan B (2008) Effects of cadmium on antioxidant enzyme and photosynthetic activities in leaves of two maize cultivars. J Plant Physiol 165:600–611

Gallego S, Benavides M, Tomaro M (1996) Effect of heavy metal ion excess on sunflower leaves: evidence for involvement of oxidative stress. Plant Sci 121:151–159

Hsu Y, Kao C (2007) Toxicity in leaves of rice exposed to cadmium is due to hydrogen peroxide accumulation. Plant Soil 298:231–241

Krantev A, Yordanova R, Janda T, Szalai G, Popova L (2008) Treatment with salicylic acid decreases the effect of cadmium on photosynthesis in maize plants. J Plant Physiol 165:920–931

Laspina NV, Groppa MD, Tomaro ML, Benavides MP (2005) Nitric oxide protects sun flower leaves against Cd-induced oxidative stress. Plant Sci 169:323–330

Li HS (2000) Principles and techniques of plant physiological biochemical experiment. Higher Education Press, Beijing, pp 260–263

Lichtenthaler H (1987) Chlorophylls and carotenoids: pigments of photosynthetic biomembranes. Methods Enzymol 148:350–382

Mallick N, Mohn FH (2003) Use of chlorophyll fluorescence in metal-stress research: a case study with the green microalga Scenedesmus. Ecotox Environ Safe 55:64–69

Metwally A, Safronova VI, Belimov AA, Dietz KJ (2005) Genotypic variation of the response to cadmium toxicity in Pisum sativum L. J Exp Bot 56:167–178

Mobin M, Khan NA (2007) Photosynthetic activity, pigment composition and antioxidative response of two mustard (Brassica juncea) cultivars differing in photosynthetic capacity subjected to cadmium stress. J Plant Physiol 164:601–610

Monni S, Salemaa M, Millar N (2000) The tolerance of Empetrum nigrum to copper and nickel. Environ Pollut 109:221–229

Nakano Y, Asada K (1981) Hydrogen peroxide is scavenged by ascorbate-specific peroxidase in spinach chloroplasts. Plant Cell Physiol 22:867–880

Nwugo C, Huerta A (2008) Effects of silicon nutrition on cadmium uptake, growth and photosynthesis of rice plants exposed to low-level cadmium. Plant Soil 311:73–86

Page A, Miller R, Keeney D (1982) Methods of soil analysis. American Society of Agronomy, Inc, Madison

Pence NS, Larsen PB, Ebbs SD, Letham DL, Lasat MM, Garvin DF, Eide D, Kochian LV (2000) The molecular physiology of heavy metal transport in the Zn/Cd hyperaccumulator Thlaspi caerulescens. Proc Natl Acad Sci USA 97:4956–4960

Putter J (1974) Peroxidases. In: Bergmeyer HU (ed) Methods of enzymatic analysis: II. Academic Press, New York., pp 685–690

Sanita di Toppi L, Gabrielli R (1999) Response to cadmium in higher plants. Environ Exp Bot 41:105–130

Sigfridsson KG, Bernat G, Mamedov F, Styring S (2004) Molecular interference of Cd (2+) with photosystem II. Biochim Biophys Acta 1659:19–31

Sims R, Hastings A, Schlamadinger B, Taylor G, Smith P (2006) Energy crops: current status and future prospects. Global Change Biol 12:2054–2076

Sun Y, Zhou Q, Diao C (2008) Effects of cadmium and arsenic on growth and metal accumulation of Cd-hyperaccumulator Solanum nigrum L. Bioresour Technol 99:1103–1110

Tiryakioglu M, Eker S, Ozkutlu F, Husted S, Cakmak I (2006) Antioxidant defense system and cadmium uptake in barley genotypes differing in cadmium tolerance. J Trace Elem Med Biol 20:181–189

Van Assche F, Clijsters H (1990) Effects of heavy metals on enzyme activity in plants. Plant Cell Environ 13:195–206

Weiss E (2000) Oilseed crops. Second Addition. Blackwell Science, London
Acknowledgments
Financial support from the National Natural Science Foundation of China (No. 40971296) and the Natural Science Foundation for College of Anhui Province (KJ2009B073) is gratefully acknowledged.
About this article
Cite this article
Shi, G., Liu, C., Cai, Q. et al. Cadmium Accumulation and Tolerance of Two Safflower Cultivars in Relation to Photosynthesis and Antioxidantive Enzymes. Bull Environ Contam Toxicol 85, 256–263 (2010). https://doi.org/10.1007/s00128-010-0067-0
Received:

Accepted:

Published:

Issue Date:
Keywords
Antioxidant activity

Cadmium

Photosynthesis

Safflower