Abstract
Flubendiamide belongs to a novel class of insecticide which controls lepidopteran pest complex of cabbage such as diamondback moth, cabbage white butterfly, cluster caterpillar etc. Being a newly introduced insecticide no information is available on its residue persistence in cabbage. A study was undertaken to evaluate the residue persistence of flubendiamide in cabbage and soil following 2 applications of flubendiamide 480 SC at the recommended and double the recommended dose of 24 and 48 g a.i. ha−1. Initial residue deposits of flubendiamide in cabbage were 0.33 and 0.49 mg kg−1 respectively. The residues persisted for 10 days from the both the treatments and dissipated with the half-life of 3.9 and 4.45 days, respectively. Des-iodo flubendiamide, a metabolite of flubendiamide, was not detected in cabbage at any time during the study period. Soil sample collected from the treated field after 15 days was free from any residue of flubendiamide or its metabolite.
Access options
Buy single article
Instant access to the full article PDF.
USD 39.95
Price includes VAT (USA)
Tax calculation will be finalised during checkout.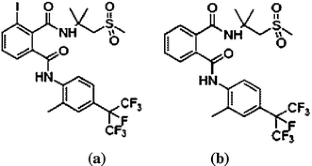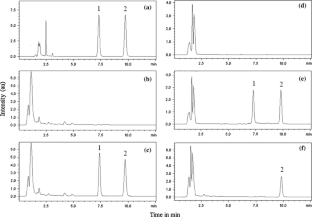 References
Anonymous (2009) Evaluation of the new active flubendiamide in the products belt 480 SC insecticide and belt 240 WG insecticide. Australian pesticide and Veterinary Medicine Authority, Canberra, Australia, pp 7–40

Battu RS, Singh B, Kooner R, Singh B (2008) Simple and efficient method for the estimation of residues of flubendiamide and its metabolite des-iodo flubendiamide. J Agric Food Chem 56:2299–2304

Hirooka T, Nishimatsu T, Kodama H, Reckmann U, Nauen R (2007a) The biological profile of flubendiamide, a new benzenedicarboxamide insecticide. Pflanzenschutz-Nachrichten Bayer 60(2):183–202

Hirooka T, Kodama H, Kariyama K, Nishimatsu T (2007b) Field development of flubendiamide (Phoenix, Takumi) for lepidpterous insect control in vegetables, fruits, tea, cotton and rice. Pflanzenschutz-Nachrichten Bayer 60(2):203–218

Latif MA, Rahman MM, Alam MZ, Hussain MM (2009) Effect of flubendiamide and some other insecticides on arthropod's biodiversity used to control brinjal shoot and fruit borer (Leucinodes orbonalis G.). Int J Ag Environ Biotech 2(2):173–179

Mohan M, Gujar GT (2003) Local variation in susceptibility of diamond back moth to insecticides and role of detoxification enzymes. J Crop Protec 22:495–504

Shane H (2006) Flubendiamide: the next generation in lepidoptera pest management. Paper presented at the annual meeting of the Entomological Society of America (ESA) held at research Triangle Park, NC, December 10–13

Tohnishi M, Nakao H, Furuya T, Seo A, Kodama H, Tsubata K, Fujioka S, Kodama H, Hirooka T, Nishimatsu T (2005) Flubendiamide, a novel insecticide highly active against Lepidopterous insect pests. J Pestic Sci 30(4):354–360
Acknowledgments
The authors thank Director, IIHR Bangalore for providing the facilities for carrying out the study, M/S Bayer Crop Science, India for sponsoring the study.
About this article
Cite this article
Mohapatra, S., Ahuja, A.K., Deepa, M. et al. Persistence and Dissipation of Flubendiamide and Des-iodo Flubendiamide in Cabbage (Brassica oleracea Linne) and Soil. Bull Environ Contam Toxicol 85, 352–356 (2010). https://doi.org/10.1007/s00128-010-0063-4
Received:

Accepted:

Published:

Issue Date:
Keywords
Cabbage

Des-iodo flubendiamide

Dissipation

Flubendiamide

Half-life