Abstract
Total Mercury (Hg) concentrations were determined in soil, river sediments and six (6) species of fish from the River Pra Basin in southwestern Ghana by Cold Vapour Atomic Absorption Spectrometry. Mercury concentration (μg g−1) ranged from 0.042 to 0.145 for soil: from 0.390 to 0.707 for sediments and from <0.001 to 0.370 for fish. All the fish samples had Hg concentration below the World Health Organisation (WHO) permissible limit of 0.5 μg g−1 whereas all the sediment samples had levels higher than the US-EPA value of 0.2 μg g−1. The results obtained from this study showed that fish from River Pra Basin are unlikely to constitute any significant mercury exposure to the public through consumption. No apparent trend of increasing mercury concentration along the main river as it flows downward toward the sea was observed.
Access options
Buy single article
Instant access to the full article PDF.
USD 39.95
Price includes VAT (USA)
Tax calculation will be finalised during checkout.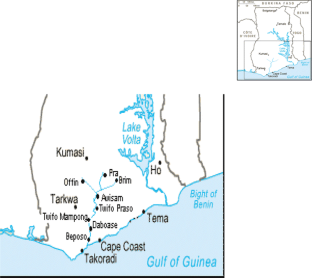 References
Adimado AA, Baah DA (2002) Mercury in human blood, urine, hair, nail and fish from the Ankobra and Tano river Basin in South Western Ghana. Bull Environ Contam Toxicol 68:339–346

Akagi H, Nishimura H (1991) Speciation of mercury in the environment. In: Suzuki T, Imura N, Clarkson TW (eds) Advances in mercury toxicology. Plenum Press, New York, USA, pp 53–76

Akagi H, Malm O, Branches FJP, Kinjo Y, Kashima Y, Guimaraes JRD, Oliveira R, Haraguchi BK, Pfeiffer WC, Takizawa Y, Kato H (1995) Human exposure to mercury due to gold mining in the Papajos river basin, Amazon, Brazil: speciation of mercury in human hair, blood and urine. Water Air Soil Pollut 80:85–94

Amonoo-Neizer EH, Nyamah D, Bakiamoh SB (1996) Mercury and arsenic pollution in soil and biological samples around the mining towns of Obuasi, Ghana. Water Air Soil Pollut 91:363–373

Babut M, Sekyi R, Rambaud A (2003) Improving the environmental management of small scale gold mining in Ghana: a case study of Dumasi. J Cleaner Prod 11:215–221

Bakir F, Jamluji SF, Amin-Zaki L, Murtadha M, Khalidi NY, Al-Rawi S, Tikriti HI, Dhahir TW, Clarkson JC, Doherty RA (1973) Methylmercury poisoning in Iraq. Science 181:230–241

Bannerman W, Potin-Gautier M, Amouroux D, Tellier S, Rambaud A, Babut M, Adimado A, Beinhoff C (2003) Mercury and arsenic in the gold mining regions of the Ankobra river basin in Ghana. J Phys IV 107:107–110

Bonzongo JC, Donkor AK, Nartey VK (2003) Environmental impacts of mercury related to artisanal gold mining in Ghana. J Phy IV 107:217–220

Burger J, Gaines KF, Boring CS, Stephens WL Jr, Snodgrass J, Gochfeld M (2001) Mercury and selenium in fish from Savannah River: species, trophic levels and differences. Environ Res 87:108–118

Donkor AK, Bonzongo JC, Nartey VK, Adotey DK (2006) Mercury in different environmental compartments of the Pra River Basin, Ghana. Sci Total Environ 368:164–176

Froese R, Pauly D (2009) Editors 2009. Fish Base World Wide Web electronic publication www.fishbase.org version (10/2009)

Golow AA, Adzei EA (2003) Mercury in the surface soil and cassava crop near an alluvial goldmine at Dunkwa-on-Offin, an alluvial goldmine, Ghana. Bull Environ Contam Toxicol 69:228–235

Golow AA, Mingle LC (2002) Mercury in river water and sediments in some rivers near Dunkwa-on-Offin, an alluvial goldmine, Ghana. Bull Environ Contam Toxicol 70:379–384

Hunter DB, Leatherland JF, Stokes PM (1987) The effects of polychlorinated biphenyls and methyl mercury, singly adding combination on mink II. Reproduction and kit development. Arch Environ Contam Toxicol 16:449–454

Irukayama K (1977) Case history of minamata. In: Tsubaki T, Irukayama K (eds) Minamata desease, methylmerury poisoning in minamata and niigata. Japan, Kodansah Ltd. (Tokyo) and Elsevier Science. Publ. Co., Amsterdam, pp 2–56

Jackson TA (1990) Biological and Environmental control of mercury accumulation by fish in lakes and reservoirs of northern Manitoba, Canada. Can J Fish Aquat Sci 48:2449–2470

Lange TR, Royals HE, Connor LL (1994) Mercury accumulation in largemouth bass (Micropterus salmoides) in a Florida. Lake Fla Game Freshw Fish Comm 32:727

Larceda LD, Salomons W (1991) Mercury in the amazon: a chemical time bomb? A report sponsored by the Dutch ministry of housing. Phys Plann Environ, 47 pp

Nriagu JO, Pfeiffer WC, Malm O, Mierle G (1992) Mercury pollution in Brazil. Nature 356:389

Pfeiffer WC, Larceda LD (1988) Mercury input into the Amazon region, Brazil. Environ Technol Lett 9:325–330

Renzoni A, Zino F, Franchi E (1998) Mercury levels along the food chain and risk for exposed populations. Environ Res 77:68–72

Rose R, Hutcheson MS, West CR, Pancorbo O, Hulme K, Cooperman A, DeCesare G, Isaac R, Screpetis A (1999) Fish mercury distribution in Massachusetts, USA lakes. Environ Toxicol Chem 18:1370–1379

Rudd JWM, Turner MA (1983) Suppression of mercury and selenium bioaccumulation by suspended and bottom sediments. Can J Fish Aquat Sci 40:2218–2227

Sorensen JA, Glass GE, Schmidt KW, Huber JK, Rapp GR Jr (1990) Airborne mercury deposition and watershed characteristics in relation to mercury concentrations in water, sediments, plankton and fish of eighty northern Minnesota lakes. Environ Sci Technol 24:1716–1727

Voegborlo RB, Baah DA, Kwaansa-Ansah EE, Adimado AA, Ephraim JH (2004) Mercury concentrations in fish species from the Gulf of Guinea, Ghana. Bull Environ Contam Toxicol 73:1057–1064
Acknowledgments
The authors would like to thank Mr. Munir Abdullah Dawood of Pure and Applied Biology Department, Faculty of Biosciences, Kwame Nkrumah University of Science and Technology for identifying the fish species.
About this article
Cite this article
Oppong, S.O.B., Voegborlo, R.B., Agorku, S.E. et al. Total Mercury in Fish, Sediments and Soil from the River Pra Basin, Southwestern Ghana. Bull Environ Contam Toxicol 85, 324–329 (2010). https://doi.org/10.1007/s00128-010-0059-0
Received:

Accepted:

Published:

Issue Date:
Keywords
Mercury

Fish

Soil

Sediment

River Pra basin

Ghana