Abstract
Thirty Zea mays L. hybrids were screened using hydroponically—grown seedlings treated in the medium with high cadmium content (100 μM Cd(NO3)2·4H2O). Measurements showed conspicuous differences between the hybrids in the growth parameters in Cd treated plants. Hybrids differed greatly in Cd accumulation and translocation. Root/shoot ratio in Cd concentration ranged from 2.78 to 12.83. The majority of the heavy metal was localized in the root system. Five hybrids were chosen and the effect of silicon (5 mM) effect on high-level cadmium toxicity symptoms was investigated. Silicon decreased Cd accumulation in roots and its translocation into the shoots.
Access options
Buy single article
Instant access to the full article PDF.
USD 39.95
Price includes VAT (USA)
Tax calculation will be finalised during checkout.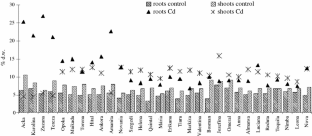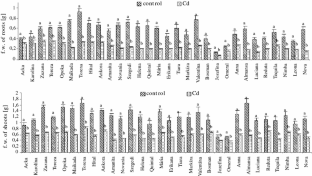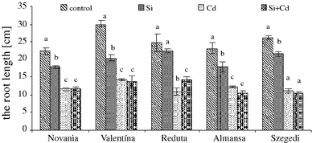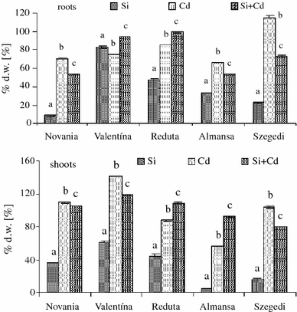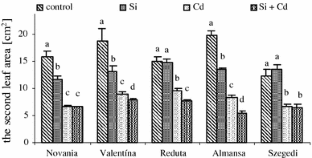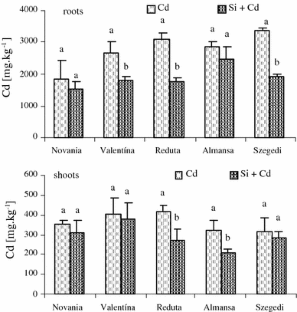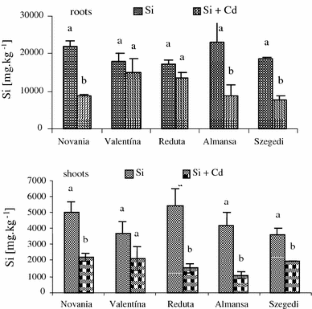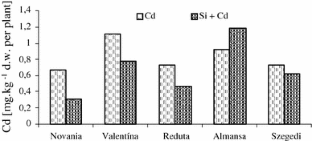 References
Clemens S (2006) Toxic metal accumulation, responses to exposure and mechanisms of tolerance in plants. Biochemie 88:1707–1719

Da Cunha KPV, Do Nascimento CWA (2009) Silicon effects on metal tolerance and structural changes in maize (Zea mays L.) grown on a cadmium and zinc enriched soil. Water Air Soil Pollut 197:323–330

Epstein E (1994) The anomaly of silicon in plant biology. Proc Natl Acad Sci USA 91:11–17

Florijn PJ, Van Beusichem ML (1993) Uptake and distribution of cadmium in maize inbred lines. Plant Soil 150:25–32

Greger M, Löfstedt M (2004) Comparison of uptake and distribution of cadmium in different cultivars of bread and durum wheat. Crop Sci 44:501–507

Kobza J (1995) Soil monitoring system in Slovakia. Env Monit Asses 34:127–129

Liang Y, Wong JWC, Wei L (2005) Silicon–mediated enhancement of cadmium tolerance in maize (Zea mays L.) grown on cadmium contaminated soil. Chemosphere 58:475–483

Lux A, Luxová M, Abe J, Tanimoto E, Hattori T, Inanaga S (2003) The dynamics of silicon deposition in the sorghum root endodermis. New Phytol 158:437–441

Mitani N, Yamaji N, Ma JF (2009) Identification of maize silicon influx transporters. Plant Cell Physiol 50:5–12

Nehnevajova E, Herzig R, Federer G, Erismann KH, Schwitzguébel JP (2005) Screening of sunflower cultivars for metal phytoextraction in a contaminated field prior to mutagenesis. Int J Phytorem 7:337–349

Neumann D, Zur Neiden U (2001) Silicon and heavy metal tolerance of higher plants. Phytochemistry 56:685–692

Nwugo CC, Huerta AJ (2008) Silicon-induced cadmium resistance in rice (Oryza sativa). J Plant Nutr Soil Sci 171:841–848

Pinto AP, Mota AM, De Varennes A, Pinto FC (2004) Influence of organic matter on the uptake of cadmium, zinc, copper and iron by sorghum plants. Sci Total Environ 326:239–247

Shi X, Zhang C, Wang H, Zhang F (2005) Effect of Si on the distribution of Cd in rice seedlings. Plant Soil 272:53–60

Sridhar BBM, Han FX, Diehl SV, Monts DL, Su Y (2007) Effects of Zn and Cd accumulation of structural and physiological characteristics of barley plants. Brazilian J Plant Physiol 19:15–22

Sugiyama M, Ae N, Arao T (2007) Role of roots in differences in seed cadmium concentration among soybean cultivars—proof by grafting experiment. Plant Soil 295:1–11

Vaculík M, Lux A, Luxová M, Tanimoto E, Lichtscheidl I (2009) Silicon mitigates cadmium inhibitory effects in young maize plants. Environ Exp Bot 67:52–58
Acknowledgments
The research is financially supported by VEGA 1/0472/10 from Slovak Grant Agency, COST 0004-06 from Slovak Research and Development Agency APVV and UK/325/2009 and it is a part of COST Action FA0905. Especially we thank to Dipl. Ing. B. Ryšavá, PhD, Sempol spol. s.r.o. for providing seeds of Z. mays hybrids.
About this article
Cite this article
Lukačová Kuliková, Z., Lux, A. Silicon Influence on Maize, Zea mays L., Hybrids Exposed to Cadmium Treatment. Bull Environ Contam Toxicol 85, 243–250 (2010). https://doi.org/10.1007/s00128-010-0046-5
Received:

Accepted:

Published:

Issue Date:
Keywords
Cadmium

Silicon

Maize

Hydroponics