Abstract
Cadmium and zinc from anthropogenic sources in Lake Nakuru were investigated. High metal levels (mg/kg) in soils (Cd ≤ 16.3 and Zn ≤ 280) and Acacia xanthophloea (Cd ≤ 32 and Zn ≤ 310) were observed at polluted sites. Significant variations in metal values were evaluated using ANOVA (F test) and student's t test at p < 0.05 and metal correlations studied. High levels of metals in soils and unhealthy/dying Acacia were obtained at polluted sites. Significant positive correlation was obtained between Cd and Zn in soils and plants. Acacia sp are effective biomonitor of environmental quality in areas subjected to pollution.
Access options
Buy single article
Instant access to the full article PDF.
USD 39.95
Price includes VAT (USA)
Tax calculation will be finalised during checkout.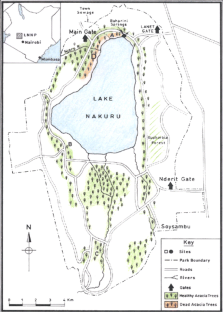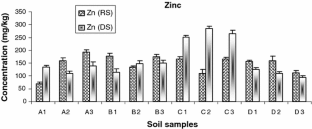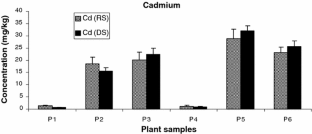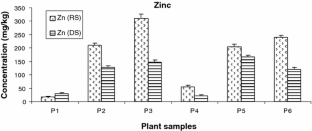 References
Aksoy A, Sahin U, Duman F (2000a) Robinia pseudo-acacia L. as a possible biomonitor of heavy metal pollution in Kayseri. Tr J Bot 24(5):279–284

Aksoy A, Celik A, öztürk M (2000b) Plants as possible indicators of heavy metal pollution in Turkey. Chemia Inzneria Ekologiczna 11:1152–1161

Alloway PJ (1990) Heavy metals in soil. Wiley, NewYork, p 339

Blackmore G (1998) An overview of trace metal pollution in the coastal waters of Hong Kong. Sci Total Environ 214:21–48

Boeham E, Schaefers K (1994) "Massnahmen zur Minderung des Cadmiumeintrags in die Umwelt". Prepared by Fraunhofer-Institut fur Systemtechnik und Innovationsforschung fur Bund/Landerausschuss Umweltchemikalien (BLAU), Karlsruhe, 1990. In: Robert UA, Udo ES (eds) Industrial metabolism: restructuring for sustainable development. The United Nations University Press, Tokyo, p 390

Bowell RJ, Ansah RK (1994) Trace element budget in an African savannah ecosystem. Biogeochemistry 20:103–126

Campos V (2003) Trace elements in pesticides. Comm Soil Sci Plant Anal 34:1261–1268

Celik A, Ashan AK, Abdullah A, Yakup K (2005) Determining the heavy metal pollution in Denizli (Turkey) by using Robinio pseudo-acacia L. Environ Int 31:105–112

Chen J, Wei T, Zheng C (1991) Background concentrations of elements in soils of China. Water Air Soil Pollut 57(58):699–712

Chen ZS, Chiu WTF, Peterson JB (2001) Micronutrients deficiencies of crops in Asia. Food and fertilizer technology center for the Asian and Pacific region (FFTC), Taiwan, pp 1–66

David RL (1998) Handbook of chemistry and physics. Spectrum 78th edn. Website: http://www.speclab.com/elements/lead.htm

De Wolf H, Ulomi SA, Backeljau T, Pratap HB, Blust R (2001) Heavy metal levels in the sediments of four Dar es Salaam mangroves, accumulation and effect on the morphology of periwinkle, Littoraria scabra (Mollusca; Gastropoda). Environ Int 26:243–249

Deng H, Ye ZH, Wong MH (2004) Accumulation of lead, zinc, copper and cadmium by 12 wetland plant species thriving in metal-contaminated sites in China. Environ Pollut 132:29–40

Dharani N, Onyari JM, Maina DM, Mavuti KM (2007) The distribution of Cu and Pb levels in soils and Acacia xanthophloea Benth. From Lake Nakuru national park Kenya. Bull Environ Cotam Toxicol 79:172–177

Everaarts JM, Nieuwenhuie J (1995) Heavy metals in surface sediments and epibenthic macro-invertebrates from the coastal zone and continental slope of Kenya. Mar Pollut Bull 31(4–12):281–289

Frank R, Ishida K, Suda R (1976) Metals in agricultural soils of Ontario. Can J Soil Sc 56:181–196

Franklin RE, Duis L, Smith BR, Brown R, Toler JE (2003) Elemental concentrations in soils of South Carolina. Soil Sci 168:280–291

Kamugi NPV (1990) Investigating into the effect of pH on the availability of trace elements in soil. Dissertation, University of Nairobi, pp 20–21

Khuder A, Khalifa K, Abbas M (1998) Distribution of some elements in soils of Barada river bank in Syria. Commu Soil Sci Plant Anal 29:2631–2645

Kuhad MS, Malik RS, Singh A (1998) Background levels of heavy metals in agricultural soils of indo-gangetic plains of Haryana. J Indian Soc Soil Sci 37:700–705

Ma LQ, Tan F, Harris WG (1997) Concentrations and distributions of eleven metals in Florida soils. J Environ Qual 26:769–775

Marschner H (1997) Mineral nutrition of higher plants, 2nd edn. Academic press, New York

Maskall J, Thornton I (1996) The distribution of trace and major elements in Kenyan soil profiles and implications for wildlife nutrition. Environ Geochem Health 113:47–62

Muohi AW, Onyari JM, Omondi JG, Mavuti KM (2003) Heavy metals in sediment from Makupa and Port—Reitz Creeks systems: Kenyan Coast. Environ Int 28:639–647

Nriagu JO (1979) Global inventory of natural and anthropogenic missions of trace metals to the atmosphere. Nature 279:409–4011

Nriagu JO (1990) Global metal pollution: poisoning the biosphere. Environment 32:7–33

Ochieng EZ, Lalah JO, Wandiga SO (2007) Analysis of heavy metals in water and surface sediment in five Rift Valley Lakes in Kenya for assessment of recent increase in anthropogenic activities. Bull Environ Contam Toxicol 79:570–576

Onyari JM (1985) Determination of Mn, Fe, Cu, Zn, Cd and Pb in fish species, and sediments from Mombasa town and the Winam Gulf of Lake Victoria. MSc thesis, University of Nairobi, p 282

Orata, F (2003) Determination of heavy metals in sediments, fish and aquatic plants from Lake Victoria,Kenya. MSc thesis, University of Nairobi, pp 69–126

Pyatt FB (1999) Comparison of foliar and stem bioaccumulation of heavy metals by corsican pines in the mount Olympus area of Cyprus. Ecotoxicol Environ Saf 42:57–61

Pyatt FB (2001) Copper and lead bioaccumulation by Acacia retinoides and Eucalyptus torquatain sites contaminated as a consequence of extensive ancient mining activities in Cyprus. Ecotoxicol Environ Saf 50:60–64

Raini JA (1995) Water quality monitoring in Lake Nakuru. In: Kenya Wildlife Services (KWS)—proceedings of the workshop on use of research findings in the management and conservation of biodiversity, pp 58–62

Senwo ZN, Tazisong IA (2004) Metal contents in soils of Alabama. Comm in Soil Sci and Plant Anal 35:2837–2848

United States Environmental Protection Agency (1995) Standards for the use or disposal of sewage sludge, Parts 403 and 503. US Government, Washington, DC

Urasa IT, Onyari JM (1996) Element content of lakes in the great rift valley of East Africa. 43rd joint annual meeting of the National Institute of Science BKK/BSP National convection, Norfolk, Virginia, USA

Wandiga SO, Onyari JM (1987) Concentration of heavy metals: Mn, Fe, Cu, Zn, Cd and Pb in sediments and fish from Winam Gulf of Lake Victoria and Fish bought in Mombasa town markets. Kenya J Sci Ser A 8:89

Williams TM, Rees J, Kairu KK, Yobe AC (1996) Assessment of contamination by metals and selected organic compounds in coastal sediments and waters of Mombasa, Kenya. British geological survey, Technical report, WC/96/37, p 86

Yilmaz S, Zengin M (2004) Monitoring environmental pollution in Erzurum by chemical analysis of Scots pine (Pinus sylvestris L.) needles. Environ Int 29:1041–1047
Acknowledgments
We wish to thank Mr Bore of Mines and Geology Department for permission to use AAS and the Director of Wildlife Services Kenya, the Chief Scientist and the Senior Warden of Lake Nakuru National Park for granting us permission to work in the park.
About this article
Cite this article
Dharani, N., Onyari, J.M., Kinyamario, J.I. et al. Distribution of Cd and Zn Levels in Soils and Acacia xanthophloea Benth. from Lake Nakuru National Park Kenya. Bull Environ Contam Toxicol 85, 318–323 (2010). https://doi.org/10.1007/s00128-010-0033-x
Received:

Accepted:

Published:

Issue Date:
Keywords