Abstract
Cadmium contamination of the soil is a common cause of environmental concern in the suburban areas of developing cities in India The present research paper describes the changes in physiological, biochemical, growth and yield characteristics, and bioaccumulation potential of lady's finger (Abelmoschus esculentus L.), an important vegetable crop at different levels of Cd in the soil. Cadmium accumulation was maximum in roots followed by stems, leaves and fruits at 100 mg Cd kg−1 in the soil. Cd accumulation in lady's finger negatively affected the physiological and biochemical characteristics, growth and yield. The magnitude of negative effect enhanced with increasing Cd concentration. The study suggests that due to higher potential of bioaccumulation of Cd in lady's finger and consequent reductions in growth and yield, this plant may not be a suitable option for cultivation in Cd contaminated soil.
Access options
Buy single article
Instant access to the full article PDF.
USD 39.95
Price includes VAT (USA)
Tax calculation will be finalised during checkout.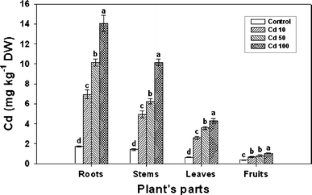 References
Allen SE, Grimshaw HM, Rowland AP (1986) Chemical analysis. In: Moore PD, Chapman SB (eds) Methods in plant ecology. Blackwell Scientific Publication, Oxford, pp 285–344

Arduini I, Goldbold DL, Onnis A (1994) Cadmium and copper change root growth and morphology of Pinus pinea and Pinus pinaster seedlings. Physiol Plant 92:675–680

Baszynski T, Wadja L, Krol M, Wolinska D, Krupa Z, Tuken-Dorf A (1980) Photosynthetic activities in cadmium treated plants. Physiol Plant 48:365–370

Bates LS, Waldran RP, Teare ID (1973) Rapid determination of proline for water stress studies. Plant Soil 39:205–209

Bhattacharya M, Choudhuri MA (1994) Effect of Pb and Cd on the biochemical changes in the leaves of terrestrial (Vigna) and aquatic (Hydrilla) plant under solution culture. Indian J Plant Physiol 37:99–103

Bray HC, Thorpe WY (1954) Analysis of phenolic compounds of interest in metabolism. In: Click D (ed) Methods of biochemical analysis. Interscience Publications Inc., New York, pp 27–52

Britton C, Mehley AC (1955) Assay of catalase and peroxides. In: Colowick SP, Kaplan NO (eds) Methods in enzymology, vol II. Academic Press Inc, New York, p 764

Chaoui A, Mazhoudi S, Ghorbal MH, Ferlani EE (1997) Cadmium and zinc induction of lipid peroxidation and effects on antioxidant enzyme activities in bean (Phaseolus vulgaris L.). Plant Sci 127:139–147

Chen W, Yang X, He Z, Feng Y, Hu F (2008) Differential changes in photosynthetic capacity, chlorophyll fluorescence and chloroplast ultrastructure between Zn-efficient and Zn-inefficient rice genotypes (Oryza sativa) under low zinc stress. Physiol Plant 132:89–101

Dietze KJ, Baier M, Kramer U (1999) Free radicals and reactive oxygen species as mediators of heavy metal toxicity in plants. In: Prasad MNV, Hagenmeyer J (eds) Heavy metal stress in plants. Springer, Berlin, pp 73–97

Dong J, Wu F-B, Zhang G-P (2005) Effects of cadmium on growth and photosynthesis of tomato seedlings. J Zhejiang Uni Sci-B 6(10):974–980

Duxbury AC, Yentsch CS (1956) Plankton pigment monographs. J Marine Res 15:91–101

Fahey RC, Brown WC, Adams WB, Worsham MB (1978) Occurrence of glutathione in bacteria. J Bacteriol 133:1126–1129

Heath RL, Packer L (1968) Phytoperoxidation in isolated chloroplast I. Kinetics and stoichiometry of fatty acid peroxidation. Arch Biochem Biophys 125:189–198

Islam EU, Yang X, HE Z, Mahmood Q (2007) Assessing potential dietary toxicity of heavy metals in selected vegetables and food crops. J Zhejiang Univ Sci B 8:1–13

Keller T, Schwager H (1977) Air pollution and ascorbic acid. Eur J Fores Pathol 7:338–350

Khudsar T, Iqbal M, Sairam RK (2004) Zinc-induced changes in morpho-physiological and biochemical parameters in Artemisia annua. Biol Planta 48(2):255–260

Lehoczky É, Szabados I, Marth P (1996) Cd content of plants as affected by soil Cd concentration. Commun Soil Sci Plant Anal 27:1765–1777

Lehoczky E, Szabo L, Horvath S (1998) Cadmium uptake by lettuce in different soils. Commun Soil Sci Plant Anal 28:1903–1912

Lowry OH, Rosenbrough F, Randall RJ (1951) Protein measurement with folin phenol reagent. J Biol Chem 193:265–275

Luna CM, Gonzalez VS, Trippi VS (1994) Oxidative damage caused by excess copper in oat leaves. Plant Cell Physiol 35:11–15

MacFarlane GR, Burchett MD (2001) Photosynthetic pigments and peroxidase activity as indicators of heavy metal stress in the grey mangrove, Avicennia marina (Forsk.). Mar Pollut Bull 42(3):233–240

Maclachlan S, Zalik S (1963) Plastid structure, chlorophyll concentration and free amino acid composition of a chlorophyll mutant on barley. Can J Bot 41:1053–1062

Moya JL, Ros R, Picazo I (1993) Influence of Cd and nickel on growth, net photosynthesis and carbohydrate distribution in rice plants. Photosynth Res 36:75–80

Padmaja K, Prasad DDK, Prasad ARK (1990) Inhibition of chlorophyll synthesis in Phaseolus vulgaris L. seedlings by cadmium acetate. Photosyn 24:399–405

Quariti O, Gouia H, Ghorbal MH (1997) Responses of bean and tomato plants to cadmium: growth, mineral nutrition and nitrate reduction. Plant Physiol Biochem 35:347–354

Radwan MA, Salama AK (2006) Market basket survey for some heavy metals in Egyptian fruits and vegetables. Food Chem Toxicol 44:1273–1278

Sharma RK, Agrawal M (2005) Biological effects of heavy metals: an overview. J Environ Biol 26(3/4):301–313

Sharma RK, Agrawal M (2006) Effects of single and combined treatments of Cd and Zn on carrot plants: uptake and bioaccumulation. J Plant Nutr 29:1791–1804

Sharma RK, Agrawal M, Marshall FM (2006) Heavy metals contamination in vegetables grown in wastewater irrigated areas of Varanasi, India. Bull Environ Contam Toxicol 77:311–318

Sharma RK, Agrawal M, Marshall FM (2007) Heavy metals contamination of soil and vegetables in suburban areas of Varanasi, India. Ecotoxicol Environ Saf 66:258–266

Sharma RK, Agrawal M, Agrawal SB (2008) Interactive effects of Cd and Zn on carrot plants: growth and biomass bioaccumulation. J Plant Nutr 31:1–17

Sharma RK, Agrawal M, Marshall FM (2009a) Heavy Metals in vegetables collected from production and market areas of Varanasi. India Food Chem Toxicol 47:583–591

Sharma RK, Agrawal M, Agrawal SB (2009b) Physiological and biochemical responses resulting from Cd and Zn accumulation in carrot (Daucus carota L.) plants. J Plant Nutr (in press)

Singh RP, Agrawal M (2007) Effects of sewage sludge amendment on heavy metal accumulation and consequent responses of Beta vulgaris plants. Chemos 67(11):2229–2240

Singh S, Kumar M (2006) Heavy metal load of soil, water and vegetables in peri-urban Delhi. Environ Mon Assess 120:79–91

Singh PK, Tewari SK (2003) Cadmium toxicity induced changes in plant-water relations and oxidative metabolism of Brassica juncea L. plants. J Environ Biol 24:107–117

Singh KP, Mohon D, Sinha S, Dalwani R (2004) Impact assessment of treated/untreated wastewater toxicants discharge by sewage treatment plants on health, agricultural, and environmental quality in wastewater disposal area. Chemos 55:227–255

Singh S, Eapen S, D' Souza SF (2006) Cadmium accumulation and its influence on lipid peroxidation and antioxidant system in an aquatic plant, Bacopa monnieri L. Chemos 62(2):233–246

Singh A, Sharma RK, Agrawal SB (2008) Effects of fly ash incorporation on heavy metal accumulation, growth and yield responses of Beta vulgaris plants. Biores Technol 99:7200–7207

Singh A, Sharma RK, Agrawal M, Marshall FM (2010) Risk assessment of food chain contamination by heavy metals due to long term uses of wastewater for irrigation. Food Chem Toxicol 48:611–619

Tripathi RM, Ragunath R, Krishnamurty TM (1997) Dietary intake of heavy metals in Bombay City, India. Sci Total Environ 208:149–159

Van Assche F, Clijsters H (1990) Effects of metals on enzyme activity in plants. Plant Cell Environ 13:195–206

Vyas J, Puranic RM (1993) Inhibition of nitrate reductase activity by mercury in bean leaf sigments. Indian J Plant Physiol 36:57–60
Acknowledgments
We thank the Head, Department of Botany, BHU, Varanasi, for providing all the necessary facilities for the present research work. Rajesh Kumar Sharma especially acknowledges the Director, G. B. Pant Institute of Himalayan Environment and Development, Kosi-Katarmal, Almora, Uttarakhand, India for his encouragement.
About this article
Cite this article
Sharma, R.K., Agrawal, M. & Agrawal, S.B. Physiological, Biochemical and Growth Responses of Lady's Finger (Abelmoschus esculentus L.) Plants as Affected by Cd Contaminated Soil. Bull Environ Contam Toxicol 84, 765–770 (2010). https://doi.org/10.1007/s00128-010-0032-y
Received:

Accepted:

Published:

Issue Date:
Keywords
Cd

Bioaccumulation

Yield

Growth

Lady's finger