Abstract
We assessed the effects of zinc and copper on freshwater monogenean ectoparasites (Discocotyle sagittata Leuckart) infecting juvenile Atlantic salmon (Salmo salar L.). Exposure to 47 μg/L zinc and 3 μg/L copper reduced survival and fecundity of adult D. sagittata, while egg hatching success was only reduced at high exposure concentrations (2704 μg/L zinc and 164 μg/L copper). Parasitized salmon had decreased plasma chloride, but this was negated in infected fish exposed to metals. No other effects on Atlantic salmon survival and physiology (plasma osmolality, hematocrit) were noted, suggesting that D. sagittata may be more susceptible to metal toxicity than its host fish.
Access options
Buy single article
Instant access to the full article PDF.
USD 39.95
Price includes VAT (USA)
Tax calculation will be finalised during checkout.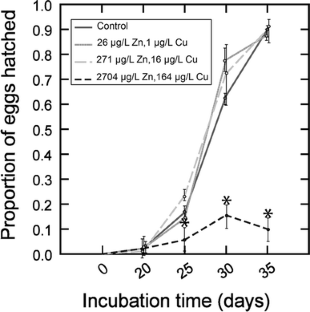 References
Blanar CA (2008) Parasites as biological indicators of pollution: metal contamination and Discocotyle sagittata infection on juvenile Atlantic Salmon (Salmo salar). Ph.D. Thesis, University of New Brunswick at Saint John

Blanar CA, Munkittrick KR, Houlahan J, MacLatchy DL, Marcogliese DJ (2009) Pollution and parasitism in aquatic animals: a meta-analysis of effect size. Aquat Tox 93:18–28

Bush AO, Lafferty KD, Lotz JM, Shostak AW (1997) Parasitology meets ecology on its own terms: Margolis et al. revisited. J Parasitol 83:575–583

EcoMetrix (2004) HSM post-closure monitoring in the Tomogonops river system. Ref. 04-1109.01. Noranda Inc, Toronto

Escher M, Wahli T, Burkhardt-Holm P, Meier W (1999) The effect of sewage plant effluent on brown trout (Salmo trutta fario): a cage experiment. Aquat Sci 61:93–110

Gannicott AM, Tinsley RC (1997) Egg hatching in the monogenean gill parasite Discocotyle sagittata from the rainbow trout (Oncorhynchus mykiss). Parasitology 114:569–579

Gannicott AM, Tinsley RC (1998) Environmental effects on transmission of Discocotyle sagittata (Monogenea): egg production and development. Parasitology 117:494–499

Gheorgiu C, Cable J, Marcogliese DJ, Scott ME (2007) Effects of waterborne zinc on reproduction, survival and morphometrics of Gyrodactylus turnbulli (Monogenea) on guppies (Poecilia reticulata). Int J Parasitol 37:375–381

Khan RA, Payne JF (2004) Comparative study of oil well drill cuttings and polycyclic aromatic hydrocarbons on parasitism in winter flounder: a dose-response study. Bull Environ Contam Toxicol 73:652–658

Lafferty KD (1997) Environmental parasitology: what can parasites tell us about human impacts on the environment? Parasitol Today 13:251–256

Laird J, Embody GC (1931) Controlling the gill worm (Discocotyle salmonis, Schaffer). Trans Am Fish Soc 61:189–192

Marcogliese DJ (2005) Parasites of the superorganism: are they indicators of ecosystem health? Int J Parasitol 35:705–716

Morley NJ, Irwin SWB, Lewis JW (2003) Pollution toxicity to the transmission of larval digeneans through their molluscan hosts. Parasitology 126:s5–s26

Overstreet RM (1997) Parasitological data as monitors of environmental health. Parassitologia 39:169–176

Poulin R (1992) Toxic pollution and parasitism in freshwater fish. Parasitol Today 8:58–61

Poulin R (2007) Evolutionary ecology of parasites. Princeton University Press, New Jersey

Soucek DJ, Noblet GP (1998) Copper toxicity to the endoparasitic trematode (Posthodiplostomum minimum) relative to physid snail and bluegill intermediate hosts. Environ Toxicol Chem 17:2512–2516

SYSTAT Software, Inc. (2004) SYSTAT 11: statistics I, II, III. SYSTAT Software Inc, California

Wood CM (2001) Toxic responses of the gill. In: Schlenk D, Benson WH (eds) Target organ toxicity in marine and freshwater teleosts, vol 1. Taylor & Francis, New York

Zar JH (1996) Biostatistical analysis. Prentice Hall, New Jersey
Acknowledgments
We thank Collin Arens, Mark Gautreau, Aaron Fraser, and the staff of the Miramichi Salmon Association for their assistance with fish collection; Thijs Bosker, Leslie Carroll, Steven Melvin, and Kelly Cummings for assistance with fish maintenance; and Roshini Kassie and Lilianne Arsenault for physiological data. We thank Sylvie Roberge and her staff at Environment Canada for conducting water quality analysis. David Marcogliese, Jeff Houlahan, Allen Shostak, Simon Courtenay, Remy Rochette, Keith De'Bell, and four anonymous reviewers provided helpful comments that significantly improved the quality of this manuscript. This work was supported by the Miramichi Salmon Association via the Jack T.H. Fenety Conservation Fellowship, and by the Canadian National Sciences and Engineering Research Council (NSERC) via a Visiting Postdoctoral Fellowship (both to CAB).
About this article
Cite this article
Blanar, C.A., MacLatchy, D.L., Kieffer, J.D. et al. Exposure to a Mixture of Zinc and Copper Decreases Survival and Fecundity of Discocotyle sagittata (Leuckart) Parasitizing Juvenile Atlantic Salmon, Salmo salar L.. Bull Environ Contam Toxicol 84, 692–697 (2010). https://doi.org/10.1007/s00128-010-0024-y
Received:

Accepted:

Published:

Issue Date:
Keywords
Parasites

Metals

Fish physiology