Abstract
Tissues from Manta birostris caught by fishermen from Dixcove in the western part of Ghana were analyzed for their Platinum, palladium and rhodium concentrations (PGM). The use of chondrichthyan fish has permitted the study of trace levels of Platinum group metals (PGMs) which have travelled very far into the sea. The analysis showed that Ghana's coastline is fairly polluted with these platinum group metals (PGMs). PGM concentration in manta ray recorded a range of (0.15–0.85) μg/g for Pt, (0.033–0.67) μg/g for Pd and (0.007–0.145) μg/g for Rh. Comparing these values to the UK dietary intake of 0.2 μg/day for Pt and Rh and 1.0 μg/day for Pd, its indicates that the values obtained from the analysis for Pt was above the required level. This is the first study to show the accumulation of PGM in chondrichthyan fish, although the sources of this pollution are not clear as manta birostris is migratory and therefore need to be investigated further. The presence of the PGM is very significant, since manta ray meat is consumed in Ghana. This may presents a health risk, due to a possible accumulation of PGMs in humans.
Access options
Buy single article
Instant access to the full article PDF.
USD 39.95
Price includes VAT (USA)
Tax calculation will be finalised during checkout.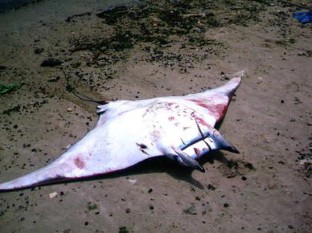 References
Bocca B, Petrucci F, Alimonti A, Caroli S (2003) Traffic-related platinum and rhodium concentrations in the atmosphere of Rome. J Environ Monit 5:563–568

Bocca B, Alimonti A, Cristaudo A, Cristallini E, Petrucci F, Caroli S (2004) Monitoring of the exposure to platinum-group elements for two Italian population groups through urine analysis. Analytica Chimica Acta 512:19–25

Caroli S, Petrucci F, Bocca B, Krachler M, Forastiere F, Alimonti A (2000) Exposure to Platinum-Group Metals Released by Automotive Catalytic Converters. In Trace Elements in Man and Animals, A. Favier, A. M. Roussel, R. Anderson (Eds.), 10:667–670

Caroli S, Alimonti A, Petrucci F, Bocca B, Krachler M, Forastiere F, Sacerdote MT, Mallone S (2001) Assessment of exposure to platinum-group metals in urban children. Spectrochim Acta B 56:1241–1248

Clark RB (1989) Marine pollution. Clarendon Press, Oxford. DWAF (Department of Water Affairs and Forestry) (1996) South African water quality guidelines, vol 7: Aquat. Ecosyst., 159 pp

Col J (1998–2007) Enchanted learning. At http://www.enchantedlearning.com/subjects/sharks/rays/Mantaray.shtml

CORDIS (2003) Assessment of environmental contamination risk by platinum, rhodium and palladium from automobile catalyst. Environment and Climate. http://cordis.europa.eu/data/PROJ_ENV/ACTIONeqDndSESSIONeq27617200595ndDOCeq17ndTBLeqEN_PROJ.html

Debrah JS (2000) Taxonomy, Exploitation and Conservation of Dolphins in the Marine Waters of Ghana. Master of Philosophy Thesis, Dept. Oceanography and Fisheries, University of Ghana. 86 pp (Unpublished)

Dominici C, Petrucci F, Caroli S, Alimonti A, Clerico A, Castello M (1989) A pharmacokinetic study of high dose continuous infusion Cis-platin in children with solid tumors. J Clin Oncol 7(1):100–107

Ensslin AS, Pethran A, Schierl R, Fruhmann G (1994) Urinary platinum in hospital personnel occupationally exposed to platinum-containing antineoplastic drugs. Int Arch Occup Health 65(5):339–342

Essumang DK (2008) Bioaccumulation of platinum group metals in dolphins, Stenella sp., caught off Ghana. African Journal of Aquatic Science 33(3):255–259

Essumang DK, Dodoo DK, Adokoh CK, Sam A, Doe NG (2008) Bioaccumulation of platinum group metals (pgms) on some fish species (oreochromis niloticus, penaeus laspisulcates, scylla serrate, galaxias brevipinnis and mollusc) in the Pra Estuary of Ghana. Toxicol Environ Chem 90(3):625–638

Gaskin DE, Stonefield KI, Suda P, Frank R (1979) Changes in mercury levels in harbour porpoises from the Bay of Fundy, Canada and adjacent waters during 1969–77. Arch Environ Cont Toxicol 8:733–762

Gill TS, Bianchi CP, Epple A (1992) Trace metal (Cu and Zn) adaptation of organ systems of the American eel, Anguilla rostrata, to external concentrations of cadmium. Comp Biochem Physiol 102C:361–371

Gómez B, Palacios MA, Gómez M, Sanchez JL, Morrison G, Rauch S, McLeod C, Ma R, Caroli S, Alimonti A, Petrucci F, Bocca B, Schramel P, Zischka M, Petterson C, Wass U (2002) Levels and risk assessment for humans and ecosystems of platinum-group elements in the airborne particles and road dust of some European cities. Sci Total Environ 299:1–19

Gyula Z, Ovari M, Salma I, Steffan I, Zeiner M, Caroli S (2004) Determination of platinum in urine and airborne particulate matter from Budapest and Vienna. Microchem J 76:31–34

Hernández-Hernández F, Medina J, Ansuátegui J, Conesa M (1990) Heavy metal concentrations in some marine organisms from the Mediterranean Sea (Castellón, Spain): Metal accumulation in different tissues. Sci Mar 54(2):113–129

His E, Beiras R, Seaman MNL (1999) The assessment of marine pollution bioassays with bivalve embryos and larvae. Adv Mar Biol 3:71–78

Hofer R, Lackner R (1995) Fischtoxikologie-Theorie und Praxis. Fischer Verlag, Jena

Honda K, Tatsukava R, Itano K, Miyazaki N, Fujiyama T (1983) Heavy metals concentrations in muscle, liver and kidney tissues of striped dolphin (Stenella coeruleoalba) and their variation with body, length, weight, age and sex. Agric Biol Chem 47(6):1219–1228

Hoppstock K, Sures B (2004) Platinum group metals. In: Merian E, Anke M, Ihnat M, Stoeppler M (eds) Elements and their compounds in the environment. Wiley-VCH, Weinheim, pp 1047–1086

IAEA-TECDOC-1443 (2005) Nuclear analytical methods for platinum group elements. IAEA, Vienna, p 1

Kalavrouziotis IK, Koukoulakis PH (2009) The environmental impact of the platinum group elements (Pt, Pd, Rh) emitted by the automobile catalyst converters. Water Air Soil Pollut 196:393–402

Kristine HE, Morrison GM, Rauch S (2004) Environmental routes for platinum group elements to biological materials – a review. Sci Total Environ 21(38):334–335

Lesniewska BA, Godlewska-Zyłkiewicz B, Bocca B, Caimi S, Caroli S, Hulanicki A (2004) Platinum, palladium and rhodium content in road dust, tunnel dust and common grass in Białystok area (Poland): a pilot study. Sci Total Environ 321:93–104

Marshall A, Ishihara H, Dudley SFJ, Clark TB, Jorgensen S, Smith WD, Bizzarro, JJ (2006) Manta birostris. 2006 IUCN Red List of Threatened Species. IUCN 2006

Mashiatullah A, Qureshi MR, Ahmad N, Javed T, Shah Z (2004) Distribution of trace metals in inter-tidal sediment along karachi Coast, Pakistan. Geol Bull Univ Peshawar 37:215–223

Moldovan M, Palacios MA, Gomez MM, Morrison G, Rauch S, McLeod C, Ma R, Caroli S, Alimonti A, Petrucci F, Bocca B, Schramel P, Zischka M, Pettersson C, Wass U, Luna M, Saenz JC, Santamara J (2002) Environmental risk of particulate and soluble platinum group elements released from gasoline and diesel engine catalytic converters. Sci Total Environ 296:199–208

Palacios MA, Gomez MM, Moldovan M, Morrison G, Rauch S, Mcleod C, Ma R, Laserna J, Lucena P, Caroli S, Alimonti A, Petrucci F, Bocca B, Schramel P, Lustig S, Zischka M, Wass U, Stenbom B, Luna M, Saenz JC, Santamaria J, Torrens JM (2000) Platinum-group elements: quantification in collected exhaust fumes and studies of catalyst surfaces. Sci Total Environ 257:1–15

Petrucci F, Bocca B, Alimonti A, Caroli S (2000) Determination of Pd, Pt and Rh in airborne particulate and road dust by high-resolution ICP-MS: a preliminary investigation of the emission from automotive catalysts in the urban area of Rome. J Anal At Spectrom 15:525–528

Petrucci F, Violante N, Senofonte O, DeGregorio M, Alimonti A, Caroli S, Forte G, Cristaudo A (2004) Development of an analytical method for monitoring worker populations exposed to platinum-group elements. Microchem J 76(1-2):131–140

Rosner G, Merget R (1990) Allergenic potential of platinum compounds. In: Dayan AD, Hertel RF, Heseltine E, Kazantzis G, Smith EM, Van der Venne MT (eds) Immunotoxicity of metals and immunotoxicology. Plenum Press, New York, pp 93–100

Sures B, Taraschewski H (1999) Endoparasiten einheimischer Fische als bioindikatoren fur schwermetalle. In: Oehlmann J, Markert B (eds) Ökotoxikologie- ökosystemare Ansätz und methoden. Ecomed Verlag, Jena, pp 326–334

Sures B, Taraschewski H, Rydlo M (1999) Concentration of 17 elements in the zebra mussel Dreissena polymorpha, in different tissues of perch (perca fluviatilis), and in perchintestinal parasites (Acanthocephalus lucii) from the subalpin lake mondsee. Austria Environ Toxicol Chem 18:2574–2579

Sures B, Zimmermann S, Messerschmidt J, Von Bohlen A, Alt F (2001) First report on the uptake of automobile catalyst emitted palladium by European eels (Anguilla anguilla) following experimental exporsure to road dust. Environ Poll 113:341–345

Tolgyessy J, Kyrs M (1989) Radioanalytical chemistry, 1 and 2. Ellis Horwood Ltd, Chichester, pp 1–354

Tyler G (1972) Heavy metals pollute nature, may reduce productivity. Ambio 1(2):52–59

Vaughan GT, Florence TM (1992) Platinum in the human diet, blood, hair and excreta, Sci. Total Environ 111(1):47–58

Ysart G, Miller P, Crews H, Robb P, Baxter M, De L'Argy C, Lofthouse S, Sargent C, Harrison N (1999) Dietary exposure estimates of 30 elements in the UK total diet study. Food Addit Contam 16(9):391–403
Acknowledgments
This work was supported under contract with the Ghana Atomic Energy Commission Reactor 1 (GHAER 1), Accra, Ghana. The author would also like to thank the technical assistance of workers of the GHAER 1, staff and research team of the Chemistry Department, University of Cape Coast for their support and contributions. Finally, the author wants to thank the government of Ghana for financial support.
About this article
Cite this article
Essumang, D.K. First Determination of the Levels of Platinum Group Metals in Manta birostris (Manta Ray) Caught Along the Ghanaian Coastline. Bull Environ Contam Toxicol 84, 720–725 (2010). https://doi.org/10.1007/s00128-010-0019-8
Received:

Accepted:

Published:

Issue Date:
Keywords
Dixcove

Neutron activation analysis

Chondrichthyes

Myliobatidae

Manta birostris and Kako