Abstract
This study investigated the effects of epichlorohydrin (ECH) on spermatogenesis and antioxidant system in rats. An increase in the incidence of clinical signs, gross pathology and histopathology findings in the epididymidis, and sperm abnormalities and a decrease in the testicular spermatid counts, epididymal sperm counts, and sperm motility were observed at 30 mg/kg/day. Oxidative stress in the epididymal tissue was detected at ≥3.3 mg/kg/day. The results show that graded doses of ECH elicit depletion of antioxidant defense system and that the adverse effects on male reproductive function in ECH-treated rats may be due to the induction of oxidative stress.
Access options
Buy single article
Instant access to the full article PDF.
USD 39.95
Price includes VAT (USA)
Tax calculation will be finalised during checkout.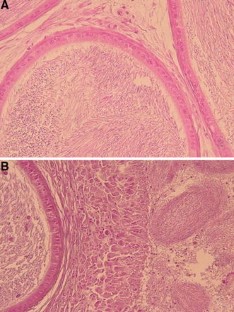 References
Aebi H (1984) Catalase in vitro. In: Packer L (ed) Methods in enzymology, vol 105. Academic press, San Diego, pp 121–126

Alvarez JG, Strey BT (1995) Differential incorporation of fatty acids into and peroxidative loss of fatty acids form phospholipids of human spermatozoa. Mol Reprod Dev 42:334–346

Alvarez JG, Touchstone JC, Blasco L, Storey BT (1987) Spontaneous lipid peroxidation and production of hydrogen peroxide and superoxide in human spermatozoa. Superoxide dismutase as major enzyme protectant against oxygen toxicity. J Androl 8:338–348

Berton TR, Conti CJ, Mitchell DL, Aldaz CM, Lubet RA, Fischer SM (1998) The effect of vitamin E acetate on ultraviolet-induced mouse skin carcinogenesis. Mol Carcinog 23:175–184

Boorman GA, Eustis SL, Elwell MR, Montgomery C, Mackenzie WF (1990) Pathology of the fischer rat. Reference and atlas. Academic Press, San Diego

Cassidy SL, Dix KM, Jenkins T (1983) Evaluation of a testicular sperm head counting technique using rats exposed to dimethoxyethyl phthalate (DMEP), glycerol alpha-monochlorohydrin (GMCH), epichlorohydrin (ECH), formaldehyde (FA), or methyl methanesulphonate (MMS). Arch Toxicol 53:71–78

Cooper ERA, Jones AR, Jackson H (1974) Effects of a-chlorohydrin and related compounds on the reproductive organs and fertility of the male rat. J Reprod Fert 38:379–386

de Lamirande E, Jiang H, Zini A, Kodama H, Gagnon C (1997) Reactive oxygen species and sperm physiology. Rev Reprod 2:48–54

Dokmeci D (2005) Oxidative stress, male infertility and the role of carnitines. Folia Med 47:26–30

Gage JC (1959) The toxicity of epichlorohydrin vapour. Br J Ind Med 16:1–14

Habig WH, Jakoby WB, Guthenberg C, Mannervik B, Vander Jagt DL (1984) 2-Propylthiouracil does not replace glutathione for the glutathione transferases. J Biol Chem 259:7409–7410

Hahn JD (1970) Post-testicular antifertility effects of epichlorohydrin and 2, 3-epoxypropanol. Nature 226:87

Haschek WM, Rousseaux CG (1998) Fundamentals of toxicologic pathology. Academic Press, San Diego

Jelks K, Miller MG (2001) Alpha-chlorohydrin inhibits glyceraldehyde-3-phosphate dehydrogenase in multiple organs as well as in sperm. Toxicol Sci 62:115–123

Jelks K, Berger T, Horner C, Miller MG (2001) α-Chlorohydrin induced changes in sperm fertilizing ability in the rat: association with diminished sperm ATP levels and motility. Reprod Toxicol 15:11–20

Jones R, Mann T, Sherins RJ (1979) Peroxidative breakdown of phospholipids in human spermatozoa: spermicidal effects of fatty acids peroxidatives and protective action of seminal plasma. Fertil Steril 31:531–537

Jones AR, Stevenson D, Hutton P, Dawson AG (1981) The antifertility action of alpha-chlorohydrin: metabolism by rat and boar sperm. Experimentia 37:340–341

Lowry OH, Rosebrough NJ, Farr AL, Randall RJ (1951) Protein measurement with folin phenol reagent. J Biol Chem 193:265–275

McCord JM (1994) Mutant mice, Cu, Zn superoxide dismutase, and motor neuron degeneration. Science 266:1586–1587

Moron MS, Depierre JW, Mannervik B (1979) Levels of glutathione, glutathione reductase and glutathione-S-transferase activities in rat lung and liver. Biochim Biophys Acta 582:67–78

Nakajima H, Amano W, Fujita A, Fukuhara A, Azuma YT, Hata F, Inui T, Takeuchi T (2007) The active site cysteine of the proapoptotic protein glyceraldehyde-3-phosphate dehydrogenase is essential in oxidative stress induced aggregation and cell death. J Biol Chem 282:26562–26574

Selvanial A, Ursini F (2000) Lipid peroxidation in membranes and low density lipoprotein: similarities and differences. Free Radic Biol Med 29:306–311

Sharma RK, Agarwal A (1996) Role of reactive oxygen species in male infertility. Urology 48:835–850

SRI (2007) Chemical economics handbook report epichlorohydrin. Available at: http://www.sriconsulting.com

Toth GP, Zenick H, Smith MK (1989) Effects of epichlorohydrin on male and female reproduction in long-evans rats. Fund Appl Toxicol 13:16–25

Valko M, Leibfritz D, Moncol J, Cronin MTD, Mazur M, Telser J (2007) Free radicals and antioxidants in normal physiological function and human disease. Int J Biochem Cell Biol 39:44–84
Acknowledgments
This work was supported by the Grant of the Korean Ministry of Education, Science and Technology (The Regional Core Research Program/Biohousing Research Institute). This study was also supported by the Grant of Animal Medical Center, Chonnam National University.
About this article
Cite this article
Shin, IS., Lim, JH., Kim, SH. et al. Induction of Oxidative Stress in the Epididymis of Rats After Subchronic Exposure to Epichlorohydrin. Bull Environ Contam Toxicol 84, 667–671 (2010). https://doi.org/10.1007/s00128-010-0018-9
Received:

Accepted:

Published:

Issue Date:
Keywords
Epichlorohydrin

Reproductive dysfunction

Sperm

Oxidative stress