Abstract
A battery of in vitro recombinant yeast bioassays was conducted to assess the estrogen receptor, androgen receptor, progesterone receptor and thyroid receptor ant/agonistic activities of effluents collected from Datansha wastewater treatment plant (WWTP), furthermore to evaluate the removal efficiencies of endocrine disrupting chemicals in the WWTP. The results showed that estrogenic, anti-androgenic, anti-progesteronic and anti-thyroidic activities were observed in influent. The removal efficiencies of these compounds were more than 80%, which suggested that the present wastewater treatment processes were good enough to remove most of all kinds of endocrine disruption chemicals.
Access options
Buy single article
Instant access to the full article PDF.
USD 39.95
Price includes VAT (USA)
Tax calculation will be finalised during checkout.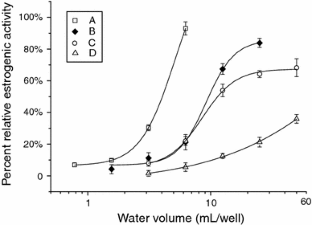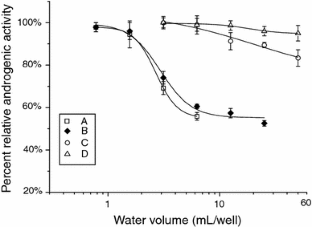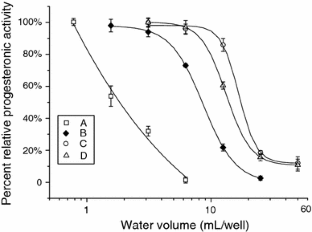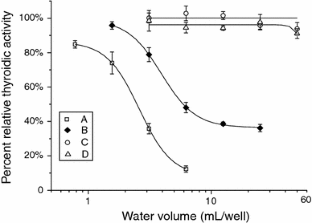 References
Boas M, Feldt-Rasmussen U, Skakkebæk NE, Main KM (2006) Environmental chemicals and thyroid function. European J Endocrinol 154:599–611

Cargouët M, Perdiz D, Mouatassim-Souali A, Tamisier-Karolak S, Levi Y (2004) Assessment of river contamination by estrogenic compounds in Paris area (France). Sci Total Environ 324:55–66

Clara M, Kreuzinger N, Strenn B (2005) The solids retention time: a suitable design parameter to evaluate the capacity of wastewater treatment plants to remove micropollutants. Water Res 39:97–106

Colborn T, vom Saal FS, Soto AM (1993) Developmental effects of endocrine-disrupting chemicals in wildlife and humans. Environ Health Perspect 101:378–384

Fawell JK, Sheahan D, James HA, Hurst M, Scott S (2001) Oestrogens and oestrogenic activity in raw and treated water in severn trent water. Water Res 35:1240–1244

Gaido KW, Leonard LS, Lovell S, Gould JC, Babai D, Portier CJ (1997) Evaluation of chemicals with endocrine modulating activity in a yeast-based steroid hormone receptor gene transcription assay. Toxicol Appl Pharmacol 143:205–212

Graham JD, Clarke CL (1997) Physiological action of progesterone in target tissues. Endocr Rev 18:502–519

Gutleb AC, Meerts IATM, Bergsma JH, Schriks M, Murk AJ (2005) T-Screen as a tool to identify thyroid hormone receptor active compounds. Environ Toxicol Pharmacol 19(2):231–238

Janošek J, Hilscherová K, Bláha L, Holoubek I (2006) Environmental xenobiotics and nuclear receptors-Interactions, effects and in vitro assessment. Toxicol In Vitro 20:18–37

Kiparissis Y, Metcalfe TL, Balch GC, Metcalfe CD (2003) Effects of antiandrogens, vinclozolin and cyproterone acetate on gonadal development in the Japanese medaka (Oryzias latipes). Aquat Toxicol 63:391–403

Kristensen T, Baatrup E, Bayley M (2006) p, p'-DDE fails to reduce the competitive reproductive fitness in Nigerian male guppies. Ecotox Environ Safe 63(1):148–157

Li J, Ma M, Giesy JP, Wang ZJ (2008a) In vitro profling of endocrine disrupting potency of organchlorine pesticides. Toxicol Lett 183:65–71

Li J, Ma M, Wang ZJ (2008b) A two-hybrid yeast assay to quantify the effects of xenobiotics on thyroid hormone-mediated gene expression. Environ Toxico Chem 27(1):159–167

Ma M, Li J, Wang Z (2005) Assessing the detoxication efficiencies of wastewater treatment processes using a battery of bioassays/biomarkers. Arch Environ Contam Toxicol 49:480–487

Meerts IATM, van Zanden JJ, Luijks EAC, van Leeuwen-Bol I, Marsh G, Jacobsson E, Bergman A, Brouwer A (2000) Potent competitive interactions of some brominated flame retardants and related compounds with human transthyretin in vitro. Toxicol Sci 56:5–104

Peng X, Yi Yu, Tang C, Tan HuangQ, Wang Z (2008) Occurrence of steroid estrogens, endocrine-disrupting phenols, and acid pharmaceutical residues in urban riverine water of the Pearl River Delta, South China. Sci Total Environ 397:158–166

Routledge EJ, Sumpter JP (1996) Estrogenic activity of surfactants and some of their degradation products assessed using a recombinant yeast screen. Environ Toxicol Chem 15:241–248

Sohoni P, Sumpter JP (1998) Several environmental oestrogens are also anti-androgens. J Endocrinol 158:327–339

Sonnenschein C, Soto AM (1998) An updated review of environmental estrogen and androgen mimics and antagonists. J Steroid Biochem Mol Biol 65:143–150

Sun Q, Deng S, Huang J, Shen G, Yu G (2008) Contributors to estrogenic activity in wastewater from a large wastewater treatment plant in Beijing, China. Environ Toxicol Pharmacol 25:20–26

Svenson A, Allard AS, Ek M (2003) Removal of estrogenicity in Swedish municipal sewage treatment plants. Water Res 37:4433–4443

Tabata A, Kashiwada S, Ohnishi Y, Ishikawa H, Miyamoto N, Itoh M, Magara Y (2001) Estrogenic influences of estradiol-17β, p-nonylphenol and bis-phenol-A on Japanese Medaka (Oryzias latipes) at detected environmental concentrations. Water Sci Technol 43:109–116

Tamura H, Ishimoto Y, Fujikawa T, Aoyama H, Yoshikawa H, Akamatsu M (2006) Structural basis for androgen receptor agonists and antagonists: Interaction of SPEED 98-listed chemicals and related compounds with the androgen receptor based on an in vitro reporter gene assay and 3D-QSAR. Bioorgan Med Chem 14:7160–7174

Tollefsen KE, Harman C, Smith A, Thomas KV (2007) Estrogen receptor (ER) agonists and androgen receptor (AR) antagonists in effluents from Norwegian North Sea oil production platforms. Mar Pollut Bull 54(3):277–283

Tran DQ, Klotz DM, Ladile BL (1996) Inhibition of progesterone receptor activity in yeast by synthetic chemicals. Biochem Bioph Res Co 229:518–523

Wang J, Xie P, Kettrup A, Schramm KW (2005) Inhibition of progesterone receptor activity in recombinant yeast by soot from fossil fuel combustion emissions and air particulate materials. Sci Total Environ 349:120–128

Wu WZ, Wang JX, Zhao GF, You L (2002) The emission soot of biomass fuels combustion as a source of endocrine disrupters. J Environ Sci Health A 37:579–600

Xu LC, Sun H, Chen JF, Bian Q, Qian J, Song L, Wang XR (2005) Evaluation of androgen receptor transcriptional activities of bisphenol A, octylphenol and nonylphenol in vitro. Toxicology 216:197–203
About this article
Cite this article
Li, J., Wang, Z., Ma, M. et al. Analysis of Environmental Endocrine Disrupting Activities Using Recombinant Yeast Assay in Wastewater Treatment Plant Effluents. Bull Environ Contam Toxicol 84, 529–535 (2010). https://doi.org/10.1007/s00128-010-0004-2
Received:

Accepted:

Published:

Issue Date:
Keywords
Recombinant yeast assay

Endocrine disruption chemicals

Wastewater sample