Abstract
Based on the acid rain and concurrent meteorological observational data during the past 10 years in Fujian Province, China, the dependence of distribution characteristics of acid rain on season, rain rate, weather pattern and dominant airflow in four regions of Fujian Province is analyzed. On the annual average, the acid rain frequency is the highest (above 40%) in the southern and mid-eastern regions, and the lowest (16.2%) in the western region. The acid rain occurs most frequently in spring and winter, and least frequent in summer. The acid rain frequency in general increases with the increase of precipitation. It also depend on the direction of dominant airflows at 850 hPa. In the mid-eastern region, more than 40% acid rains appear when the dominant wind directions are NW, W, SW, S and SE. In the southern region, high acid rain occurrence happens when the dominant wind directions are NW, W, SW and S. In the northern region, 41.8% acid rains occur when the southwesterly is pronounced. In the western region, the southwesterly is associated with a 17% acid rain rate. The examination of meteorological sounding conditions over Fuzhou, Xiamen and Shaowu cities shows that the acid rain frequency increases with increased inversion thickness. Based on the results above, a meteorological potential forecast model for acid rain is established and tested in 2007. The result is encouraging. The model provides an objective basis for the development of acid rain forecasting operation in the province.
Access options
Buy single article
Instant access to the full article PDF.
USD 39.95
Price includes VAT (USA)
Tax calculation will be finalised during checkout.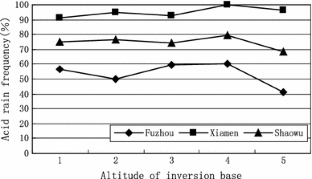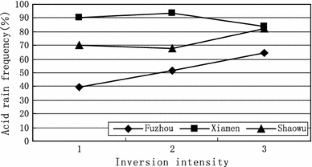 References
Feng ZW, Cao HF, Zhou XP (1999) The effects of acid precipitation on the ecological environment and restoration. Press of Chinese Environmental Sciences, Beijing, pp 1–3

Lei HC, Wu YX, Xiao H, Shen ZL (2001) Study on cloudwater and rainwater chemical characteristics under different weather system over China. J Plat Meteor 20(2):127–131

Lin CC, Lin XM, Zou Y, Zhang L (2005) Study on the relationship between meteorological conditions and acid rain in Fuzhou, Fujian Province. J Trop Meteor 21(3):330–336

Liu JX, Lin CC, Cai YY, Lin Z, Wang ZL (2007) The analysis of contributing weather systems and acid rain characteristics in Southern Fujian Province. J Trop Meteor 23(1):53–58
Acknowledgments
We thank Professor Tim Li, Ben Jong-Dao Jou and Professor Hui Xiao for their helpful discussions. Thanks are also due to the reviewers for their critical and constructive comments on this manuscript. This work was supported by the Major Scientific Project of Fujian Province (Grant No. 2002-004).
About this article
Cite this article
Cai, Y.Y., Lin, C.C., Liu, J.X. et al. A Meteorological Potential Forecast Model for Acid Rain in Fujian Province, China. Bull Environ Contam Toxicol 84, 513–518 (2010). https://doi.org/10.1007/s00128-010-0003-3
Received:

Accepted:

Published:

Issue Date:
Keywords
Meteorological conditions

Acid rain

Potential forecast

Model