Abstract
Dioctyldiethylenetriamine acetate (Chinese common name: Xinjunan) is an effective bactericide and virucide widely used on many crops including vegetables and fruits in China. In this study, the dissipation of dioctyldiethylenetriamine acetate 1.8% (w/w) aqueous solution (AS) in rice, soil and water was studied. The result in the supervised field trials showed that the half-lives of dioctyldiethylenetriamine acetate in soil and rice plant were in the range 3.9–6.6 and 6.2–12 days, respectively. It also indicated that the decline followed first-order kinetics. The dissipation of Xinjunan in water, was stimulated in a laboratory container, showed that it could rapidly deposit on solid particles and might form bound residues in surface levels of soil. According to the toxicological data and the dietary intake of rice, a MRL (Maximum Residue Limits) of 0.1 mg/kg for dioctyldiethylenetriamine acetate in the rice was recommended for national accessment. The results indicated that the supervised trials median residues (STMR) is 0.02 mg/kg and only 0.2% of the acceptable daily intake (ADI) is occupied by dietary daily intake in the average Chinese population. It would be unlikely to pose any public health issues if dioctyldiethylenetriamine acetate was applied according to the use pattern suggested by the manufactures on the label.
Access options
Buy single article
Instant access to the full article PDF.
USD 39.95
Price includes VAT (USA)
Tax calculation will be finalised during checkout.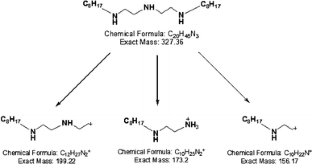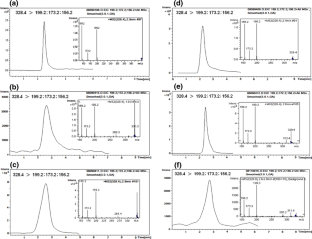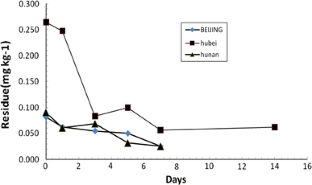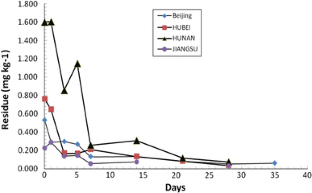 References
Chen YJ, Wang XQ, Li BG (1999a) Manufacture of water insoluble quaternary phosphonium industrial bactericide. Faming Zhuanli Shenqing Gongkai Shuomingshu, Patent NO. CN 1209948, 10 March

Chen YJ, Wang XQ, Li BG (1999b) Manufacture of water insoluble divinylbenzene- styrene copolymer-based bactericide. Faming Zhuanli Shenqing Gongkai Shuomingshu, Patent NO. CN 1209949, 10 March

Chen YJ, Li BG, Wang XQ (2000) Preparation of amphoteric disinfectant polymer. Faming Zhuanli Shenqing Gongkai Shuomingshu, Patent NO. CN 1262039, 9 Aug

Dhananjay KT, Vipin K, Ravindranath SD, Adarsh S (2005) Dissipation behavior of bifenthrin residues in tea and its brew. Food Control 16:231–237

FAO (2002) Submission and evaluation of pesticide residues data for the estimation of maximum residue level in food and feed. Rome

FAO/WHO JMPR (1962) Principles governing consumer safety in relation to pesticide residues. Report of a meeting of a WHO Expert Committee on Pesticide Residues held jointly with the FAO Panel of Experts on the Use of Pesticides in Agriculture. FAO Plant production and Protection Division Report, No. PL/1961/11; WHO Technical Report Series, No. 240, [EB/OL]

Hiraki J, Morita H, Fujii M (1990) Prevention of plant virus infections by mono- and dialkyldiethylenetriaminoacetic acids and salts. Germany Patent NO. DE 3934761, 3 May

Hofmann E, Holtschmid U (1971) Biocidal N-substituted diethyl- lenetriamines. Germany Patent NO. DE 2009276, 13 May

Hofmann E, Holtschmid U (1972) Biocidal synergistic mixtures of octyl- substituted diethylenetriamines. Germany Patent NO. DE 2049399, 9 March

Huang T, Dong Z, Qu C (2008) Preparation of dialkyldiethylenetriamine derivatives as fungicides. Faming Zhuanli Shenqing Gongkai Shuomingshu, Patent NO. CN 101161630, 16 Apr

Keyou Ge, Jianbin Jia, Hong Liu (2007) Food-based dietary guidelines in China practices and problems. Ann Nutr Metab 51(Suppl 2):26–31

Lu LQ, Li QY (2005) Air freshener with sterilizing and disinfecting effects. Faming Zhuanli Shenqing Gongkai Shuomingshu, Patent NO. CN 1569241, 26 Jan

Murata Y, Ueda M (1989) Antimicrobialproperty of N-alkyldiethyl- enetriamines and N-acyldiethylenetriamines against some dental plaque bacteria. Hokuriku Univ., Kanazawa, Japan. Bokin Bobai 17(8):371–375

Xi LG (2001) Disinfecting detoxicating air-cleaning aerosols and their manufacture. Faming Zhuanli Shenqing Gongkai Shuomingshu, Patent NO. CN 1298744, 13 June
About this article
Cite this article
Li, X., Jiang, Y., Shan, W. et al. Dissipation and Residues Detection of Dioctyldiethylenetriamine Cetate in Rice Plant and Environment by QuEChERS Method and Liquid Chromatography/Electrospray Tandem Mass Spectrometry. Bull Environ Contam Toxicol 84, 596–601 (2010). https://doi.org/10.1007/s00128-010-0001-5
Received:

Accepted:

Published:

Issue Date:
Keywords
Dissipation

Dioctyldiethylenetriamine acetate

Rice

Risk assessment