Abstract
Based on the concentrations of polycyclic aromatic hydrocarbons (PAHs) in 12 surface sediment samples from Yellow sea, the relative risk of 9 PAHs was investigated using joint risk probability distribution curves and overlapping area, which were generated based on the distributions of exposure and acute toxicity data (LC50), and the sources of PAHs were apportioned using principal component analysis. It was found that joint probability curve and overlapping area indicated the acceptable ecological risk of individual PAHs, only a small fraction of the benthic organisms was affected. Among the nine PAHs studied, the overall risk of pyrene was the highest, with that of naphthalene the lowest. For lower exposure levels at which the percentage of species affected was less than 10%, the risk associated with phenanthrene and fluorene were clearly higher than that of the other seven PAHs. It was indicated that PAHs in surface sediments mainly originated from vehicular emissions, coal combustion sources, coke oven emission and wood combustion, petroleum origin made little influence on sources of PAHs by PCA.
Access options
Buy single article
Instant access to the full article PDF.
USD 39.95
Price includes VAT (USA)
Tax calculation will be finalised during checkout.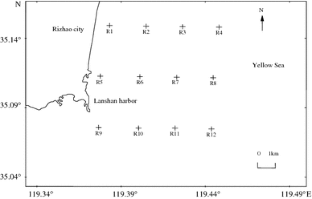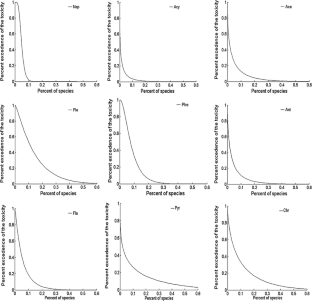 References
Bartell SM, Campbell KR, Lovelock CM, Nair SK, Show JL (2000) Characterizing aquatic ecological risks from pesticides using a diquat dibromide case study. III. Ecological process models. Environ Toxicol Chem 19:1441–1453

Baumard P, Budzinski H, Garrigues P, Sorbe JC, Burgeot T, Bellocq J (1998) Concentrations of PAHs (polycyclic aromatic hydrocarbons) in various marine organisms in relation to those in sediments and to trophic level. Mar Pollut Bull 36:951–960

Burton AG (2002) Sediment quality criteria in use around the world. Limnology 3:65–75

Carriger JF, Rand GM, Gardinali PR, Perry WB, Tompkins MS, Fernandez AM (2006) Pesticides of potential ecological concern in sediment from South Florida Canals: an ecological risk prioritization for aquatic arthropods. Soil Sediment Contam 15(1):21–45

Chen YJ, Sheng GY, Bi XH, Feng YL, Mai BX, Fu JM (2005) Emission factors for carbonaceous particles and polycyclic aromatic hydrocarbons from residential coal combustion in China. Environ Sci Technol 39:1861–1867

Duran K, Beyhan P (2005) Source apportionment of polycyclic aromatic hydrocarbons in surface sediments of Izmit Bay (Turkey). Int J Environ Anal Chem 85(7):433–442

Gewurtz SB, Lazar R, Haffner GD (2000) Comparison of polycyclic aromatic hydrocarbon and polychlorinated dynamics in benthic invertebrates of Lake Erie, USA. Environ Toxicol Chem 19:2943–2950

Hall L, Gardinali P (2004) Ecological risk assessment for Irgarol 1051 and its major metabolite in United States surface waters. Hum Ecol Risk Assess 10:525–542

Homdutt S, Jainb VK, Zahid HK (2007) Characterization and source identification of polycyclic aromatic hydrocarbons (PAHs) in the urban environment of Delhi. Chemosphere 66:302–310

Kenneth MYL, Rita PYK, Toshihiro H, Qiu JW, Yang RQ, Song MY, Jiang GB, Zheng GJ, Lam PKS (2006) Ecological risk assessments of endocrine disrupting organotin compounds using marine neogastropods in Hong Kong. Chemosphere 65:922–938

Lang YH, Jia YG, Liu ZF, Gao ZH, Wang XP (2008) Seasonal distribution characteristics and sources of polycyclic aromatic hydrocarbons (PAHs) in water samples from the Yellow River Estuary. Period Ocean Univ China 38(4):640–646

Lin XM, Chen JL, Liu WX, Duan YH, Tao S (2007) Source identification of PAHs in surface sediments from Bohai Sea by multivariate statistics. Mar Environ Sci 26(2):107–111

Ling X, Liu WX, Chen JL, Fan YS, Xing BS, Tao S (2008) Distribution and potential risk of polycyclic aroma tic hydrocarbons in coastal surface sediments from the Yellow Sea, China. Acta Sci Circumst 28(7):1395–1399

Liu AX, Lang YH, Xue LD, Liu J (2008) Ecological risk assessment of PAHs in the costal surface sediments from Yellow Sea (Rizhao city). Environ Chem 27(6):805–809

Luo XJ, Chen SJ, Mai BX, Zeng EY (2006) Source, transport and risk assessment of PAHs in surface sediments from Pearl River Delta. Asian J Ecotoxicol 1(1):17–24

Luo XJ, Chen SJ, Mai BX, Sheng GY, Fu JM, Zeng EY (2008) Distribution, source apportionment, and transport of PAHs in sediments from the Pearl River Delta and the northern South China Sea. Arch Environ Contam Toxicol 55(1):11–20

Marko N, Hermina L, Jadran F (2001) Composition, distribution and sources of polycyclic aromatic hydrocarbons in sediments of the gulf of Trieste, Northern Adriatic Sea. Mar Pollut Bull 42(1):36–44

Mastral AM, Callen M, Murillo R (1996) Assessment of PAH emissions as a function of coal combustion variables. Fuel 75:1533–1536

Matt FS, Steven JE, Paul JL (1999) Source apportionment and source/sink relationships of PAHs in the coastal atmosphere of Chicago and Lake Michigan. Atmos Environ 33:5071–5079

Shen Q, Wang KY, Zhang W, Zhang SC, Hu JD, Hu LW, Wang XJ (2007) Source Apportionment of polycyclic aromatic hydrocarbons in rivers in Tong zhou district of Beijing, China. J Agro Environ Sci 26(3):904–909

Shi X, Yang Y, Xu FL, Liu WX, Tao S (2004) Ecological risk assessment of polycyclic aromatic hydrocarbons in surface water from Tianjin. Acta sci circumst 24(4):619–624

Solomon KR, Sibley P (2002) New concepts in ecological risk assessment: where do we go from here? Mar Pollut Bull 44:279–285

Solomon KR, Giesy JP, Jones P (2000) Probabilistic risk assessment of agrochemicals in the environment. Crop Prot 19:649–655

Wang XL, Tao S, Dawson RW, Xu FL (2002) Characterizing and comparing risks of polycyclic aromatic hydrocarbons in a Tianjin wastewater irrigated area. Environ Res 90:201–206

Xu J, Yu Y, Wang P, Guo WF, Dai SG, Sun HW (2007) Polycyclic aromatic hydrocarbons in the surface sediments from Yellow River, China. Chemosphere 67:1408–1414

Xue LD, Lang YH, Liu AX, Liu J (2008) Source apportionment of polycyclic aromatic hydrocarbons in coastal surface sediments from Rizhao offshore area. Ecol Environ 17(4):1369–1375

Yang Y, Shi X, Xu FL, Tao S (2004) Risk analysis of naphthalene pollution in soils of Tianjin. Environ Sci 25(2):115–118

Yunker MB, Snowdon LR, Macdonald RW, Smith JN, Fowler MG, Skibo DN, Mclaughlin FA, Danyushevskaya AI, Petrova VI, Ivanov GI (1996) Polycyclic aromatic hydrocarbon composition and potential sources for sediment samples from the Beaufort and Batents Seas. Environ Sci Technol 30(4):1310–1320
Acknowledgments
This work was supported by National Natural Science Foundation of China (No. 40706039).
About this article
Cite this article
Liu, AX., Lang, YH., Xue, LD. et al. Probabilistic Ecological Risk Assessment and Source Apportionment of Polycyclic Aromatic Hydrocarbons in Surface Sediments from Yellow Sea. Bull Environ Contam Toxicol 83, 681 (2009). https://doi.org/10.1007/s00128-009-9870-x
Received:

Accepted:

Published:
Keywords
Surface sediment

PAHs

Probabilistic risk assessment

Source apportionment