Abstract
In this study, the genotoxic effects of the insecticide cypermethrin on the root meristem cells of sunflowers (Helianthus annuus L.) were investigated. The roots were treated with 10- 25- 50- and 100-ppm concentrations of cypermethrin for 6, 12 and 24 h. The mitotic index and mitotic abnormalities were determined in both control and test groups. The cypermethrin showed a marked mitodepressive action on mitosis. The types of mitotic abnormalities included disturbed metaphase, c-mitosis, stickiness, laggards and chromatid bridges. A pronounced toxic effect was observed at the 50-ppm concentration. Cypermethrin may have genotoxic effects on sunflowers.
Access options
Buy single article
Instant access to the full article PDF.
USD 39.95
Price includes VAT (USA)
Tax calculation will be finalised during checkout.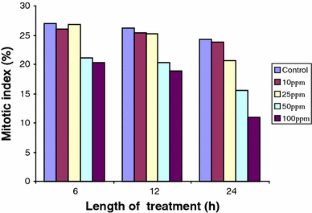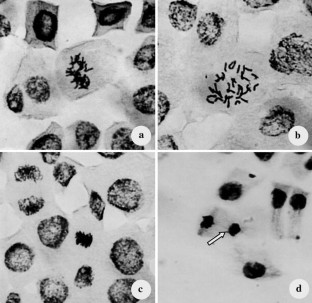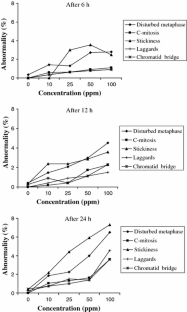 References
Ajay KJ, Sarbhoy RK (1987) Cytogenetical studies on the effect of some chlorinated pesticides I. Effect on somatic chromosomes of Lens and Pisum. Cytologia 52:47–53

Badr A (1986) Effects of the s-triazine herbicide terbutryn on mitosis chromosomes and nucleic acids in root tips of Vicia faba. Cytologia 51:571–578

Bhunya SP, Pati PC (1988) Genotoxic effects of a synthetic pyrethroid insecticide, cypermethrin, in mice in vivo. Toxicol Lett 41:223–230

Chauhan LKS, Dikshith TSS, Sundararam V (1986) Effect of deltamethrin on plant cells. I. Cytological effects on the root meristems of Allium cepa. Mutat Res 171:25–30

Chauhan LKS, Saxena PN, Gupta SK (1999) Cytogenetic effects of cypermethrin and fenvalerate on the root meristem cells of Allium cepa. Environ Exp Bot 42:181–189

Cox C (1996) Insecticide factsheet—cypermethrin. J Pest Reform 16:15–20

Çelik TA, Sümer Ş (1996) Basudin (20 EM)' Arpa Mitotik kromozomları üzerine etkileri. Turk J Biol 20:21–28

Darlington CD, La Cour F (1976) The handling of chromosomes. Allen and Unvin, London

Fishbein L (1972) Pesticidal, industrial, food additive and drug mutagens. In: Sutton HL, Harris MI (eds) Mutagenic effects of environmental contaminants. Academic press, New York, pp 129–256

Gòmez-Arroyo S, Castillo-Ruiz P, Cortes-Eslava J, Villalobos-Pietrini R (1988) Vicia faba sister chromatid exchanges of the organophosphorus insecticides dimethoate oxydemeton methyl, azinphos methyl and phoxim. Cytologia 53:627–634

Grover IS, Tyagi PS (1980) Chromosomal aberrations induced by pesticides in meiotic cells of barley. Caryologia 33:251–259

Inceer H, Beyazoglu O (2000) Cytogenetic effects of copper chloride on the root tip cells of Vicia hirsuta (L.) S.F. Gray. Turk J Biol 24:553–559

Inceer H, Eryigit HN, Beyazoglu O (2004) Effects of the herbicide linuron on somatic chromosomes of Helianthus annuus L. (sunflowers). Caryologia 57:127–132

Kara M, Şanda MA, Ateş A (1994) Cytogenetic effects of the insecticide cypermethrin on the root meristems of Allium cepa L. Turk J Biol 18:323–331

Ministry of Agricultural and Rural Affairs of Republic of Turkey (MARA) (1996) General Directorate of Protection and Control, Technical Instructions in Agricultural Combat (Ziraii mücadele teknik talimatları). Ankara 4, 152 pp

McGregor SE (1976) Insect pollination of cultivated crop plants. Agricultural Handbook No: 496, US Dept Agr, pp 345–349

Nandi S (1985) Studies on the cytogenetic effect of some mercuric fungicides. Cytologia 50:921–926

Pavlica M, Vasilevska J, Paes D (1998) Genotoxicity of pentachlorophenol revealed by Allium chromosome aberration assay. Acta Biol Crac Ser Bot 40:85–90

Rank J, Nielsen MH (1997) Allium cepa anaphase-telophase root tip chromosome aberration assay on N-methyl-N-nitrosourea, malic hydradize, sodium azide, ethyl methyl sulfonate. Mutat Res 390:121–127

Rao BV, Sharma CBSR, Rao BGS (1987) Cytological effects of organophosphorus insecticides on Allium cepa root meristems. Cytologia 52:367–371

Sadia KB, Vahidy AA (1994) Cytotoxic effects of herbicide ronstar on meristematic cells of Allium cepa L. Pak J Bot 26:69–74

Saxena PN, Chauhan LKS, Gupta SK (2005) Cytogenetic effects of commercial formulation of cypermethrin in root meristem cells of Allium sativum: spectroscopic basis of chromosome damage. Toxicol 216:244–252

Wuu KD, Grant WF (1966) Morphological and somatic chromosomal aberrations induced by pesticides in Barley (Hordeum vulgare). Can J Genet Cytol 8:481–501

Yuzbasıoglu D, Unal F, Sancak C, Kasap R (2003) Cytological effects of the herbicide racer "flurochloridone" on Allium cepa. Caryologia 56:97–105

Zakia M, Fawzia A, Ebad A, Abo-El-Kebir A, Iman-A E (1990) Alteration in nucleic acids protein content and mitotic division of Vicia faba root tip cells as affected by malathion and tamaron insecticides. Cytologia 55:349–355
Acknowledgments
The authors wish to thank Dr. Mustafa Yaman for his comments and an anonymous referee for providing helpful suggestions that improved the manuscript. Some of the chemicals and reagents used were partly purchased using funds awarded by the Research Fund of Karadeniz Technical University (Project No: 2005.111.004.7).
About this article
Cite this article
Inceer, H., Hayirlioglu-Ayaz, S. & Ozcan, M. Genotoxic Effects of the Insecticide Cypermethrin on the Root Meristem Cells of Sunflowers (Helianthus annuus L.). Bull Environ Contam Toxicol 83, 652 (2009). https://doi.org/10.1007/s00128-009-9856-8
Received:

Accepted:

Published:
Keywords
Helianthus annuus

Cypermethrin

Cytotoxicity

Genotoxicity

Sunflower