Abstract
Pesticide contamination of soil and ground water at or near the agricultural fields is a major problem world wide. The ability of several amendments like rice straw, manure, saw dust and charcoal were used to stimulate the degradation of atrazine in soil. Field soil fortified with pesticide at two concentration levels were amended separately with rice straw, farm yard manure, saw dust and charcoal at rates of 2.5% (w/w) and maintained at field capacity moisture regime and kept at ambient temperature 25 ± 5°C. The results indicate 89.5% degradation of atrazine in farm yard manure during 60-day period followed by rice straw, saw dust charcoal and recording 87.2% and 83.8%, 67.7%, respectively, as compared to unamended treatment where 63.3% degradation was observed. The FYM was found to be most effective in soil and enhances the degradation as compared to the other amendments. Although addition of organic manures has been an integral part of sustainable agriculture practices; the present findings give a new dimension of it's utilization for removal of persistent pesticides.
Access options
Buy single article
Instant access to the full article PDF.
USD 39.95
Price includes VAT (USA)
Tax calculation will be finalised during checkout.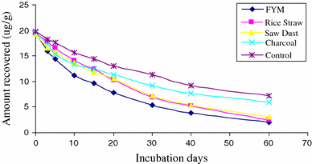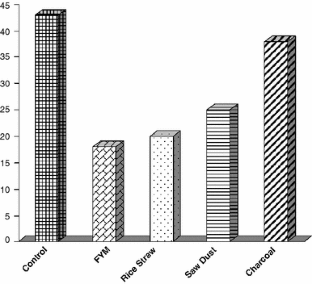 References
Ballantine LG, McFarland JE, Hackett DS (1998) Triazine herbicides: risk assessment. American Chemical Society, Washington DC

Eriksen J, Sørensen P, Elsgaard L (2008) The fate of sulfate in acidified pig slurry during storage and following application to cropped soil. J Environ Qual 37:280–286

Kadian N, Gupta A, Satya S, Mehta RK, Malik A (2008) Biodegradation of herbicide (atrazine) in contaminated soil using various bioprocessed materials. Bioresour Technol 99:4642–4647

Lima D, Viana P, André S, Chelinho S, Costa C, Ribeiro R, Sousa JP, Fialho AM, Viegas CA (2009) Evaluating a bioremediation tool for atrazine contaminated soils in open soil microcosms: the effectiveness of bioaugmentation and biostimulation approaches. Chemosphere 74:187–192

Lin CH, Lerch RN, Garrett HE, Goerge MF (2008) Bioremediation of atrazine contaminated soil by forage grasses: transformation, uptake and detoxification. J Environ Qual 47:196–206

Mooram TB, Cowan JK, Arthur EL, Coats JR (2001) Organic amendments to enhance herbicide biodegradation in contaminated soils. Biol Fert Soils 33:541–545

Moormam T, Cowan J, Arthur E, Coats J (2000) Organic amendments to enhance herbicide biodegradation in contaminated soils. http://www.ars.usda.gov/research/publications.htm

Pullicino DS, Gigliotti G, Vella AJ (2004) Environmental fate of triasulfuron in soils amended with municipal waste compost. J Environ Quality 33:1743–1751

Pussemeir I, Goux L, Vanderheyden S, Debonginie V, Tresinie I, Foucart G (2003) Rapid dissipation of atrazine in soils taken from various maize fields. Weed Res 37:171–179

Solomon KR, Baker DB, Richards RP, Dixon KR, Kaline SJ, LaPoint TW, Kendall RJ, Weisskopf CP, Giddings JM, Giesey JP, Hall LW Jr, Williams WM (1996) Ecological risk assessment of atrazine in North American surface waters. Environ Toxicol Chem 15:31–76
Acknowledgments
The authors thank Dr. Prem Dureja, Head, Division of Agricultural Chemicals, IARI, for providing the facilities and encouragement for the research work. Contribution No. 986 of the Division.
About this article
Cite this article
Mukherjee, I. Effect of Organic Amendments on Degradation of Atrazine. Bull Environ Contam Toxicol 83, 832–835 (2009). https://doi.org/10.1007/s00128-009-9849-7
Received:

Accepted:

Published:

Issue Date:
Keywords
Atrazine

Amendment

Biostimulation

Organic bioresource