Abstract
The purpose of the study was to evaluate multixenobiotic resistance mechanism expression as a biomarker for contaminant exposure in freshwater fishes. Exposure to a known mammalian inhibitor (verapamil, 10 μM) and inducer (rhodamine 123, 3 μM) on the transport protein P-glycoprotein (Pgp) was investigated in the liver of the western mosquitofish and bluegill sunfish. No differences in the activity or expression of Pgp were measured in either species using a fluorometric accumulation assay and western blot analyses. The preliminary results from this study indicate that this detoxification mechanism may not be a sensitive indicator of contaminant exposure in certain teleost species.
Access options
Buy single article
Instant access to the full article PDF.
USD 39.95
Price includes VAT (USA)
Tax calculation will be finalised during checkout.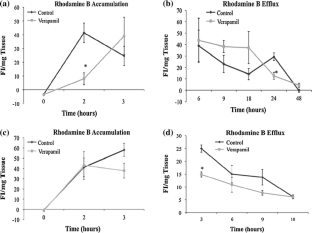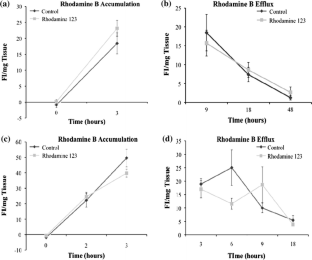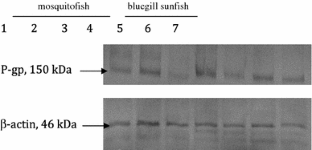 References
Daughton C, Ternes T (1999) Pharmaceuticals and personal care products in the environment: agents of subtle change? Environ Health Perspect 107:907–938. doi:10.2307/3434573

Sarkadi B, Homolya L, Szakacs G, Varadi A (2006) Human multidrug resistance ABCB and ABCG transporters: participation in a chemoimmunity defense system. Physiol Rev 86:1179–1236. doi:10.1152/physrev.00037.2005

Smital T, Sauerborn R (2002) Measurement of the activity of multixenobiotic resistance mechanism in the common carp Cyprinus carpio. Mar Environ Res 54:449–453. doi:10.1016/S0141-1136(02)00155-1

Smital T, Sauerborn R, Pivcevic B, Krca S, Kurelec B (2000) Interspecies differences in P-glycoprotein mediated activity of multixenobiotic resistance mechanism in several marine and freshwater invertebrates. Comp Biochem Physiol Part C 126:175–186

Smital T, Sauerborn R, Hackenberger BK (2003) Inducibility of the P-glycoprotein transport activity in the marine mussel Mytilus galloprovinvialis and the freshwater mussel Dreissena polymorpha. Aquat Toxicol 65:443–465

Zaja R, Sauerborn R, Smital T (2007) Detection and functional characterization of Pgp1 (ABCB1) and MRP3 (ABCC3) efflux transporters in the PLHC-1 fish hepatoma cell line. Aquat Toxicol 81:365–376
Acknowledgments
The authors wish to thank Matthew Overturf for his assistance in field collections and experimentation and Nancy Baer for her editorial comments.
About this article
Cite this article
Damaré, C.L., Kaddoumi, A.K. & Baer, K.N. Investigation of the Multixenobiotic Resistance Mechanism in the Freshwater Fishes Western Mosquitofish, Gambusia affinis, and Bluegill Sunfish, Lepomis macrochirus . Bull Environ Contam Toxicol 83, 640 (2009). https://doi.org/10.1007/s00128-009-9846-x
Received:

Accepted:

Published:
Keywords
MXR

p-Glycoprotein

Mosquitofish

Bluegill sunfish