Abstract
Residues of spinosad were estimated in cauliflower curds using high performance liquid chromatography (HPLC) and confirmed by high performance thin layer chromatography (HPTLC). Following three application of spinosad (Success 2.5 SC) at 15 and 30 g a.i. ha−1, the average initial deposits of spinosad were observed to be 0.57 and 1.34 mg kg−1, respectively. These residues dissipated below the limit of quantification (LOQ) of 0.02 mg kg−1 after 10 days at both the dosages. The half-life values (T 1/2) of spinosad were worked out to be 1.20 and 1.58 days, respectively, at recommended and double the recommended dosages. Thus, a waiting period of 6 days is suggested for the safe consumption of spinosad treated cauliflower.
Access options
Buy single article
Instant access to the full article PDF.
USD 39.95
Price includes VAT (USA)
Tax calculation will be finalised during checkout.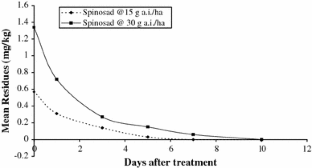 References
Anonymous (2007) Package of practices for cultivation of vegetables. Punjab Agricultural University, Ludhiana, pp 27–30

Elzen GW, Elzen PJ, King EG (1998) Laboratory toxicity of insecticide residues to Orius insidiosus, Geocoris punctipes, Hippoclamia convergens and Chyrosoperla carnea. Southwest Entomol 23:335–342

Gill CK, Kaur S, Joia BS (2008) Efficacy of new insecticides for the management of diamondback moth, Plutella xylostella (Linnaeus) on cauliflower and cabbage. J Insect Sci 21:171–177

Hoskins WM (1961) Mathematical treatments of loss of pesticide residues. Pl Prot Bull FAO 9:163–168

Kirst HA, Michel KH, Mynderse JS, Choco EH, Yao RC, Nakatsukasa WM, Boeck LD, Occlowitz J, Paschel JW, Deeter JB, Thompson GD (1992) Discovery, isolation and structure elucidation of a family of structurally unique fermentation derived tetracyclic macrolides. In: Baker DR, Fenyes JG, Steffens JJ (eds) Synthesis and Chemistry synthesis III of agrochemicals. American Chemical Society, Washington, DC, pp 214–215

Saunders DG, Bret DL (1997) Fate of spinosad in the environment. Down Earth 52:14–20

Sharma KK (2007) Pesticide residue analysis manual. Directorate of Information and Publications of Agriculture, Indian Council of Agricultural Research, New Delhi, p 294

Sharma A, Srivastava A, Ram B, Srivastava PC (2007) Dissipation behaviour of spinosad insecticide in soil, cabbage and cauliflower under subtropical conditions. Pest Manag Sci 63:1141–1145

Singh IP, Mukherjee U (1993) Dissipation of monocrotophos residues in/on leaves and curds of cauliflower Brassica oleracea var. botrytis. J Insect Sci 6:142–143

Tomkins AR, Holland PT, Thomson C, Willson DJ, Malcolm CP (1999) Residual life of spinosad on kiwifruit – biological and chemical studies. In: Proceedings of 52nd New Zealand plant protection conference, Hamilton, New Zealand, pp 94–97
Acknowledgments
Authors are thankful to the Head, Department of Entomology, PAU, Ludhiana for providing research facilities to carry out these studies.
About this article
Cite this article
Mandal, K., Jyot, G. & Singh, B. Dissipation Kinetics of Spinosad on Cauliflower (Brassica oleracea var. botrytis. L.) Under Subtropical Conditions of Punjab, India. Bull Environ Contam Toxicol 83, 808 (2009). https://doi.org/10.1007/s00128-009-9844-z
Received:

Accepted:

Published:
Keywords
Spinosad

Residues

Dissipation

Waiting period