Abstract
The concentrations of endocrine disruptors were determined in 36 liver tissue, serum and whole blood sample extracts drawn from 15 Blue Lagoon National Park Kafue lechwe. Out of 10 analytes evaluated, 89% of the sample extracts showed very high dieldrin concentrations of between 0.08–100 μg/mL in serum, 0.08–24.8 μg/mL in whole blood and 0.08–4.6 μg/g wet weight in liver tissue extracts. pp-DDE was detected in 83% of the sample extracts at 0.006–5.1 μg/mL in serum, 0.006–8.5 μg/mL in whole blood and 0.006–0.12 μg/g wet weight in liver tissue extracts. There was strong correlation between pp-DDE and dieldrin in all the three matrices. Deltamethrin and endosulfan detected at 50% frequency each. Percent recoveries in spiked laboratory blanks ranged between 60–100% while calculated detection limits ranged from 0.004 to 0.21 μg/mL for all the endocrine disruptors evaluated.
Access options
Buy single article
Instant access to the full article PDF.
USD 39.95
Price includes VAT (USA)
Tax calculation will be finalised during checkout.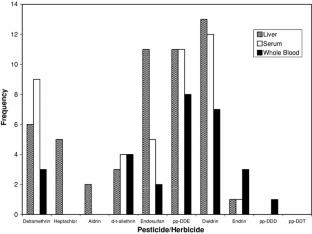 References
Alsebae AH (1993) Special problems experienced with pesticide use in developing countries. Regul Toxicol Pharmacol 17:287–291

Cheng J, Liu M, Yu Y, Wang X, Zhang H, Ding L, Jin H (2008) Determination of pyrethroids in porcine tissues by matrix solid-phase dispersion extraction and high-performance liquid chromatography. Meat Sci. doi: 10.1016/j.meatsci.2008.09.011

Chisupa K (2005) Toxic waste dumping in Zambia. Voices from Africa, United Nations-Non-Governmental Liason Services No. 6 Sustainable development part 2

Holland PT (2003) Analysis of endocrine active substances in food and the environment. Pure Appl Chem 75:1843–1857

Norrgren L, Brunström B, Engwall M, Mwase M (1998) Biological impact of lipophilic sediment extracts from the Kafue River, Zambia, in microinjected rainbow trout yolk-sac fry and chick embryo livers exposed in vitro. Aquat Ecosyst Health Manag 1:91–99

Norrgren L, Pettersson U, Orn S, Berggvist PA (2000) The environmental monitoring of the Kafue River, located in the Copperbelt, Zambia. Arch Environ Contamin Toxicol 38:334–341

Orme S, Kegley S (2004) PAN Pesticides database—Pesticide Action Network, North America, San Francisco, CA

Sichilongo K, Torto N (2006) Determination of endocrine disruptors in Kafue lechwe (kobus leche kafuensis) samples from the Lochinvar National Park of Zambia. Environ Int 32:718–723

Syakalima M, Choongo K, Mwenechanya R, Wepener V, Yamasaki M, Maede Y (2006) Pesticide/herbicide pollutants in the Kafue River and a preliminary investigation into their biological effect through catalase levels in fish. Jap J Vet Res 54(2-3):119–128

Wang S, Wnag XH (2007) Analytical methods for the determination of zeranol residues in animal products: a review. Food Addit Contam 24:573–582

Wang S, Huang W, Fang GZ, Zhang Y, Qiao H (2008) Analysis of steroidal estrogen residues in food and environmental samples. Int J Environ Anal Chem 88:1–25

World Wildlife Fund, WWF (1978) UK Mission Report
Acknowledgments
The authors would like to thank the Organization for the Prohibition of Chemical Weapons (OPCW), the Flemish Interuniversity Council (VLIR) for financial support and the University of Botswana, Department of Chemistry, for material support. The TB Research Group in the School of Veterinary Medicine at UNZA and ZAWA for granting authority to collect samples from the Blue Lagoon National Park.
About this article
Cite this article
Sichilongo, K., Torto, N. Evaluation of Endocrine Disruptor Levels in Kafue Lechwe (kobus leche kafuensis) Samples from the Blue Lagoon National Park of Zambia. Bull Environ Contam Toxicol 83, 846 (2009). https://doi.org/10.1007/s00128-009-9843-0
Received:

Accepted:

Published:
Keywords
Kafue lechwe

Blue Lagoon

Dieldrin

Zambia

pp-DDE