Abstract
The presence of endosulfan in samples of African dust after a typical red dust storm in May 2007 was investigated. The samples were collected from a remote and mountainous area of Crete (Greece) where olive groves are cultivated. Endosulfan I, endosulfan II and endosulfan sulphate were detected at concentrations of 2.7, 1.4 and 1.1 ng/g, respectively, indicating that long range aeolian dust transport could be a possible source of contamination of olive cultivations.
Access options
Buy single article
Instant access to the full article PDF.
USD 39.95
Price includes VAT (USA)
Tax calculation will be finalised during checkout.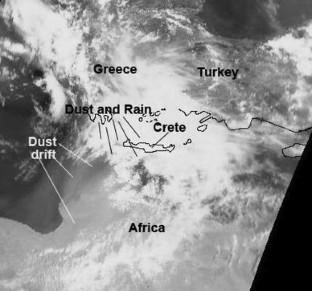 References
Amvrazi EG, Albanis TA (2009) Pesticide residue assessment in different types of olive oil and preliminary exposure assessment of Greek consumers to the pesticide residues detected. Food Chem 113:253–261

Garrison VH, Shinn EA, Foreman WT, Griffin DW, Holmes CW, Kellogg CA, Majewski MS, Richardson LL, Ritchie KB, Smith GW (2003) African and Asian dust: from desert soils to coral reefs. Bioscience 53:469–480

Garrison VH, Foreman WT, Genualdi SA, Griffin DW, Kellogg CA, Majewski MS, Mohammed A, Ramsubhag A, Shinn EA, Simonich SLM, Smith GW (2006) Saharan dust – A carrier of persistent organic pollutants, metals and microbes to the Caribbean? Rev Biol Trop 54:9–21

Griffin DW, Kellogg CA, Garrison VH, Shinn EA (2002) The global transport of dust – An intercontinental river of dust, microorganisms and toxic chemicals flows through the Earth's atmosphere. Am Sci 90:228–235

Herut B, Zohary T, Krom MD, Mantoura RFC, Pitta P, Psarra S, Rassoulzadegan F, Tanaka T, Thingstad TF (2005) Response of East Mediterranean surface water to Saharan dust: on-board microcosm experiment and field observations. Deep-Sea Res Part II 52:3024–3040

Kumar M, Philip L (2006) Adsorption and desorption characteristics of hydrophobic pesticide endosulfan in four Indian soils. Chemosphere 62:1064–1077

Papastefanou C, Manolopoulou M, Stoulos S, Ioannidou A, Gerasopoulos E (2001) Coloured rain dust from Sahara Desert is still radioactive. J Environ Radioactiv 55:109–112

Prokopakis EP, Lachanas VA, Velegrakis GA, Tsiftsis DD, Moschandreas J, Chalkiadakis GE (2007) Increased incidence of papillary thyroid cancer among total thyroidectomies in Crete. Otolaryng Head Neck 136:560–562

Pye K (1992) Aeolian dust transport and deposition over Crete and adjacent parts of the Mediterranean-sea. Earth Surf Proc Land 17:271–288

Tsatsakis AM, Tsakiris IN, Tzatzarakis MN, Agourakis ZB, Tutudaki M, Alegakis AK (2003) Three-year study of fenthion and dimethoate pesticides in olive oil from organic and conventional cultivation. Food Addit Contam 20:553–559

Wadaskar JV, Ekhe JD, Kale SP (2006) Adsorption–desorption of HCH and endosulfan on a soil. Environ Technol 27:1011–1017
About this article
Cite this article
Balayiannis, G.P., Anastassiadis, M. & Anagnostopoulos, H. Endosulfan in Wind-Transported African Dust Depositions in Crete. Bull Environ Contam Toxicol 83, 780 (2009). https://doi.org/10.1007/s00128-009-9834-1
Received:

Accepted:

Published:
Keywords
Pesticides

Transport

Dust-storm

Endosulfan