Abstract
The distribution of polychlorinated biphenyls (PCBs) and organochlorine pesticides (OCPs) was investigated in Mediterranean blue mussel collected at four locations in Mali Ston Bay few times a year in 2005–2007. OCPs were found in all samples and levels ranged between 0.07 and 7.58 ng g−1 dry wt. Levels of PCBs ranged between 0 (below detection limit) and 21.55 ng g−1 dry wt. For most analyzed compounds there were no significant level changes between the 3 years. Exceptions are decreased levels of β-HCH, DDD, and PCB-138 and increased levels of γ-HCH and DDT in 2007. However, mussels from this area are applicable for human diet.
Access options
Buy single article
Instant access to the full article PDF.
USD 39.95
Price includes VAT (USA)
Tax calculation will be finalised during checkout.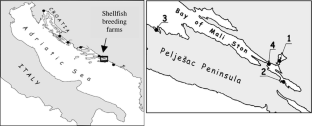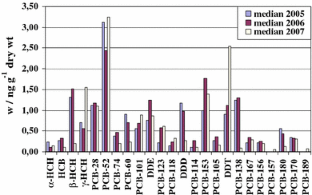 References
Bernhard M (1976) Manual of methods in aquatic environmental research. Part 3. Sampling and analyses of biological material. FAO Tech Rep 158:1–124

European Parliament, Council (2005) Regulation (EC) NO 396/2005 of the European Parliament and of the Council of 23 February 2005 on maximum residue levels of pesticides in or on food and feed of plant and animal origin and amending Council Directive 91/414/EEC. In: Official journal of the European Union L 70/1 (Online), Available at: http://eur-lex.europa.eu/JOHtml.do?uri=OJ:L:2005:070:SOM:EN:HTML. Accessed 01 July 2009

Loganathan BG, Kumar KS, Masunaga S, Sajwan KS (2008) Polychlorinated dibenzo-p-dioxins, dibenzofurans, and dioxin-like polychlorinated biphenyls in sediment and mussel samples from Kentucky Lake, USA. Arch Environ Contam Toxicol 54:20–30

Milun V, Barić A, Zvonarić T (2004) Temporal and spatial distribution of chlorinated hydrocarbons in mussels from the Kaštela Bay (Adriatic Sea). Fresenius Environ Bull 13:1237–1243

Ministry of Education, Health and Social Care of the Republic of Croatia (MEHSCRC) (2008) Legislation on maximum permitted levels of certain contaminants in food (Original in Croatian). In: Narodne novine (Online), Issue 154. Available at: http://narodne-novine.nn.hr/. Accessed 01 July 2009

Perugini M, Cavaliere M, Giammarino A, Mazzone P, Olivieri V, Amorena M (2004) Levels of polychlorinated biphenyls and organochlorine pesticides in some edible marine organisms from the Central Adriatic Sea. Chemosphere 57:391–400

Ramu K, Kajiwara N, Isobe T, Takahashi S, Kim E-Y, Min B-Y, We S-U, Tanabe S (2007) Spatial distribution and accumulation of brominated flame retardants, polychlorinated biphenyls and organochlorine pesticides in blue mussels (Mytilus edulis) from coastal waters of Korea. Environ Pollut 148:562–569

Villeneuve J-P, Carvalho FP, Fowler SW, Cattini C (1999) Levels and trends of PCBs, chlorinated pesticides and petroleum hydrocarbons in mussels from the NW Mediterranean coast: comparison of concentrations in 1973–1974 and 1988–1989. Sci Total Environ 238(SI):57–65

Voldner EC, Li YL (1995) Global usage of selected persistent organochlorines. Sci Total Environ 160(161):201–210

WHO/UNEP (1972) Environmental health criteria 2-polychlorinated biphenyls and terphenyls. WHO, Geneva
Acknowledgments
We wish to thank Mrs Mirjana Kralj for excellent technical assistance during experimental work and Mr Dado Čakalo for language revision. This work was supported by the Ministry of Science, Education and Sports, Croatia.
About this article
Cite this article
Kožul, D., Herceg Romanić, S., Kljaković-Gašpić, Z. et al. Levels of Organochlorine Compounds in the Mediterranean Blue Mussel from the Adriatic Sea. Bull Environ Contam Toxicol 83, 880 (2009). https://doi.org/10.1007/s00128-009-9833-2
Received:

Accepted:

Published:
Keywords
PCBs

Organochlorine pesticides

Mediterranean

Marine pollution