Abstract
An immunoaffinity chromatography column was developed to remove diazinon from water and soil samples. In this paper, two types of absorbent columns, the immunoaffinity chromatography column and the ENVI-Carb column, were compared. To accomplish this, each of these columns was used to treat water and soil samples that had been spiked with diazinon at concentrations of 2.5 or 5 ng/mL (or ng/g). High performance liquid chromatography was then used to analyze the treated samples. The ENVI-Carb column recovered 87.99%–95.95% of the diazinon from water and soil with CVs of 5.08%–8.06%. The recoveries observed when the immunoaffinity chromatography column was used were slightly lower (52.61%–81.58%); however, it effectively clean up the soil samples.
Access options
Buy single article
Instant access to the full article PDF.
USD 39.95
Price includes VAT (USA)
Tax calculation will be finalised during checkout.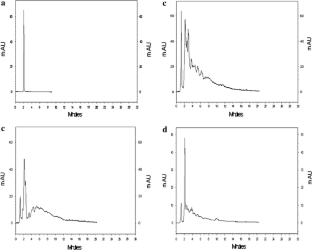 References
Bavcon M, Trebše P, Zupančič-Kralj L (2003) Investigations of the determination and transformations of diazinon and malathion under environmental conditions using gas chromatography coupled with a flame ionisation detector. Chemosphere 50:595–601

Cichna M, Markl P, Knopp D, Niessner R (2001) On-line coupling of sol–gel-generated immunoaffinity columns with high-performance liquid chromatography. J Chromatogr A 919:51–58

Degelmann P, Egger S, Jürling H, Müller J, Niessner R, Knopp D (2006) Determination of sulfonylurea herbicides in water and food samples using sol–gel glass-based immunoaffinity extraction and liquid chromatography-ultraviolet/diode array detection or liquid chromatography-tandem mass spectrometry. J Agric Food Chem 54:2003–2011

Godfrey MAJ (1998) Immunoaffinity extraction in veterinary residue analysis – a regulatory viewpoint. Analyst 123:2501–2506

Hernández F, Sancho JV, Pozo OJ (2005) Critical review of the application of liquid chromatography/mass spectrometry to the determination of pesticide residues in biological samples. Anal Bioanal Chem 382:934–946

Herrera A, Pérez-Arquillué C, Conchello P, Bayarri S, Lázaro R, Yagüe C, Ariño A (2005) Determination of pesticides and PCBs in honey by solid-phase extraction cleanup followed by gas chromatography with electron-capture and nitrogen-phosphorus detection. Anal Bioanal Chem 381:695–701

Kaware M, Bronshtein A, Safi J, Van Emon JM, Chuang JC, Hock B, Kramer K, Altstein M (2006) Enzyme-linked immunosorbent assay and sol–gel based immunoaffinity purification of the pyrethroid bioallethrin in food and environmental samples. J Agric Food Chem 54:6482–6492

Kumazawa T, Suzuki O (2000) Separation methods for amino group-possessing pesticides in biological samples. J Chromatogr-Biomed 747:241–254

Muggleton NG, Smith AJ, Scott EAM, Wilson SJ, Pearce PC (2005) A long-term study of the effects of diazinon on sleep, the electrocorticogram and cognitive behaviour in common marmosets. J Psychopharmacol 19:455–466

Pharmacia LKB Biotechnology (1995) Affinity chromatography: principles and methods. Pharmacia, Sweden

Sullivan JJ, Goh KS (2000) Evaluation and validation of a commercial ELISA for diazinon in surface waters. J Agric Food Chem 48:4071–4078

Thomas SD, Li QX (2000) Immunoaffinity chromatography for analysis of polycyclic aromatic hydrocarbons in corals. Environ Sci Technol 34:2649–2654
Acknowledgments
This work was supported by the Chinese National "863" High-Tech Research Program (2006AA10Z450).
About this article
Cite this article
Tang, J., Zhang, M., Cheng, G. et al. Diazinon Determination Using High Performance Liquid Chromatography: A Comparison of the ENVI-Carb Column with the Immunoaffinity Column for the Pretreatment of Water and Soil Samples. Bull Environ Contam Toxicol 83, 626 (2009). https://doi.org/10.1007/s00128-009-9823-4
Received:

Accepted:

Published:
Keywords
Immunoaffinity

Solid phase extraction

Diazinon

Comparison