Abstract
In order to grasp the concentration distribution and identify sources of PCBs, air and soil samples around Sihwa and Banwol industrial area in Korea were analyzed. In result, the polychlorinated biphenyls (PCBs) concentration of air and soil was ranged from 2.08 to 5.82 ng/m3 (0.0686–1.01 pg WHO-TEQ/m3) and 2.43 to 274 ng/g dry (0.116–60.5 pg WHO-TEQ/g dry), respectively. Air and soil samples showed the very similar isomer composition pattern in each homologue by matrix, respectively. As a result of MLR for soil samples, the whole contribution rate of PCBs products (Aroclor) to soil was ~2 times higher than combustion.
Access options
Buy single article
Instant access to the full article PDF.
USD 39.95
Price includes VAT (USA)
Tax calculation will be finalised during checkout.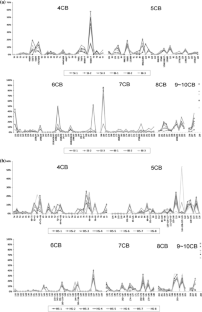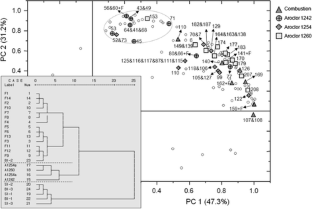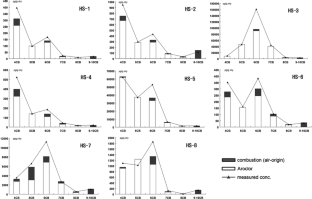 References
Daly GL, Lei YD, Castillo LE, Muir DCG, Wania F (2007) Polycyclic aromatic hydrocarbons in Costa Rican air and soil: A tropical/temperate comparison. Atmos Environ 41:7339–7350. doi:10.1016/j.atmosenv.2007.05.014

Guo H, Wang T, Simpson IJ, Blake DR, Yu XM, Kwok YH, Li YS (2004) Source contributions to ambient VOCs and CO at a rural in eastern China. Atmos Environ 38:4551–4560. doi:10.1016/j.atmosenv.2004.05.004

Hartmann PC, Quinn JG, Cairns RW, King JW (2004) The distribution and sources of polycyclic aromatic hydrocarbons in Narragansett Bay surface sediments. Marine Pollut Bull 48:351–358. doi:10.1016/j.marpolbul.2003.08.014

Hellen H, Hakola H, Haaparanta S, Pietarila H, Kauhaniemi M (2008) Influence of residential wood combustion on local air quality. Sci Total Environ 393:283–290. doi:10.1016/j.scitotenv.2008.01.019

Hong SH, Yim UH, Shim WJ, Li DH, Oh JR (2006) Nationwide monitoring of polychlorinated biphenyls and organochlorine pesticides in sediments from coastal environment of Korea. Chemosphere 64:1479–1488. doi:10.1016/j.chemosphere.2005.12.056

Ikonomou MG, Sather P, Oh JE, Choi WY, Chang YS (2002) PCB levels and congener patterns from Korean municipal waste incinerator stack emissions. Chemosphere 49:205–216. doi:10.1016/S0045-6535(02)00102-9

Ishikawa Y, Noma Y, Yamamoto T, Mori Y, Sakai S (2002) PCB decomposition and formation in thermal treatment plant equipment. Chemosphere 67:1383–1393. doi:10.1016/j.chemosphere.2006.10.022

Kim KS (2004) Study on the behavior and mass balance of PCBs in ambient air. Doctorate thesis, University of Yokohama (in Japanese)

Kim KS, Hirai Y, Kato M, Urano K, Masunaga S (2004) Detailed PCB congener patterns in incinerator flue gas and commercial PCB formulations (Kanechlor). Chemosphere 55:539–553. doi:10.1016/j.chemosphere.2003.11.056

Kim DG, Min YK, Jeong JY, Kim GH, Kim JY, Son CS, Lee DH (2007) Ambient air monitoring of PCDD/Fs and co-PCBs in Gyeonggi-do, Korea. Chemosphere 67:1722–1727. doi:10.1016/j.chemosphere.2006.05.123

Lovett AA, Foxall CD, Ball DJ, Creaser CS (1998) The Panteg monitoring project: comparing PCB and dioxin concentrations in the vicinity of industrial facilities. J Hazard Mat 61:175–185. doi:10.1016/S0304-3894(98)00121-6

Moon JY, Kim YB, Lee SL, Song HY, Choi KH, Jeong GH (2006) Distribution characteristics of polychlorinated biphenyls in crucian carp (Carassius auratus) from major rivers in Korea. Chemosphere 62:430–439. doi:10.1016/j.chemosphere.2005.04.063

National Institute of Environmental Research (2006) The 7th monitoring results on endocrine disrupting chemicals in Korea

Rachdawong P, Christensen ER (1997) Determination of PCB Sources by a principal component method with non negative constraints. Environ Sci & Tech 31:2686–2691. doi:10.1021/es970107v

Shin SK, Kim KS, You JC, Song BJ, Kim JG (2006) Concentration and congener patterns of polychlorinated biphenyls in industrial and municipal waste incinerator flue gas, Korea. J Hazard Mat A133:53–59. doi:10.1016/j.jhazmat.2005.10.018

UNEP (United Nations Environment Programme) CHEMICALS (1999) Guidelines for the identification of PCBs and materials containing PCBs. First issue (Available at: http://www.chem.unep.ch/pops/pdf/PCBident/pcbid1.pdf)

Wang S, Feng X, Qiu G, Fu X, Wei Z (2007) Characteristics of mercury exchange flux between soil and air in the heavily air-polluted area, eastern Guizhou, China. Atmos Environ 41:5584–5594. doi:10.1016/j.atmosenv.2007.03.002

Whitfield Aslund ML, Zeeb BA, Rutter A, Reimer KJ (2007) In situ phytoextraction of polychlorinated biphenyl – (PCB) contaminated soil. Sci Total Environ 374:1–12. doi:10.1016/j.scitotenv.2006.11.052

WHO (World Health Organization)/IPCS (International Programme on Chemical Safety) (1992) Environmental Health Criteria 140: polychlorinated biphenyls and terphenyls, 2nd edn. http://www.inchem.org/documents/ehc/ehc/ehc140.htm

Yeo HG, Choi MK, Chun MY, Kim TW, Cho KC, Young SW (2004) Concentration characteristics of atmospheric PCBs for urban and rural area, Korea. Sci Total Environ 324:261–270. doi:10.1016/j.scitotenv.2003.10.031
Acknowledgments
This paper was supported by the international collaborative research funds of Chonbuk National University.
About this article
Cite this article
Park, S.U., Kim, J.G., Masunaga, S. et al. Source Identification and Concentration Distribution of Polychlorinated Biphenyls in Environmental Media Around Industrial Complexes. Bull Environ Contam Toxicol 83, 859 (2009). https://doi.org/10.1007/s00128-009-9786-5
Received:

Accepted:

Published:
Keywords
PCBs

PCA

MLR

Source identification