Abstract
A simple and sensitive high pressure liquid chromatographic method has been developed for the simultaneous determination of Thiram and its transformation product using isocratic mixture of methanol–water (65:35) at flow rates of 0.75 mL min−1, PDA detector using UV absorbance (λmax) at 217 nm for Thiram and 265.5 nm for the transformation product. The transformation product was isolated from the commercial DS formulation and has been tentatively assigned the structure by 1H NMR and ESI-MS spectral data. The separation is dependent on the nature of the mobile phase, its flow rate and the nature of the HPLC column. The detection limit (signal/noise; S/N = 3) for both Thiram and its transformation product was 0.2 ppm. The method has been successfully applied to analysis of soil and soybean samples spiked with Thiram, its transformation product and a commercial sample containing these products.
Access options
Buy single article
Instant access to the full article PDF.
USD 39.95
Price includes VAT (USA)
Tax calculation will be finalised during checkout.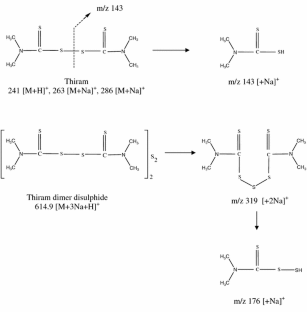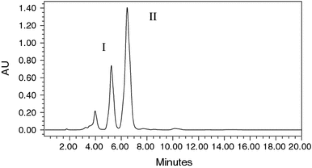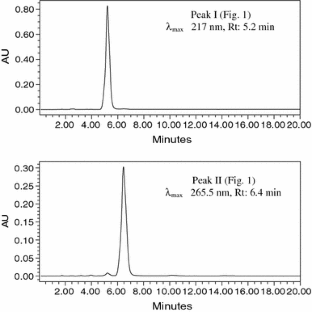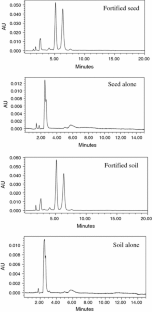 References
Agarwal M, Walia S, Dhingra S, Khambay BPS (2001) Insect growth inhibition, antifeedant and antifungal activity of compounds isolated/derived from Zingiber officinale Roscoe (ginger) rhizomes. Pest Manag Sci 57:289–300

Anonymous (1991) International Agency for Research on Cancer (IARC)—Summaries & Evaluations. 53:403

Aulakh JS, Sharma VK, Mahajan RK, Malik AK (2004) HPLC-UV determination of tetramethylthiuram disulphide (Thiram) and thiourea in wheat grains and in a commercial sample. EJEAF Che 3(5):751–757

del Silva MP, Procopio JR, Hernandez L (1999) Electrochemical detection in the determination of several dithiocarbamates by reverse-phase liquid chromatography. J Liq Chromatogr Relat Technol 22:463–475

Friedrichs K, Winkeler HD, Gerhards P (1995) Determination of dithiocarbamate residues in food stuff by headstuff gas chromatographiy and flame photometric detection. Z Lebensm Unters Forsch 201:69–73

Harrington P, Horner J, Hird S, Griffiths T, Reynolds SL (1998) Modification of the method for measurement of dithiocarbamate residues as carbon disulfide in fruit and vegetables. Central Science Laboratory, York UK, p 1

Hill ARC (1992) Headspace methods for dithiocarbamates. In: Cairns T, Sherma J (eds) Modern methods for pesticide analysis. Emerging strategies for pesticide analysis. CRC Press, London, p 213

Jianren Y, Yongquan Z, Shuzshen J, Zhengguo W, Fuzhen Z (1989) Gas chromatographic headspace determination of dithiocarbamate fungicide residues on vegetables. Sci Agric Sin 22:76–80

Kunkur VK, Hunje R, Biradar Patil NK, Vyakarnhal BS (2007) Effect of seed coating with polymer, fungicide and insecticide on seed quality in cotton during storage. Karnataka J Agric Sci 20(1):137–139

van Lishaut H, Schwack W (2000) Selective trace determination of dithiocarbamate fungicides in fruits and vegetables by reversed-phase ion-pair liquid chromatography with ultraviolet and electrochemical detection. J AOAC Int 83:720–727
Acknowledgments
Authors are thankful to Indian Council of Agricultural Research (ICAR) for financial assistance under Emeritus Scientist Scheme, and to the Head, Division of Agricultural Chemicals, IARI, New Delhi for providing necessary facilities.
About this article
Cite this article
Walia, S., Sharma, R.K. & Parmar, B.S. Isolation and Simultaneous LC Analysis of Thiram and Its Less Toxic Transformation Product in DS Formulation. Bull Environ Contam Toxicol 83, 363–368 (2009). https://doi.org/10.1007/s00128-009-9754-0
Received:

Accepted:

Published:

Issue Date:
Keywords
HPLC

Thiram

DS formulation

Transformation product