Abstract
Sediment samples were collected for PAHs analysis (upstream, midstream and downstream) from the bank of the river Gomti in Lucknow city, India during 2005–2007. Total concentration of the PAHs ranged from 0.068 to 3.153 μg/g dry weight. A correlation existed between the sediment organic carbon content (f OC) and the total PAHs concentration with a correlation coefficient (r 2) of 0.788, suggesting that sediment organic carbon content played an important role in controlling the PAHs levels in the sediments. According to observed molecular indices, PAHs contamination in the river Gomti seems to be originated both from the high temperature pyrolytic process as well as from the petrogenic source, indicating a mixed PAH input pattern.
Access options
Buy single article
Instant access to the full article PDF.
USD 39.95
Price includes VAT (USA)
Tax calculation will be finalised during checkout.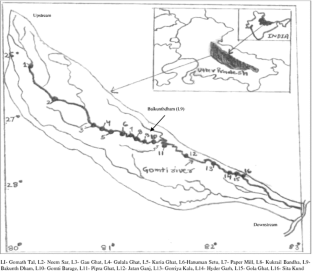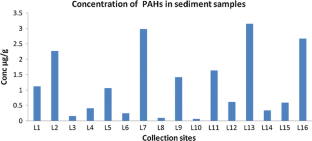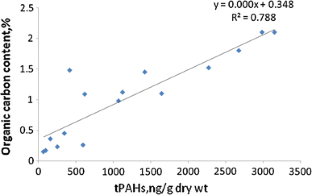 References
Baumard P, Budzinski H, Garrigues P (1998) Polycyclic aromatic hydrocarbons in sediments and mussels of the western Mediterranean sea. Environ Tox Chem 17:765–776

Chen B, Xuan X, Zhu L, Wang J, Gao Y, Yang K, Shen X, Lou B (2004) Distributions of polycyclic aromatic hydrocarbons in surface waters, sediments and soils of Hangzhou City, China. Water Res 38:3558–3568. doi:10.1016/j.watres.2004.05.013

Chiou CT, McGroddy SE, Kile DE (1998) Partition characteristics of polycyclic aromatic hydrocarbons on soil and sediments. Environ Sci Technol 32:264–269. doi:10.1021/es970614c

Dahle S, Savinov VM, Matishov GG, Evenset A, Nas K (2003) Polycyclic aromatic hydrocarbons (PAHs) in bottom sediments of the Kara Sea shelf, Gulf of Ob and Yenisei Bay. Sci Total Environ 306:57–71

Giuseppe DL, Antenio F, Giovanni M, Angelo P, Paola CP, Maria IP, Nadia S, Gavino S (2005) Nature, distribution and origin of polycyclic aromatic hydrocarbons (PAHs) in the sediments of Olbia Harbor (Northen Sardinia, Italy). Mar Pollut Bull 50:1223–1232

Huntley SL, Bonnevie NL, Wenning RJ (1995) Polycyclic aromatic hydrocarbon and petroleum hydrocarbon contamination in sediment from the Newark Bay estuary, New Jersey. Arch Environ Cont Tox 28:93–107

Jian Xu, Yang Yu, Ping Wang, Guo Guo Weifeng, Shugui Dai, Hongwen Sun (2007) Polycyclic aromatic hydrocarbons in the surface sediments from Yellow River, China. Chemosphere 67:1408–1414. doi:10.1016/j.chemosphere.2006.10.074

Kulkarni P, Venkataraman C (2000) Atmospheric polycyclic aromatic hydrocarbons in Mumbai, India. Atmos Environ 34:2785–2790. doi:10.1016/S1352-2310(99)00312-X

Long ER, MacDonald DD, Smith SL, Calder FD (1995) Incidence of adverse biological effects within ranges of chemical concentrations in marine and estuary sediments. Environ Manage 19:81–97. doi:10.1007/BF02472006

Malik A, Singh KP, Mohan D, Patel DK (2004) Distribution of polycyclic aromatic hydrocarbons in Gomti river system, India. Bull Environ Cont Tox 72:1211–1218. doi:10.1007/s00128-004-0372-6

Qiao M, Wang CX, Hung SB, Wang DH, Wang ZJ (2006) Composition, sources, and potential toxicological significance of PAHs in the surface sediments of the Meiliang Bay, Taihu Lake, China. Environ Int 32:28–33

Soclo HH, Garrigues P, Ewald M (2000) Origin of polycyclic aromatic hydrocarbons (PAHs) in coastal marine sediments: case studies in Cotonou (Benin) and Aquitaine (France) areas. Mar Pollut Bull 40:387–396. doi:10.1016/S0025-326X(99)00200-3

Stout SA, Uhler AD, Emsbo-Mattingly SD (2004) Comparitive evaluation of background anthropogenic hydrocarbons in surficial sediments from nine urban waterway. Environ Sci and Technol 38:2987–2994. doi:10.1021/es040327q

Vondracek J, Machala M, Minksova K, Blaha L, Mark J, Kozubik A, Hofmanova J, Hilscherova K, Ulrich R, Ciganek M, Neca J, Svrckova D, Holoubek I (2001) Monitoring river sediments contaminated predominantly with polyaromatic hydrocarbons by chemical and invitro bioassay techniques. Environ Tox Chem 20:1499–1506

Walkely A, Black IA (1934) An examination of Degthreff method for determining organic matter and a proposed modification of the chromic acid titration method. Soil Sci 27:29–38

Yang GP (2000) Polycyclic aromatic hydrocarbons in the sediments of the South China Sea. Environ Pollut 108:163–171. doi:10.1016/S0269-7491(99)00245-6

Yunker MB, Macdonald RW, Vingarzan R, Mitchell RH, Goyette D, Sylvestre S (2002) PAHs in the Fraser river basin: a critical appraisal of PAH ratios as indicators of PAH sources and composition. Org Geochem 33:489–515. doi:10.1016/S0146-6380(02)00002-5

Zakaria MP, Takada H, Tsutsumi S, Ohno K, Yamada J, Kouno E, Kumata H (2002) Distribution of polycyclic aromatic aromatic hydrocarbons (PAHs) in rivers and estuaries in Malaysia: a widespread input of petrogenic PAHs. Environ Sci Technol 36:1907–1918. doi:10.1021/es011278+

Zhang HB, Luo YM, Wong MH, Zhao QG, Zhang GL (2006) Distributions and concentrations of PAHs in Hong Kong soils. Environ Pollut 141:107–114

Zhou J, Wang T, Huang Y, Mao T, Zhong N (2005) Size distribution of polycyclic aromatic hydrocarbons in urban and suburban sites of Beijing, China. Chemosphere 61:792–799. doi:10.1016/j.chemosphere.2005.04.002
Acknowledgments
The authors are grateful to Director IITR for his encouragement and help. Authors are grateful to Ministry of Environment and Forests (MOEF) New Delhi for the financial assistance given to carry out the research work smoothly.
About this article
Cite this article
Tripathi, R., Kumar, R., Mudiam, M.K.R. et al. Distribution, Sources and Characterization of Polycyclic Aromatic Hydrocarbons in the Sediment of the River Gomti, Lucknow, India. Bull Environ Contam Toxicol 83, 449–454 (2009). https://doi.org/10.1007/s00128-009-9747-z
Received:

Accepted:

Published:

Issue Date:
Keywords
Polycyclic aromatic hydrocarbons

Sediment

Gomti River