Abstract
Effects of Pb accumulation on the contents of chlorophylls (a and b), carotenoid, ascorbic acid (AsA), non-protein SH groups and protein were investigated in aquatic macrophyte Elodea canadensis. Pb accumulation in E. canadensis tissues increased with increasing metal concentrations. The increases at 1, 10 and 100 mg/L Pb are about 12.0, 44.6 and 71.1 times greater than control, respectively. Contents of chlorophylls, carotenoid and protein were adversely affected by Pb accumulation. Induction of non-protein SH groups and AsA showed that Pb accumulation caused oxidative stress. It is also possible that increased non-protein SH groups by Pb accumulation may be due to their role in Pb detoxification.
Access options
Buy single article
Instant access to the full article PDF.
USD 39.95
Price includes VAT (USA)
Tax calculation will be finalised during checkout.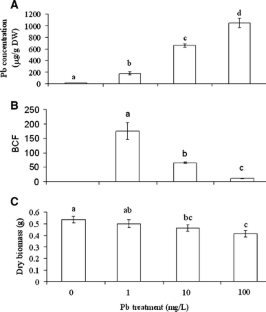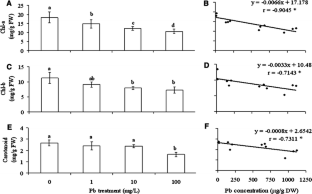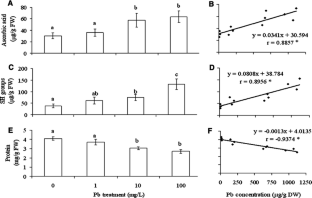 References
Abdel-Basset R, Issa AA, Adam MS (1995) Chlorophyllase activity: effect of heavy metals and calcium. Photosynthetica 31:421–425

An Y-J (2006) Assessment of comparative toxicities of lead and copper using plant assay. Chemosphere 62:1359–1365. doi:10.1016/j.chemosphere.2005.07.044

Arnon DI, Hoagland DR (1940) Crop production in artificial culture solutions and in soils with special reference to factors influencing yields and absorption of inorganic nutrients. Soil Sci 50:463–483

Cakmak I, Marschner H (1992) Magnesium deficiency and high light intensity enhance activities of superoxide dismutase, ascorbate peroxidase and glutathione reductase in bean leaves. Plant Physiol 98:1222–1227. doi:10.1104/pp.98.4.1222

Cobbett CS (2000) Phytochelatins and their roles in heavy metal detoxification. Plant Physiol 123:825–832. doi:10.1104/pp.123.3.825

Dua A, Sawhney SK (1991) Effect of chromium on activities of hydrolytic enzymes in germinating pea seeds. Environ Exp Bot 31:133–139. doi:10.1016/0098-8472(91)90063-T

Eick MJ, Peak JD, Brady PV, Pesek JD (1999) Kinetics of lead absorption/desorption on goethite: residence time effect. Soil Sci 164:28–39. doi:10.1097/00010694-199901000-00005

Fargasova A (1994) Effect of Pb, Cd, Hg, As and Cr on germination and root growth of Sinapis alba seeds. Bull Environ Contam Toxicol 52:452–456. doi:10.1007/BF00197836

Foyer CH (1993) Ascorbic acid. In: Alscher RG, Hess JL (eds) Antioxidants in Higher Plants. CRC Press, Florida, pp 31–58

Fritioff A, Greger M (2003) Aquatic and terrestrial plant species with potential to remove heavy metals from stormwater. Int J Phytoremediat 5:211–224. doi:10.1080/713779221

Fritioff A, Greger M (2007) Fate of cadmium in Elodea canadensis. Chemosphere 6:365–375

Grill D, Esterbauer H, Klösch U (1979) Effect of sulphur dioxide on glutathione in leaves of plants. Environ Pollut 19:187–194. doi:10.1016/0013-9327(79)90039-9

Gupta M, Chandra P (1994) Lead accumulation and toxicity in Vallisneria spiralis (L.) and Hydrilla verticillata (l.f.) Royle. J Environ Sci Health Part A 29:503–516. doi:10.1080/10934529409376051

Gupta P, Chandra P (1996) Response of cadmium to Ceratophyllum demersum L., a rootless submerged plant. Waste Manag 16:335–337. doi:10.1016/S0956-053X(96)00053-0

Hall JL (2002) Cellular mechanisms for heavy metal detoxification and tolerance. J ExpBot 53:1–11. doi:10.1093/jexbot/53.366.1

Harrison RM, Laxen DPH (1981) Lead pollution causes and control. Chapman and Hall, London, England

Jana S, Chaudhury MA (1984) Synergistic effect of heavy metals pollutants on senescence in submerged aquatic plants. Water Air Soil Poll 21:351–357. doi:10.1007/BF00163635

Kabata-Pendias A, Pendias H (1984) Trace elements in soils and in plants. CRC Press Inc., USA

Kopittke PM, Asher CJ, Kopittke RA, Menzies NW (2007) Toxic effects of Pb2+ on growth of cowpea (Vigna unguiculata). Environ Pollut 150:280–287. doi:10.1016/j.envpol.2007.01.011

Lichtenthaler HK, Wellburn AR (1983) Determination of total carotenoids and chlorophylls a and b of leaf in different solvents. Biol Soc Trans 11:591–592

Lowry OH, Rosebrought NJ, Farr AL, Randall RJ (1951) Protein measurement with the folin phenol reagent. J Biol Chem 193:265–275

Miranda MG, Ilangovan K (1996) Uptake of lead by Lemna gibba L. Influence on spesific growth rate and basic biochemical changes. Bull Environ Contam Toxicol 56:1000–1007. doi:10.1007/s001289900144

Mishra S, Srivastava S, Tripathi RD, Kumar R, Seth CS, Gupta DK (2006) Lead detoxification by coontail (Ceratophyllum demersum L.) involves induction of phytochelatins and antioxidant system in response to its accumulation. Chemosphere 65:1027–1039. doi:10.1016/j.chemosphere.2006.03.033

Mohan BS, Hosetti BB (1997) Potential phytotoxicity of lead and cadmium to Lemna minor grown in sewage stabilization ponds. Environ Pollut 9:233–238

Nagoor S (1999) Physiological and biochemical responses of cereal seedlings to graded levels of heavy metals. II. Effects on protein metabolism in maize seedlings. Adv Plant Sci 12:425–433

Nyquist J, Greger M (2007) Uptake of Zn, Cu, and Cd in metal loaded Elodea canadensis. Environ Exp Bot 60:219–226. doi:10.1016/j.envexpbot.2006.10.009

Pinto E, Sigaud-Kutner TCS, Leitao AS, Okamoto OK, Morse D, Coilepicolo P (2003) Heavy-metal induced oxidative stress in algae. J Phycol 39:1008–1018. doi:10.1111/j.0022-3646.2003.02-193.x

Rai UN, Sinha S, Tripathi RD, Chandra P (1995) Waste water treatability potential of some aquatic macrophytes: removal of heavy metals. Ecol Eng 5:5–12. doi:10.1016/0925-8574(95)00011-7

Saygideger S, Dogan M (2004) Lead and cadmium accumulation and toxicity in the presence of EDTA in Lemna minor L. and Ceratophyllum demersum L. Bull Environ Contam Toxicol 73:182–189. doi:10.1007/s00128-004-0411-3

Saygideger S, Dogan M (2005) Influence of pH on lead uptake, chlorophyll and nitrogen content of Nasturtium officinale R. Br. and Mentha aquatica L. J Environ Biol 26:753–759

Saygideger S, Dogan M, Keser G (2004) Effect of lead and pH on lead uptake, chlorophyll and nitrogen content of Typha latifolia L. and Ceratophyllum demersum L. Int J Agri Biol 6:168–172

Sharma P, Dubey RS (2005) Lead toxicity in plants. Braz J Plant Physiol 17:35–52. doi:10.1590/S1677-04202005000100004

Sharma SS, Gaur JP (1995) Potential of Lemna polyrrhiza for removal of heavy metals. Ecol Eng 4:37–43. doi:10.1016/0925-8574(94)00047-9

Singh VP (1995) Toxic metal cadmium: phytotoxicity and tolerance in plants. In: Trivedy RK (ed) Advances in environmental science technology. Ashish Publication House, New Delhi, India

Van Assche F, Clijsters H (1990) Effects of metals on enzyme activity in plants. Plant Cell Environ 13:195–206. doi:10.1111/j.1365-3040.1990.tb01304.x

Watanabe MA (1997) Phytoremediation on the brink of commercialization. Environ Sci Technol A 31:182–186. doi:10.1021/es972219s
About this article
Cite this article
Dogan, M., Saygideger, S.D. & Colak, U. Effect of Lead Toxicity on Aquatic Macrophyte Elodea canadensis Michx.. Bull Environ Contam Toxicol 83, 249–254 (2009). https://doi.org/10.1007/s00128-009-9733-5
Received:

Accepted:

Published:

Issue Date:
Keywords
Ascorbic acid

Non-protein SH

Protein

Chlorophyll