Abstract
In a microcosm experiment, the amplified ribosomal DNA restriction analysis was adopted to investigate the Pseudomonas community structure in soils applied with different concentrations (0, 50, 150, and 250 mg/kg) of acetochlor, and an in vitro assay was made to examine the antagonistic activity of isolated Pseudomonas strains acting on soil-borne pathogen Rhizoctonia solani. The results showed that acetochlor application changed the community structure of Pseudomonas in aquic brown soil. The diversity of Pseudomonas and the amount of isolated Pseudomonas strains with antagonistic activity decreased with an increasing acetochlor concentration, and the toxic effect of acetochlor reached to a steady level at 150–250 mg/kg.
Access options
Buy single article
Instant access to the full article PDF.
USD 39.95
Price includes VAT (USA)
Tax calculation will be finalised during checkout.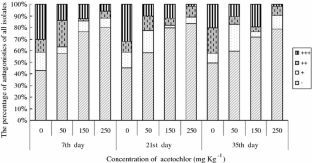 References
Bergsma-Vlamia M, Prinsa ME, Raaijmakers JM (2005) Influence of plant species on population dynamics, genotypic diversity and antibiotic production in the rhizosphere by indigenous Pseudomonas spp. FEMS Microbiol Ecol 52:59–69. doi:10.1016/j.femsec.2004.10.007

Braun B, Böckelmann U, Grohmann E, Szewzyk U (2006) Polyphasic characterization of the bacterial community in an urban soil profile with in situ and culture-dependent methods. Appl Soil Ecol 31:267–279. doi:10.1016/j.apsoil.2005.05.003

Foley ME, Sigler V, Gruden CL (2008) A multiphasic characterization of the impact of the herbicide acetochlor on freshwater bacterial communities. ISME J 2:56–66. doi:10.1038/ismej.2007.99

Garbeva P, van Veen JA, van Elsas JD (2004) Assessment of the diversity, and antagonism towards Rhizoctonia solani AG3, of Pseudomonas species in soil from different agricultural regimes. FEMS Microbiol Ecol 47:51–64. doi:10.1016/S0168-6496(03)00234-4

Li XY, Zhang HW, Zhou QX, Su ZC, Zhang CG (2005) Effects of acetochlor and methamidophos on fungal communities in black soils. Pedosphere 15:646–652

Liu HM, Dong DX, Peng HS, Zhang XH, Xu YQ (2006) Genetic diversity of phenazine- and pyoluteorin-producing pseudomonads isolated from green pepper rhizosphere. Arch Microbiol 185:91–98. doi:10.1007/s00203-005-0072-6

Luo HF, Qi HY, Zhang HX (2004) The impact of acetochlor the bacterial diversity in soil. Acta Microbiol Sin 44:519–522

Martin_laurent F, Philippot L, Hallet S, Chaussod R, Germon JV, Soulas G, Catroux G (2001) DNA extraction from soils: old bias for new microbial diversity analysis methods. Appl Environ Microbiol 67:2354–2359

Morris CE, Kinkel LL, Xiao K, Prior P, Sands DC (2007) Surprising niche for the plant pathogen Pseudomonas syringae. Infect Genet Evol 7:84–92

Patten CL, Glick BR (2002) Role of Pseudomonas putida indole acetic acid in development of the host plant root system. Appl Environ Microbiol 68:3795–3801

Prosser JI (2002) Molecular and functional diversity in soil microorganisms. Plant Soil 244:9–17

Samson R, Shafik H, Benjamo A, Gardan L (1998) Description of the bacterium causing blight of leek as Pseudomonas syringae pv. porri (pv. nov.). Phytopathology 88:844–850

Su ZC, Zhang HW, Li XY, Zhang Q, Zhang CG (2007) Toxic effects of acetochlor, methamidophos and their combination on nifH gene in soil. J Environ Sci - China 19:864–873

Vincent MN, Harrison LA, Brackin JM, Kovacevich PA, Mukerji P, Weller DM, Pierson EA (1994) Genetic analysis of the antifungal activity of a soilborne Pseudomonas aureofaciens strain. Appl Environ Microbiol 57(10):2928–2934

Viti C, Giovannetti L (2005) Characterization of cultivable heterotrophic bacterial communities in Cr-polluted and unpolluted soils using Biolog and ARDRA approaches. Appl Soil Ecol 28:101–112

Wang MC, Liu YH, Wang Q, Gong M, Hua XM, Pang YJ, Hu SJ, Yang YH (2008) Impacts of methamidophos on the biochemical, catabolic, and genetic characteristics of soil microbial communities. Soil Biol Biochem 40:778–788

Xu J, Qiu XH, Dai JY, Cao H, Yang M, Zhang J, Xu MQ (2006) Isolation and characterization of a Pseudomonas oleovorans degrading the chloroacetamide herbicide acetochlor. Biodegradation 17:219–225

Ye C (2003) Environmental behavior of the agrochemicals acetochlor in soil. Bull Environ Contam Toxicol 71:919–923

Zhang HW, Zhou QX, Zhang QR, Zhang CG (2004) Toxic-effects of acetochlor, methamidophos and their combination on bacterial amount and population richness at molecular levels in agricultural black soils. Environ Sci 25:143–148

Zhang Q, Zhang HW, Su ZC, Li XY, Zhang CG (2007) Effects of long-term petroleum and heavy metals pollution on the diversity and community structure of Pseudomonas populations in agricultural soils. Chin J Appl Ecol 18:1327–1332
Acknowledgments
This research was financially supported by the National Science Foundation for Yong Scientists of China (NO. 407010881). Pseudomonas fluorescens Q2-87 was kindly provided by Dr. Linda Thomashow, USDA, ARS Root Disease and Biological Control Research Unit.
About this article
Cite this article
Wu, M., Zhang, X., Zhang, H. et al. Soil Pseudomonas Community Structure and Its Antagonism Towards Rhizoctonia solani Under the Stress of Acetochlor. Bull Environ Contam Toxicol 83, 313–317 (2009). https://doi.org/10.1007/s00128-009-9731-7
Received:

Accepted:

Published:

Issue Date:
Keywords
Acetochlor

Pseudomonas

Soil microbial community

Antagonistic activity