Abstract
The fate of benfuracarb was studied under field conditions in brinjal fruits and soil following foliar spray application at 0.25 and 0.50 μg g−1 by HPLC. At 0.25 μg g−1, benfuracarb persisted up to 7 days both in soil and brinjal but at 0.50 μg g−1, benfuracarb residues persisted up to 10 and 12 days in soil and brinjal fruits, respectively. The persistence of benfuracarb residues, both in soil and brinjal, followed first-order kinetics. The half-life values of benfuracarb in soil and brinjal fruit were found to be 3.54 and 3.90 days at 0.25 μg g−1 and 3.75 and 4.73 days at 0.50 μg g−1, respectively.
Access options
Buy single article
Instant access to the full article PDF.
USD 39.95
Price includes VAT (USA)
Tax calculation will be finalised during checkout.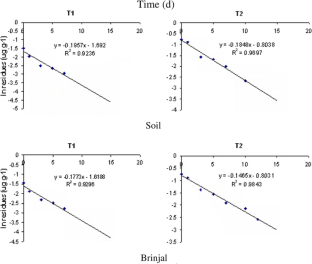 References
Arora S (2006) Pesticides and environment in today's context. Agricult Today 7:53–56

Cheng HH (1990) Pesticide in the soil environment: processes. Impacts and modelling. Soil Science Society of American Book Series, Madison, WI, p 530

Fukuto TR (1990) Mechanism of action of organophosphorus and carbamate. Insect Environ Health Perspect 87:245–254

Goto T, Tanaka AK, Yasudomi N, Osaki N, Iida S, Umetsu N (1983) OK-174 a new broad-spectrum carbamate insecticide. In: 10th international congress of plant protection, Brighton, England, vol I, pp 360–367

Mackay D, Stiver W (1991) Predictability and environmental chemistry. In: Grover R, Cessna AJ (eds) Environmental chemistry of herbicides, vol II. CRC Press, Boca Roton, FL, pp 281–294

Muthukumar M, Kalyanasundaram M (2003) Efficacy of certain insecticides against major sucking insects of brinjal (Solanum melongena L.). South Ind Horticult 51(1):207–213

Singh B, Kalra RL (1990) Persistence and degradation of carbofuran in the soil. Ind J Ecol 17(1):51–53

Terry R, David H (1999) Metabolic pathway in agrochemicals, vol II. The Royal Society of Chemistry, UK, 10 pp

Xue N, Yang R, Xu X, Seip HM, Zang Q (2006) Adsorption and degradation of benfuracarb in three soils in Hunan, People's Republic of China. Bull Environ Contam Toxicol 76(4):720–727. doi:10.1007/s00128-006-0979-x
Acknowledgements
The authors wish to thank M/s Coromandel Fertilizers, Secunderabad, India for financial support and supplying of formulated and analytical grade insecticide to carry out the above studies.
About this article
Cite this article
Chandra, R., Srivastava, A. & Srivastava, P.C. Fate of Benfuracarb Insecticide in Mollisols and Brinjal Crop. Bull Environ Contam Toxicol 83, 348–351 (2009). https://doi.org/10.1007/s00128-009-9710-z
Received:

Accepted:

Published:

Issue Date:
Keywords
Benfuracarb

Persistence

Dissipation

Brinjal fruit

Soil