Abstract
The effect of low concentrations of phosphate ions on the extraction of arsenic (As) was tested on naturally contaminated soil (As 126 mg/kg) using batch experiments. Interaction entails the extraction of low concentrations of As (5.4–23.3 μg/L As). There are statistical differences in the contents of As, Ca, Cu, Ni, Pb and nitrate in the composition of the extracts. Three types of kinetic curves document that dissolution and precipitation reactions, adsorption, desorption and biological processes participate in determining the composition of the extracts. The elevated As contents in the phosphate extracts are probably caused by competition between phosphate and arsenate ions for soil adsorption sites.
Access options
Buy single article
Instant access to the full article PDF.
USD 39.95
Price includes VAT (USA)
Tax calculation will be finalised during checkout.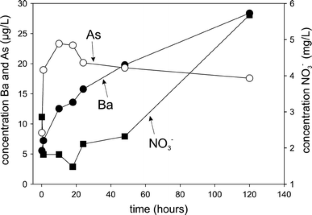 References
Alam MGM, Tokunaga S, Maekawa T (2001) Extraction of arsenic in a synthetic arsenic-contaminated soil using phosphate. Chemosphere 43:1035–1041. doi:10.1016/S0045-6535(00)00205-8

Bacon JR, Davidson CM (2008) Is there a future for sequential chemical extraction. Analyst 133:25–46. doi:10.1039/b711896a

Bodénan F, Baranger P, Piantone P, Lassin A, Azaroual M, Gaucher E, Braibant G (2004) Arsenic behaviour in gold-ore mill tailings, Massif Central, France: hydrogeochemical study and investigation of in situ redox signatures. Appl Geochem 19:1785–1800. doi:10.1016/j.apgeochem.2004.03.012

Chatain V, Bayard R, Sanchez F, Moskowicz P, Gourdon R (2005) Effect of indigenous bacterial activity on arsenic mobilization under anaerobic conditions. Environ Int 31:221–226. doi:10.1016/j.envint.2004.09.019

Chausseau M, Roussel C, Gilon N, Mermet JM (2000) Optimization of HPLC-ICP-AES for the determination of arsenic species. Fresenius J Anal Chem 366:476–480. doi:10.1007/s002160050096

Chen SL, Dzeng S, Yang MH (1994) Arsenic species in groundwaters of the Blackfoot Disease Area, Taiwan. Environ Sci Technol 28:877–881. doi:10.1021/es00054a019

Clemente R, Dickinson NM, Lepp NW (2008) Mobility of metals and metalloids in a multi-element contaminated soil 20 years after cessation of the pollution source activity. Environ Pollut 155:254–261. doi:10.1016/j.envpol.2007.11.024

Drahota P, Paces T, Pertold Z, Mihaljevic M, Skrivan P (2006) Weathering and erosion fluxes of arsenic in watershed mass budget. Sci Tot Environ 372:306–316. doi:10.1016/j.scitotenv.2006.09.002

Filippi M, Goliáš V, Pertold Z (2004) Arsenic in contaminated soils and anthropogenic eposits at the Mokrsko, Roudný and Kašperské Hory gold deposits, Bohemian Massif (CZ). Environ Geol 45:716–730. doi:10.1007/s00254-003-0929-4

Filippi M, Doušová B, Machovič V (2007) Mineralogical speciation of arsenic in soils above the Mokrsko-west gold deposit, Czech Republic. Geoderma 139:154–170. doi:10.1016/j.geoderma.2007.01.015

Foster AL, Brown GE, Tingle TN, Parks GA (1998) Quantitative arsenic speciation in mine tailings using X-ray absorption spectroscopy. Am Mineral 83:553–568

Gaskova O, Azaroual M, Piantone P (1999) Arsenic behaviour in subsurface hydrogeochemical systems—a critical review of thermodynamic data for minerals and aqueous species of arsenic. BRGM Report R 40629

Goh KH, Lim TT (2005) Arsenic fractionation in a fine soil fraction and influence of various anions on its mobility in the subsurface environment. Appl Geochem 20:229–239. doi:10.1016/j.apgeochem.2004.08.004

Juillot F, Ildefonse Ph, Morin G, Calas G, de Kersabiec AM, Benedetti M (1999) Remobilization of arsenic from buried wastes at an industrial sites: mineralogical and geochemical control. Appl Geochem 14:1031–1048. doi:10.1016/S0883-2927(99)00009-8

Ladeira ACQ, Ciminelli VST (2004) Adsorption and desorption of arsenic on an oxisol and its constituents. Water Res 38:2087–2094. doi:10.1016/j.watres.2004.02.002

Lin HT, Wang MC, Li GC (2002) Effect of water extract of compost on the adsorption of arsenate by two calcerous soils. Water Air Soil Pollut 138:359–374. doi:10.1023/A:1015534302225

Luengo C, Brigante M, Avena M (2007) Adsorption kinetics of phosphate and arsenate on goethite: a comparative study. J Colloid Interf Sci 311:354–360. doi:10.1016/j.jcis.2007.03.027

Manning BA, Goldberg S (1997) Adsorption and stability of Arsenic(III) at the clay mineral–water interface. Environ Sci Technol 31:2005–2011. doi:10.1021/es9608104

Matera V, Le Hécho I, Laboudigue A, Thomas P, Tellier S, Astruc M (2003) A methodological approach for the identification of arsenic bearing phases in polluted soils. Environ Pollut 126:51–64. doi:10.1016/S0269-7491(03)00146-5

Mihaljevič M, Poňavič M, Ettler V, Šebek O (2003) A comparison of sequential extraction techniques for determining arsenic fractionation in synthetic mineral mixtures. Anal Bioanal Chem 377:723–729. doi:10.1007/s00216-003-2115-7

Mihaljevič M, Sisr L, Ettler V, Šebek O, Průša P (2004) Oxidation of As-bearing gold ore—a comparison of batch and column experiments. J Geochem Explor 81:59–70. doi:10.1016/j.gexplo.2003.08.002

Onken BM, Adriano DC (1997) Arsenic availability in soil with time under saturated and subsaturated conditions. Soil Sci Soc Am J 61:746–752

Parkhurst DL, Appelo CAJ (1999) User's guide to PHREEQC (version 2)—a computer program for speciation batch-reaction, one dimensional transport and inverse geochemical calculations. US Geological Survey report 99-4259, Denver

Pokrovski GS, Kara S, Roux J (2002) Stability and solubility of arsenopyrite, FeAsS, in crustal fluids. Geochim Cosmochim Acta 66:2361–2378. doi:10.1016/S0016-7037(02)00836-0

Sisr L, Mihaljevič M, Ettler V, Strnad L, Šebek O (2007) Effect of application of phosphate and organic manure-based fertilizers on arsenic transformation in soil column. Environ Monit Assess 135:465–473. doi:10.1007/s10661-007-9666-6

Száková J, Mihaljevič M, Tlustoš P (2007) Mobility, transformation and essential methods of determination of arsenic compounds in soil and plants. Chem Listy 101:397–405

Violante A, Pigna M (2002) Competitive sorption of arsenate and phosphate on different clay minerals and soils. Soil Sci Soc Am J 66:1788–1796

Voigt DE, Brantley SL, Hennet RJC (1996) Chemical fixation of arsenic in contaminated soils. Appl Geochem 11:633–643. doi:10.1016/S0883-2927(96)00009-1

Wasay SA, Parker W, Van Geel PJ, Barrington S, Tokunaga S (2000) Arsenic Pollution of a loam soil: retention form and decomposition. J Soil Contam 9:51–64. doi:10.1080/10588330091134194

Wenzel WW, Kirchbaumer N, Prohaska T, Stingeder G, Lombi E, Adriano DC (2001) Arsenic fractionation in soils using an improved sequential extraction procedure. Anal Chim Acta 436:309–323. doi:10.1016/S0003-2670(01)00924-2

Zachariáš J, Frýda J, Paterová B, Mihaljevič M (2004) Arsenopyrite and As bearing pyrite from the Roudný deposit, Bohemian Massif. Mineral Mag 68:31–46. doi:10.1180/0026461046810169
Acknowledgments
The authors wish to thank M. Fayadová for assistance with the laboratory work. This work was performed with financial support from the project of the Ministry of Education, Youth and Sports (MSM0021620855) and the Czech Science Foundation (GA CR 205/06/0298). Madeleine Štulíková is thanked for correction of the English in the paper.
About this article
Cite this article
Mihaljevič, M., Ettler, V., Sisr, L. et al. Effect of Low Concentrations of Phosphate Ions on Extraction of Arsenic from Naturally Contaminated Soil. Bull Environ Contam Toxicol 83, 422–427 (2009). https://doi.org/10.1007/s00128-009-9706-8
Received:

Accepted:

Published:

Issue Date:
Keywords
Arsenic

Phosphates

Soil

Dissolution

Adsorption

Kinetics

Batch experiment