Abstract
In recent years, increasing concern has surrounded the consequences of improper electric and electronic waste (e-waste) disposal. In this paper, Phthalate esters (PAEs) including dimethyl phthalate (DMP), diethyl phthalate (DEP), di-n-butyl phthalate (DBP), Di-(2-ethylhexyl) phthalate (DEHP) and di-n-octyl phthalate (DnOP) in the e-waste soils were collected and analyzed from sites Fengjiang, Nanshan and Meishu in Taizhou city. The result showed that the total PAEs concentrations ranged from 12.566 to 46.669 mg/kg in these three sites. DEHP, DBP and DEP were the major phthalates accounting for more than 94% of total phthalates studied. Comparing to the results from other studies, the e-waste soils from Taizhou city were severely contaminated with PAEs.
Access options
Buy single article
Instant access to the full article PDF.
USD 39.95
Price includes VAT (USA)
Tax calculation will be finalised during checkout.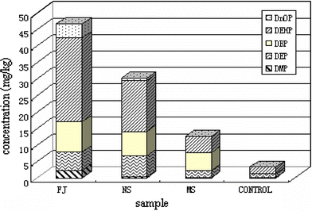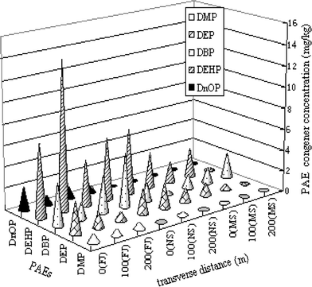 References
Cai QY, Mo CH, Li YH, Zeng QY, Wang BG, Xiao KE, Li HQ, Xu GS (2005) The study of PAEs in soils from typical vegetable fields in areas of Guangzhou and Shenzhen, South China. Acta Ecol Sin 25:283–288

Gómez-Hens A, Aguilar-Caballos MP (2003) Social and economic interest in the control of phthalic acid esters. Trends Anal Chem 22:847–857. doi:10.1016/S0165-9936(03)01201-9

Peijnenburg WJGM, Struijs J (2006) Occurrence of phthalate esters in the environment of the Netherlands. Ecotoxicol Environ Saf 63:204–215. doi:10.1016/j.ecoenv.2005.07.023

Shen CF, Huang SB, Wang ZJ, Qiao M, Tang XJ, Yu CN, Shi DZ, Zhu YF, Shi JY, Chen XC, Setty K, Chen YX (2008) Identification of Ah receptor agonists in soil of e-waste recycling sites from Taizhou area in China. Environ Sci Technol 42:49–55. doi:10.1021/es071162z

UNEP (2005) E-waste: the hidden side of IT equipment's manufacturing and use. Early warnings on emerging environmental threats no. 5. United Nations Environment Programme, Kenya

Vikelsøe J, Thomsen M, Carlsen L (2002) Phthalates and nonylphenols in profiles of differently 22 dressed soils. Sci Total Environ 296:105–116. doi:10.1016/S0048-9697(02)00063-3

Zeng F, Chen LX, Cui KY, Zhang G (2005) The determination of phthalate esters in sediment sample by silicagel-alumina column separation and gas chromatography. Chin J Anal Chem 33:1063–1067
About this article
Cite this article
Liu, W.L., Shen, C.F., Zhang, Z. et al. Distribution of Phthalate Esters in Soil of E-Waste Recycling Sites from Taizhou City in China. Bull Environ Contam Toxicol 82, 665–667 (2009). https://doi.org/10.1007/s00128-009-9699-3
Received:

Accepted:

Published:

Issue Date:
Keywords
E-waste

Soil

Phthalate esters (PAEs)

Chemical analysis