Abstract
This study assessed the viability of using planted, mature rice fields in mitigating diazinon (an organophosphate insecticide) runoff toxicity using aqueous 48 h Hyalella azteca whole effluent toxicity bioassays. Rice fields decreased diazinon concentrations 80.1%–99.9% compared with 10.8% in the unvegetated field control. H. azteca survival responses coincided with observed diazinon concentrations. Estimated LC50 effects dilutions (%) ranged from 1.15 to 1.47 for inflow samples and 1.66 (unvegetated), 6.44 (rice field A), and >100 (rice field B) outflow samples. Decreases in inflow versus outflow aqueous toxicity were 77.1%–100% in rice fields compared with 18.7% in the unvegetated field.
Access options
Buy single article
Instant access to the full article PDF.
USD 39.95
Price includes VAT (USA)
Tax calculation will be finalised during checkout.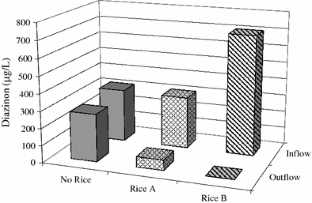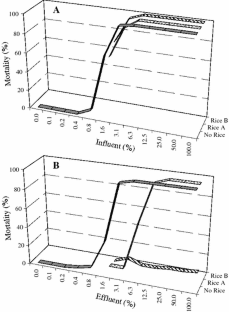 References
American Public Health Association (APHA) (1998) Standard methods for the examination of water and wastewater, 20th edn. American Public Health Association, American Water Works Association, Water Environment Federation, Washington, DC

Bouldin JL, Farris JL, Moore MT, Smith S, Cooper CM (2007) Assessment of diazinon toxicity in sediment and water of constructed wetlands using deployed Corbicula fluminea and laboratory toxicity testing. Arch Environ Contam Toxicol 53:174–182. doi:10.1007/s00244-006-0180-6

Brown DL, Giles DK, Oliver MN, Klassen P (2008) Targeted spray technology to reduce pesticide in runoff from dormant orchards. Crop Prot 27:545–552. doi:10.1016/j.cropro.2007.08.012

Burkepile DE, Moore MT, Holland MM (2000) Susceptibility of five nontarget organisms to aqueous diazinon exposure. Bull Environ Contam Toxicol 64:114–121. doi:10.1007/s001289910018

Collyard SA, Ankley GT, Hoke RA, Goldenstein T (1994) Influence of age on the relative sensitivity of Hyalella azteca to diazinon, alkylphenol ethoxylates, copper, cadmium, and zinc. Arch Environ Contam Toxicol 26:110–113. doi:10.1007/BF00212801

de March BGE (1981) Hyalella azteca (Saussure). In: Lawrence SG (ed) Manual for the culture of selected freshwater invertebrates. Can Spec Publ Fish Aquat Sci 54:61–77

Gealy DR, Mitten DH, Rutger JN (2003) Gene flow between red rice (Oryza sativa) and herbicide-resistant rice (O. sativa): implications for weed management. Weed Tech 17:627–645. doi:10.1614/WT02-100

Hunt J, Anderson B, Phillips B, Tjeerdema R, Largay B, Beretti M, Bern A (2008) Use of toxicity identification evaluations to determine the pesticide mitigation effectiveness of on-farm vegetated treatment systems. Environ Pollut 156(2):348–358. doi:10.1016j.envpol.2008.02.004

Moore MT, Cooper CM, Smith S, Cullum RF, Knight SS, Locke MA, Bennett ER (2007) Diazinon mitigation in constructed wetlands: influence of vegetation. Water Air Soil Pollut 184:313–321. doi:10.1007/s11270-007-9418-9

Rose MT, Sanchez-Bayo F, Crossan AN, Kennedy IR (2006) Pesticide removal from cotton farm tailwater by a pilot-scale ponded wetland. Chemosphere 63:1849–1858. doi:10.1016/j.chemosphere.2005.10.024

Smith S, Cooper CM, Lizotte RE, Locke MA, Knight SS (2007) Pesticides in lake water in the Beasley Lake watershed, 1998–2005. Int J Ecol Environ Sci 33:61–71

Statistical Package for the Social Sciences (SPSS) Inc. (1997) SigmaStat for Windows version 2.03

Suhling F, Befeld S, Häusler M, Katzur K, Lepkojus S, Mesléard F (2000) Effects of insecticide applications on macroinvertebrate density and biomass in rice-fields in the Rhône-delta, France. Hydrobiologia 431:69–79. doi:10.1023/A:1004006422334

US Department of Agriculture (USDA) National Agricultural Statistical Service (NASS) (2006) Agricultural chemical use database. http://www.pestmanagement.info/nass/act_dsp_statcs2_state.cfm

US Environmental Protection Agency (USEPA) (2000) Methods for measuring the toxicity and bioaccumulation of sediment-associated contaminants with freshwater invertebrates. EPA 600/R-99/064 Washington, DC

US Environmental Protection Agency (USEPA) (2002) Methods for measuring the acute toxicity of effluents and receiving waters with freshwater and marine organisms. EPA 821/R-02/012 Washington, DC
Acknowledgments
The authors would like to thank Sammie Smith, Charlie Cooper, Sam Testa, Calvin Vick, Tim Sullivan, James Hill, and Lisa Brooks for technical and analytical assistance. Mention of equipment, software or pesticide does not constitute an endorsement for use by the US Department of Agriculture nor does it imply pesticide registration under FIFRA as amended. All programs and services of the USDA are offered on a nondiscriminatory basis without regard to race, color, national origin, religion, sex, marital status, or handicap.
About this article
Cite this article
Moore, M.T., Lizotte, R.E. & Kröger, R. Efficiency of Experimental Rice (Oryza sativa L.) Fields in Mitigating Diazinon Runoff Toxicity to Hyalella azteca . Bull Environ Contam Toxicol 82, 777–780 (2009). https://doi.org/10.1007/s00128-009-9696-6
Received:

Accepted:

Published:

Issue Date:
Keywords
Wetlands

Organophosphate toxicity

Hyalella azteca