Abstract
A study to compare the degradation rates of atrazine (6-chloro-N 2-ethyl-N 4-isopropyl-1,3,5-triazine-2,4-diammine) and isoproturon [3-(4-isopropylphenyl)-1,1-dimethylurea] in soils from sugarcane fields with different practices of herbicides application was carried out. 14C-atrazine was poorly mineralized to 14CO2 (1.10% ± 0.22%) after 139 days of incubation in soil without previous exposure to atrazine. In the same soil also with no previous isoproturon exposure isoproturon was mineralized to 14CO2 by 7.70% ± 0.94%. Atrazine mineralization after 98 days was 13.4% ± 0.30% in soil which discontinued the use of atrazine in 1997 while it was 89.9% ± 1.23% in soil in which atrazine is currently being used. The isoproturon mineralization values were 7.24% ± 0.85% and 22.97% ± 0.96% in soil which discontinued atrazine and soil currently using atrazine, respectively.
Access options
Buy single article
Instant access to the full article PDF.
USD 39.95
Price includes VAT (USA)
Tax calculation will be finalised during checkout.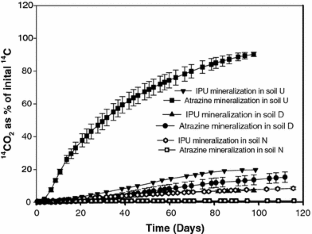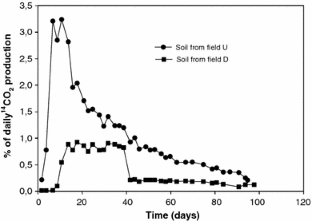 References
Alexander M (1981) Biodegradation of chemicals of environmental concern. Science 211:132–138. doi:10.1126/science.7444456

Barriuso E, Houot S (1996) Rapid mineralization of the s-triazine ring of atrazine in soils in relation to soil management. Soil Biol Biochem 28:1341–1348. doi:10.1016/S0038-0717(96)00144-7

Berger BM (1999) Factors influencing transformation rates and formation of products of phenylurea herbicides in soil. J Agric Food Chem 47:3389–3396. doi:10.1021/jf981285q

Dousset S, Mouvet C, Schiavon M (1997) Degradation of [14C] terbuthylazine and [14C] atrazine in laboratory soil microcosms. Pestic Sci 49:9–16. doi:10.1002/(SICI)1096-9063(199701)49:1<9::AID-PS472>3.0.CO;2-F

Gan J, Papiernik SK, Koskinen WC, Yates SR (1999) Evaluation of accelerated solvent extraction (ASE) for analysis of pesticide residues in soil. Environ Sci Technol 33:3249–3253. doi:10.1021/es990145+

Getenga ZM (2003) Enhanced mineralization of atrazine in compost-amended soil in laboratory studies. Bull Environ Contam Toxicol 75:937–941

Getenga ZM, Doerfler U, Reiner S, Sabine K (2004) Determination of a suitable sterilization method for soil in isoproturon biodegradation studies. Bull Environ Contam Toxicol 72:415–421. doi:10.1007/s00128-003-9106-4

Khadrani A, Seigle-Murandi F, Steiman R, Vroumsia T (1999) Degradation of three phenylurea herbicides (chlortoluron, isoproturon and diuron) by micromycetes) isolated from soil. Chemosphere 38:3041–3050. doi:10.1016/S0045-6535(98)00510-4

Krutz LJ, Shaner DL, Accinelli C, Zablotowicz RM, Henry WB (2008) Atrazine dissipation in s-triazine-adapted and nonadapted soil from Colorado and Mississippi: implications of ehanced degradation on atrazine fate and transport pameters. J Environ Qual 37:848–857. doi:10.2134/jeq2007.0448

Langenbach T, Schroll R, Paim S (2000) Fate and distribution of 14C-atrazine in a tropical oxisol. Chemosphere 40:449–455. doi:10.1016/S0045-6535(99)00244-1

Lehr S, Glaäßgen WE, Sandermann H, Beese F, Scheunert I (1996) Metabolism of isoproturon in soils originating from different agricultural management systems and in cultures of isolated soil bacteria. Int J Environ Anal Chem 65:234–243. doi:10.1080/03067319608045558

Mahia J, Diaz-Ravina M (2007) Atrazine degradation and residues distribution in two acid soils from temperate humid zone. J Environ Qual 36:826–831. doi:10.2134/jeq2006.0477

Marion D, Sonia H, Alain H, Fabrice M (2005) Horizontal gene transfer of atrazine degrading genes (atz) from Agrobacterium tumefaciens st96–4 pAdP1:: Tn 5 to bacteria of maize-cultivated soil. Pest Manag Sci 61:870–880. doi:10.1002/ps.1098

Schroll R, Brahushi F, Doerfler U, Kuehn S, Fekete J, Munch JC (2004) Biomineralization of 1, 2, 4-trichlorobenzene in soils by adapted microbial community. Environ Pollut 127:395–401. doi:10.1016/j.envpol.2003.08.012

Shaner DL, Henry WB, Krutz LJ, Hanson B (2007) Rapid assay for detecting enhanced atrazine degradation in soil. Weed Sci 55:528–535. doi:10.1614/WS-07-015.1

Shapir N, Mandelbaum RT (1997) Atrazine degradation in subsurface soil by indigenous and introduced microorganisms. J Agric Chem 45:4481–4486. doi:10.1021/jf970423t

Sørensen SR, Ronen Z, Aamand J (2001) Isolation from agricultural soil and characterization of a Sphingomonas sp. able to mineralize the phenylurea herbicide isoproturon. Appl Environ Microbiol 67:5403–5409. doi:10.1128/AEM.67.12.5403-5409.2001

Sørensen SR, Bending GD, Jacobsen CS, Walker A, Aamand J (2003) Microbial degradation of isoproturon and related phenylurea herbicides in and below agricultural fields. FEMS Microbiol Ecol 45:1–11. doi:10.1016/S0168-6496(03)00127-2

Wackett LP, Sadowsky MJ, Martinez B (2002) Biodegradation of atrazine and related s-triazine compounds: from enzymes to field studies. Appl Microbiol Biotechnol 58:39–45. doi:10.1007/s00253-001-0862-y

Winkelmann DA, Klaine SJ (1991) Degradation and bound residue formation of four atrazine metabolites, deethylatrazine, deisopropylatrazine, dealkylatrazine and hydroxyatrazine, in a Western Tennessee soil. Environ Toxicol Chem 10:347–354. doi:10.1897/1552-8618(1991)10[347:DABRFO]2.0.CO;2

Yassir A, Lagacherie B, Houot S, Soulas G (1999) Microbial aspects of atrazine biodegradation in relation to history of soil treatment. Pestic Sci 55:799–809. doi:10.1002/(SICI)1096-9063(199908)55:8<799::AID-PS12>3.0.CO;2-P
Acknowledgments
We thank the Alexander Von Humboldt foundation for the purchase of uniformly 14C-ring labeled atrazine and the fellowship granted to Z. M. Getenga to carry out the study. We also thank the German Research Center for Environmental Health (Helmholtz Zentrum München) for providing the facilities, consumables and purchase of 14C- ring labeled isoproturon.
About this article
Cite this article
Getenga, Z.M., Dörfler, U. & Schroll, R. Laboratory Degradation Studies of 14C-Atrazine and -Isoproturon in Soil from Sugarcane Cultivated Fields Under Kenyan Tropical Conditions. Bull Environ Contam Toxicol 82, 678 (2009). https://doi.org/10.1007/s00128-009-9672-1
Received:

Accepted:

Published:
Keywords
Soil

Mineralization

Isoproturon

Atrazine