Abstract
An analytical method was developed to determine the phenoxyacid herbicides 2,4-D, MCPA and mecoprop in kidney tissue from animals where poisoning is suspected. Samples were Soxhlet extracted using diethyl ether and the extracts cleaned-up using anion exchange solid phase extraction cartridges. Analysis was performed using liquid chromatography with negative-ion electrospray tandem mass spectrometry (LC-MS/MS). The method was evaluated by analysing control kidney samples fortified at 1 and 5 mg/kg. Mean recoveries ranged from 82 to 93% with relative standard deviations from 3.2 to 19%. The limit of detection was estimated to be 0.02 mg/kg.
Access options
Buy single article
Instant access to the full article PDF.
USD 39.95
Price includes VAT (USA)
Tax calculation will be finalised during checkout.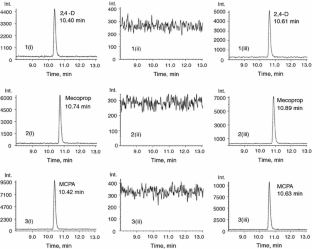 References
Arnold EK, Beasley VR, Parker AJ, Stedelin JR (1991) 2,4-D Toxicosis II—a pilot study of clinical pathological and electroencephalographic effects and residues of 2,4-D in orally dosed dogs. Vet Hum Toxicol 33:446–449

Aydin H, Özdemir N, Uzunoren N (2005) Investigation of the accumulation of 2,4-dichlorophenoxyacetic acid (2,4-D) in rat kidneys. Forensic Sci Int 153:53–57. doi:10.1016/j.forsciint.2005.04.018

Barnekow DE, Hamburg AW, Puvanesarajah V, Guo M (2001) Metabolism of 2,4-dichlorophenoxyacetic acid in laying hens and lactating goats. J Agric Food Chem 49:156–163. doi:10.1021/jf000119r

Brown PM, Turnbull G, Charman S, Charlton AJA, Jones AJ (2005) Analytical methods used in the United Kingdom wildlife incident investigation scheme for the detection of animal poisoning by pesticides. Assoc Off Anal Chem Int 88:204–220

Dickow LM, Gerken DF, Sams RA, Ashcraft SM (2001) Simultaneous determination of 2,4-D and MCPA in canine plasma and urine by HPLC with fluorescence detection using 9-anthryldiazomethane (ADAM). J Anal Toxicol 25:35–39

Drill VA, Hiratzka T (1953) Toxicity of 2,4-dichlorophenoxyacetic acid and 2,4,5-trichlorophenoxyacetic acid: a report on their acute and chronic toxicity in dogs. Arch Ind Hyg Occup Med 7:61–67

Fletcher MR, Grave RC (1992) Post-registration surveillance to detect wildlife problems arising from approved pesticides. Brighton Crop Prot Conf: Pest Dis 1–3:793–798

Frantz SW, Kropscott BE (1993) Pharmacokinetic evaluation of a single oral-administration of the 2-ethylhexyl (isooctyl) ester of 2,4-d to Fischer 344 rats. J Clean Technol Env 3:115–125

Garthwaite DG, Thomas MR, Anderson HM, Stoddart H (2005) Pesticide usage survey report 202: arable crops in Great Britain 2004. Pesticide Usage Survey Group, Central Science Laboratory, Sand Hutton

Garthwaite DG, Thomas MR, Anderson HM, Battersby A (2006) Pesticide usage survey report 210: grassland & fodder crops in Great Britain 2005. Pesticide Usage Survey Group, Central Science Laboratory, Sand Hutton

Henriksen T, Svensmark B, Lindhardt B, Juhler RK (2001) Analysis of acidic pesticides using in situ derivatization with alkylchloroformate and solid-phase microextraction (SPME) for GC-MS. Chemosphere 44:1531–1539. doi:10.1016/S0045-6535(00)00532-4

Kuang H, Chu XG, Hou YX, Xu CL (2006) Simultaneous determination of 13 phenoxy acid herbicide residues in soybean by GC-ECD. Anal Lett 39:2617–2627. doi:10.1080/00032710600824755

Moret S, Hidalgo M, Sanchez JM (2006) Development of an ion-pairing liquid chromatography method for the determination of phenoxyacetic herbicides and their main metabolites: application to the analysis of soil samples. Chromatographia 63:109–115. doi:10.1365/s10337-005-0711-8

Nilsson T, Baglio D, Galdo-Miguez I, Madsen JO, Facchetti S (1998) Derivatisation/solid-phase microextraction followed by gas chromatography mass spectrometry for the analysis of phenoxy acid herbicides in aqueous samples. J Chromatogr A 826:211–216. doi:10.1016/S0021-9673(98)00740-7

Rimmer DA, Johnson PD, Brown RH (1996) Determination of phenoxy acid herbicides in vegetation, utilising high-resolution gel permeation chromatographic clean-up and methylation with trimethylsilyldiazomethane prior to gas chromatographic analysis with mass-selective detection. J Chromatogr A 755:245–250. doi:10.1016/S0021-9673(96)00615-2

Schulze GE, Blake JW, Dougherty JA (1985) The metabolic-fate of 2,4-dichlorophenoxyacetic acid-normal-butyl ester in the Wistar rat. Arch Toxicol 57:231–236. doi:10.1007/BF00324783

Shin HS (2006) Determination of phenoxy acid pesticides in frog and fish tissues by gas chromatography-mass spectrometry. Chromatographia 63:579–583. doi:10.1365/s10337-006-0805-y

Thompson HM (1996) Interactions between pesticides; a review of reported effects and their implications for wildlife risk assessment. Ecotoxicology 5:59–81. doi:10.1007/BF00119047

Thorstensen CW, Lode O, Christiansen AL (2000) Development of a solid-phase extraction method for phenoxy acids and bentazone in water and comparison to a liquid-liquid extraction method. J Agric Food Chem 48:5829–5833. doi:10.1021/jf0000124

Timchalk C (2004) Comparative inter-species pharmacokinetics of phenoxyacetic acid herbicides and related organic acids evidence that the dog is not a relevant species for evaluation of human health risk. Toxicology 200:1–19. doi:10.1016/j.tox.2004.03.005

Tomlin CDS (2006) The e-Pesticide manual, a world compendium, 14th edn. British Crop Protection Council, Alton

Van Ravenzwaay B, Hardwick TD, Needham D, Pethen S, Lappin GJ (2003) Comparative metabolism of 2,4-dichlorophenoxyacetic acid (2,4-D) in rat and dog. Xenobiotica 33:805–821. doi:10.1080/0049825031000135405

Van Ravenzwaay B, Pigott G, Leibold E (2004) Absorption, distribution, metabolism and excretion of 4-chloro-2-methylphenoxyacetic acid (MCPA) in rats. Food Chem Toxicol 42:115–125. doi:10.1016/j.fct.2003.08.017

Wu JM, Lee HK (2006) Injection port derivatization following ion-pair hollow fiber-protected liquid-phase microextraction for determining acidic herbicides by gas chromatography/mass spectrometry. Anal Chem 78:7292–7301. doi:10.1021/ac060966e
Acknowledgments
Funding for this work was provided by the UK Department for Environment Food and Rural Affairs (Defra).
About this article
Cite this article
Charlton, A.J.A., Stuckey, V. & Sykes, M.D. Determination of the Phenoxyacid Herbicides MCPA, Mecoprop and 2,4-D in Kidney Tissue Using Liquid Chromatography with Electrospray Tandem Mass Spectrometry. Bull Environ Contam Toxicol 82, 711–715 (2009). https://doi.org/10.1007/s00128-009-9636-5
Received:

Accepted:

Published:

Issue Date:
Keywords
Acid herbicides

Pesticide poisoning

Liquid chromatography

Mass spectrometry