Abstract
The joint effect of chlorimuron-ethyl and cadmium (Cd) on biomass growth and cadmium accumulation in wheat (Triticum aestivum L.) was investigated and compared with single-factor effect of soil cadmium pollution. The results showed that dry biomass of wheat had significantly (p < 0.01) negative relationships with increasing concentrations of chlorimuron-ethyl and cadmium in phaiozem. The highest inhibition rates observed were 76.2%, 62.7% and 55.6% for roots, shoots and glumes, respectively, when the concentration of cadmium in soil was up to 100 mg kg−1. There were synergistically inhibitory interactions between chlorimuron-ethyl and cadmium on biomass growth of wheat. The SPT values of cadmium for wheat decreased with an increase in the concentration of cadmium added to the tested soil. The accumulation of cadmium in wheat shoots, roots and glumes could be inhibited by chlorimuron-ethyl to some extent. There was an antagonistic interaction between chlorimuron-ethyl and cadmium on accumulation of cadmium in wheat.
Access options
Buy single article
Instant access to the full article PDF.
USD 39.95
Price includes VAT (USA)
Tax calculation will be finalised during checkout.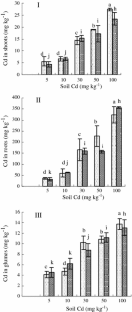 References
Cao RX, Ma LQ, Chen M, Hardison D, Harris W (2003) Lead transformation and distribution in Florida shooting range soils. Sci Total Environ 307:179–189. doi:10.1016/S0048-9697(02)00543-0

Cui S, Zhou QX, Chao L (2007) Potential hyperaccumulation of Pb, Zn, Cu and Cd in endurant plants distributed in an old smeltery, northeast China. Environ Geol 51:1043–1048. doi:10.1007/s00254-006-0373-3

Guo GL, Zhou QX (2004) Contaminative trends of heavy metals in pheaozem of northeast China. Journal of The Graduate School of The Chinese Academy of Sciences (in Chinese) 21:386–392

Leblova S, Mucha A, Spirhanzlova E (1986) Compartmentation of cadmium, copper, lead and zinc in seedlings of maize (Zea mays) induction of metallothionein. Biologia (Bratisl) 41:777–785

Liang JD, Zhou QX (2003) Single and binary-combined toxicity of methamidophos, acetochlor and copper acting on earthworms Esisenia Foelide. Bull Environ Contam Toxicol 71:1158–1166

Lu RK (2000) Analysis method on soil agro-chemistry. China Agricultural Science and Technology Press, Beijing

Rashmi N, Shalini S, Satya P (2001) Cadmium mobilisation and plant availability - the impact of organic acids commonly exuded from roots. Plant Soil 230:107–113. doi:10.1023/A:1004865811529

Salt DE, Pickering IJ, Prince RC, Gleba D, Dushenkov S, Smith RD, Raskin I (1997) Metal accumulation by aquacultured seedlings of Indian Mustard. Environ Sci Technol 31:1636–1644. doi:10.1021/es960802n

Song YF, Zhou QX, Gong P, Sun TH (2005) Ecotoxicity of soils contaminated with industrial and domestic wastewater in western Shenyang, China. Science in China (Ser. C) S1:48–56

Tereza VD, Sankaran K, Praveenk S (2002) Cadmium and nickel uptake and accumulation in scented geranium (Pelargonium sp. 'Frensham'). Water Air Soil Pollut 137:355–364. doi:10.1023/A:1015590007901

Wang ME, Zhou QX (2005) Single and joint toxicity of chlorimuron-ethyl, cadmium and copper acting on wheat Triticum aestivum. Ecotoxicol Environ Saf 60:169–175. doi:10.1016/j.ecoenv.2003.12.012

Wilson MJ, Bell N (1996) Acid deposition and heavy metal mobilization. Appl Geochem 11:133–137. doi:10.1016/0883-2927(95)00088-7

Yen JH, Seu WS, Wand YS (2003) Dissipation of the herbicide oxyfluorfen in subtropical soil and its potential to contaminate ground water. Ecotoxicol Environ Saf 40:194–200

Ying GG, Williams B (2000) Laboratory study on leachability of five herbicides in south Australian soils. J Environ Sci Health B 35:121–141

Zhang HW, Zhang QR, Zhou QX, Zhang CG (2003) Binary-joint effects of acetochlor, methamidophos, and copper on soil microbial population. Bull Environ Contam Toxicol 71:746–754. doi:10.1007/s00128-003-0195-x

Zheljazkov VD, Nielsen NE (1996) Effect of heavy metals on peppermint and cornmint. Plant Soil 178:12–20. doi:10.1007/BF00011163

Zhou QX (1995) Ecology of combined pollution (in Chinese). China Environmental Science Press, Beijing

Zhou QX (2003) Interaction between heavy metals and nitrogen fertilizers applied in soil-vegetable systems. Bull Environ Contam Toxicol 71:338–344. doi:10.1007/s00128-003-0169-z

Zhou QX, Wang X, Liang RL, Wu YY (2003) Effects of cadmium and mixed heavy metals on rice growth in Liaoning, China. Soil Sediment Contam 12:851–864. doi:10.1080/714037719

Zhou QX, Kong FX, Zhu L (2004) Ecotoxicology (in Chinese). Science Press, Beijing

Zou MQ, Zhang SQ (2001) Study on certified reference material of chlorimuron-ethyl. Chem Res Appl 13:581–583
Acknowledgments
The authors are grateful to the Henan Key Laboratory of Environmental Pollution Control and Key Laboratory for Yellow River and HuaiHe River Water Environmental and Pollution Control Minisitry of Education. And this work has been funded by the National Natural Science Foundation of China (No. 20877022) and by the Henan program for basic and frontier technology research project (No. 092300410090, 082300423202 and 072102320007).
About this article
Cite this article
Jin, C., Zhou, Q., Zhou, Q. et al. Effects of Chlorimuron-ethyl and Cadimum on Biomass Growth and Cadimum Accumulation of Wheat in the Phaiozem Area, Northeast China. Bull Environ Contam Toxicol 84, 395–400 (2010). https://doi.org/10.1007/s00128-009-9635-6
Received:

Accepted:

Published:

Issue Date:
Keywords
Chlorimuron-ethyl

Cadmium

Combined pollution

Wheat Triticum aestivum L.