Abstract
In this study, residual level and enantiomeric composition of typical organochlorine pesticides (OCPs) were surveyed in urban soils of Yinchuan, China. The median levels of ∑HCHs and ∑DDTs were 0.852 and 2.24 ng/g, respectively, which suggested little risk for ecological environment and human health in the study area. Both chiral α-HCH and o,p′-DDT displayed the non-racemic signatures in all samples. The isomer ratios of ∑HCHs and ∑DDTs combined with enantiomer fractions (EFs) of α-HCH and o,p′-DDT, suggested that contamination source of HCHs derived from historical HCHs (including technical HCHs and Lindane) and that of DDTs originated from old source with the usage of mixed technical DDTs and dicofol.
Access options
Buy single article
Instant access to the full article PDF.
USD 39.95
Price includes VAT (USA)
Tax calculation will be finalised during checkout.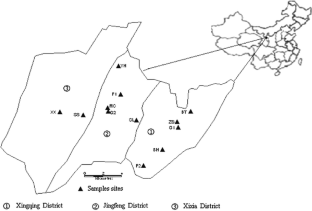 References
Covaci A, Hura C, Schepens P (2001) Selected persistent organochlorine pollutants in Romania. Sci Total Environ 280:143–152. doi:10.1016/S0048-9697(01)00820-8

Fakconer RL, Bidleman TF, Szeto SY (1997) Chiral pesticides in soils of the Fraser Valley, British Columbia. Agric Food Chem 45:1946–1951. doi:10.1021/jf960881m

Finizio A, Bidleman TE, Szeto SY (1998) Emission of chiral pesticides from an agricultural soil in the Fraser Valley, British Columbia. Chemosphere 36(2):345–355. doi:10.1016/S0045-6535(97)00272-5

Fu S, Chu SG, Xu XB (2001) Organochlorine pesticide residue in soils from Tibet, China. Bull Environ Contam Toxicol 66:171–177. doi:10.1007/s001280000221

Gong ZM, Tao S, Xu FL, Dawson R, Liu WX, Cui YH, Cao J, Wang XJ, Shen WR, Zhang WJ, Qing BP, Sun R (2004) Level and distribution of DDT in surface soils from Tianjin, China. Chemosphere 54:1247–1253. doi:10.1016/j.chemosphere.2003.10.021

Harner T, Wiberg K, Norstrom R (2000) Enantiomer fractions are preferred to enantiomer ratios for describing chiral signatures in environmental analysis. Environ Sci Technol 34:218–220. doi:10.1021/es9906958

Kim SK, Oh J, Shim WJ, Lee DH, Yim UH, Hong SH, Shin YB, Lee DS (2002) Geographical distribution and accumulation features of organochlorine residues in bivalves from coastal areas of South Korea. Mar Pollut Bull 45:268–279. doi:10.1016/S0025-326X(01)00279-X

Kurt-Karakus PB, Bidleman TF, Jones KC (2005) Chiral organochlorine pesticide signatures in global background soils. Environ Sci Technol 39:8671–8677. doi:10.1021/es051004c

Leone A, Amato S, Falconer RL (2001) Emission of chiral organochlorine pesticides from agricultural soils the Cornbelt Region of the U.S. Environ Sci Technol 35:4592–4596. doi:10.1021/es010992o

Li J, Zhang G, Qi SH, Li XD, Peng XZ (2006) Concentrations, enantiomeric compositions, and sources of HCH, DDT and chlordane in soils from the Pearl River Delta, South China. Sci Total Environ 372:215–224. doi:10.1016/j.scitotenv.2006.09.023

Li XH, Wang W, Wang J, Cao XL, Wang XF, Liu JC, Liu XF, Xu XB, Jiang XN (2008) Contamination of soils with organochlorine pesticides in urban parks in Beijing, China. Chemosphere 70:1660–1668. doi:10.1016/j.chemosphere.2007.07.078

Muller TA, Kohler HPE (2004) Chirality of pollutants: effects on metabolism and fate. Appl Microbiol Biotechnol 64:300–316. doi:10.1007/s00253-003-1511-4

Qiu X, Zhu T, Li J, Pan H, Li Q, Miao G, Gong J (2004) Organochlorine pesticides in the air around the Taihu Lake, China. Environ Sci Technol 38:1368–1374. doi:10.1021/es035052d

Qiu X, Zhu T, Yao B, Hu J, Hu S (2005) Contribution of dicofol to the current DDT pollution in China. Environ Sci Technol 39:4385–4390

Ridal JJ (1997) Enantiomers of α-Hexachlorocyclohexane as tracers of air-water gas exchange in Lake Ontario. Environ Sci Technol 31:1940–1945. doi:10.1021/es9607244

Shen L, Wania F, Lei YD, Teixeira C, Muir DCG, Bidleman TF (2004) Hexachlorocyclohexanes in the North American atmosphere. Environ Sci Technol 38:965–975. doi:10.1021/es034998k

Wang TY, Lu YL, Shi YJ, Giesy JP, Luo W (2007) Organochlorine pesticides in soils around Guanting Reservoir, China. Environ Geochem Health 29:491–501. doi:10.1007/s10653-007-9118-9

Wiberg K, Harner T, Wideman J, Bidleman TF (2001) Chiral analysis of organochlorine pesticides in Alabama soils. Chemosphere 45:843–848. doi:10.1016/S0045-6535(01)00033-9

Zhang HB, Luo YM, Zhao QG, Wong MH, Zhang GL (2006) Residues of organochlorine pesticides in Hong Kong soils. Chemosphere 63:633–641. doi:10.1016/j.chemosphere.2005.08.006
Acknowledgments
This work was supported by the National Natural Science Foundation of China and the National Basic Research Program of China (No. 20607026).
About this article
Cite this article
Wang, W., Li, XH., Wang, XF. et al. Levels and Chiral Signatures of Organochlorine Pesticides in Urban Soils of Yinchuan, China. Bull Environ Contam Toxicol 82, 505–509 (2009). https://doi.org/10.1007/s00128-009-9632-9
Received:

Accepted:

Published:

Issue Date:
Keywords
Survey

Enantiomeric composition

HCHs

DDTs