Abstract
Indoor air pollution has recently become a public concern in Taiwan. People recognize that indoor air quality (IAQ) may be more important than outdoor air quality because they spend over 80% of their time indoors. IAQ could affect health and comfort of building occupants. The objectives of this study are (1) to characterize the indoor concentrations of selected air pollutants at two hospitals in Hsinchu, Taiwan, (2) to evaluate the potential indoor sources of pollutants in these selected hospitals and their indoor/outdoor relationships, and (3) to compare pollutant concentrations with values published in other studies. A significant between-hospital difference in average indoor concentration of nitrogen dioxide and 54.14, 32.69 ppb for Hospital A and B, respectively (p < 0.05). Indoor nitrogen dioxide concentration was significantly positively correlated with outdoor nitrogen dioxide concentration, PM10 concentration, and traffic flow (r = 0.91, 0.65 and 0.72, respectively). The ozone level was also lower in our hospitals than 30 ppb standard.
Access options
Buy single article
Instant access to the full article PDF.
USD 39.95
Price includes VAT (USA)
Tax calculation will be finalised during checkout.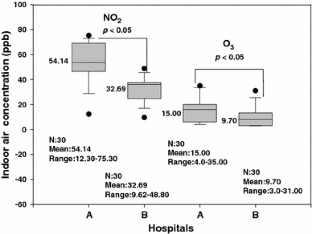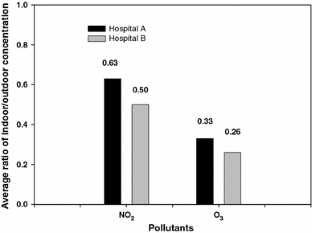 References
Chuang CY, Hung JC, Yang CY, Ma YC, Sung FC (2003) Plasma nitrogen oxides levels in taxi drivers and community residents. Bull Environ Contam Toxicol 70:430–436. doi:10.1007/s00128-003-0004-6

Devlin RB, McDonnell WF, Mann R, Becker S, House DE, Schreinemachers D, Koren HS (1991) Exposure of humans to ambient levels of ozone for 6.6 hours causes cellular and biochemical changes in the lung. American J Respir Cell Mol Biol 4:72–81

Environmental Protection Agency (2005) Guideline notes for management of indoor air quality in offices and public places, Taiwan

Fusco D, Forastiere F, Michelozzi P, Spadea T, Ostro B, Arca M, Perucci CA (2001) Air pollution and hospital admissions for respiratory conditions in Rome, Italy. European Respir J 17:1143–1150. doi:10.1183/09031936.01.00005501

Gallelli G, Orlando P, Perdelli F, Panatto D (2002) Factors affecting individual exposure to NO2 in Genoa (northern Italy). Sci Total Environ 287:31–36. doi:10.1016/S0048-9697(01)00990-1

Guo H, Lee SC, Chan LY (2004) Indoor air quality investigation at air-conditioned and non-airconditioned markets in Hong Kong. Sci Total Environ 323:87–98. doi:10.1016/j.scitotenv.2003.09.031

Hatch GE, Slade R, Harris LP, McDonnell WF, Devlin RB, Koren HS, Costa DL, McKee J (1994) Ozone dose and effect in humans and rats. American J Respir Crit Care Med 150:676–683

Hayashi Y, Kohno T, Ohwada H (1987) Morphological effects of nitrogen dioxides on rat lung. Environ Health Perspect 73:135–145. doi:10.2307/3430604

Huffman LJ, Judy D, Brumbaugh K, Frazer DG, Reynolds JS, McKinney WG, Goldsmith WT (2001) Hyperthyroidism increases the risk of ozone-induced lung toxicity in rats. Toxicol Appl Pharm 173:18–26. doi:10.1006/taap.2001.9174

Jaffe LS (1967) The biological effects of ozone on man and animals. American Ind Hyg Assoc J 28:267–277

Jakobi G, Farian P (1997) Indoor/outdoor concentration of ozone and peroxyacetyl nitrate. Int Biometeorol 40:162–165. doi:10.1007/s004840050037

Lin TS, Huang YL (2004) Elevated exposure to nitrogen dioxide during food preparation: results from a cooking laboratory. Bull Environ Contam Toxicol 72:535–541. doi:10.1007/s00128-004-0277-4

Noy D, Brunekreef B, Boleij JSM, Houthuijs D, De Koning R (1990) The assessment of personal exposure to nitrogen dioxide in epidemiological studies. Atoms Eviron 24:2903–2909

Pehnec G, Hršak VV (2003) Comparison of active and passive measurement of ozone in Zagreb air. Bull Environ Contam Toxicol 70:343–350. doi:10.1007/s00128-002-0197-0

Pennanen AS, Vahteristo M, Salonen RO (1998) Contribution of technical and operational factors to nitrogen dioxide concentration in indoor ice arenas. Environ Int 24:381–388. doi:10.1016/S0160-4120(98)00018-X

Salthammer T (1999) Organic indoor air pollutants – occurrence, measurement evaluation. Wiley, Germany

Shiau SJ (1987) The development and application of a diffusive sampler for nitrogen dioxide. Masters Thesis. Institute of Public Health, National Taiwan University, Taipei

Spengler J, Schwab M, Ryan PB, Colome S, Wilson AL, Billick I, Becker E (1994) Personal exposure to nitrogen dioxide in the Los Angeles Basin. Air Waste 44:39–47

Spengler JD, Samet JM, McCarthy JF (2001) Indoor air quality handbook. McGraw–Hill, New York

Thurston GD, Ito K (2001) Epidemiological studies of acute ozone exposure and mortality. J Expo Sci Env Epid 11:286–294. doi:10.1038/sj.jea.7500169

Weschler C, Shields H (1994) Indoor chemistry involving O3, NO, and NO2 as evidenced by 14 months of measurement at a site in southern California. Environ Sci Technol 28:2120–2132. doi:10.1021/es00061a021

Zhou J, Smith S (1997) Measurement of ozone concentration in ambient air using a badge type passive monitor. J Air Waste Manage Assoc 47:697–703
Acknowledgments
We thank the National Science Council of the Republic of China, Taiwan, for financially supporting a part of this research under Contract No. NSC 95-2815-C-264-008-B.
About this article
Cite this article
Chen, HW., Chuang, CY. & Lin, HT. Indoor Air Distribution of Nitrogen Dioxide and Ozone in Urban Hospitals. Bull Environ Contam Toxicol 83, 147–150 (2009). https://doi.org/10.1007/s00128-009-9631-x
Received:

Accepted:

Published:

Issue Date:
Keywords
Indoor air quality

Nitrogen dioxide

Ozone

Passive sampling