Abstract
Organochlorine pesticides (OCPs) concentrations in sediments and sediment trap fluxes of particulate organic carbon and OCPs were measured from October 2006 to May 2008 in the urban reach of Haihe River, Tianjin, China, in order to investigate vertical fluxes and accumulation of OCPs in sediments. The concentrations of OCPs in sediments (dry weight basis) were in the range of 2.08–10.07 ng/g (mean 4.70 ng/g) for HCHs (α-, β-, γ-, δ-HCH), 5.82–43.39 ng/g (mean 17.43 ng/g) for DDTs (p,p′-DDE, p,p′-DDD, o,p′-DDT, p,p′-DDT). Compared with data reported in Haihe River 2003, the levels of OCPs showed a significant decrease between 2003 and 2008. This is mainly attributed to significant decrease of production and usage of HCHs and DDTs and biodegradation of HCHs and DDTs in sediment. Concentrations of HCHs and DDTs in sediments were well correlated with sediment organic carbon contents. Concentrations of OCPs in settling particles (dry weight basis) ranged from 21.2 to 138.4 ng/g (mean 52.6 ng/g) for HCHs, 30.0–245.7 ng/g (mean 87.1 ng/g) for DDTs, which were 2.2–48.2-fold higher than those associated with sediments. β-HCH was the dominant HCH isomer in both sediments and settling particles. Among DDTs, p,p′-DDE was found to be dominant in sediments, while p,p′-DDT was the predominant form in settling particles. This suggests that further biodegradation of OCPs occurred during the course of sedimentation and burial. The annual sediment trap flux of OCPs in Haihe River in the urban area of Tianjin was 177–211 μg/m2 yr for HCHs and 213–341 μg/m2 yr for DDTs, respectively.
Access options
Buy single article
Instant access to the full article PDF.
USD 39.95
Price includes VAT (USA)
Tax calculation will be finalised during checkout.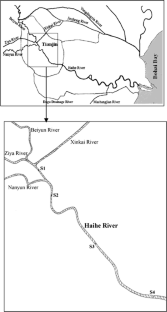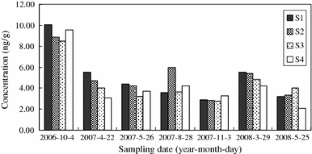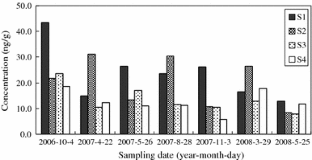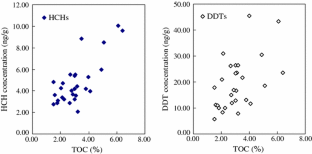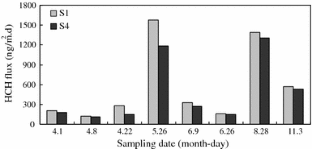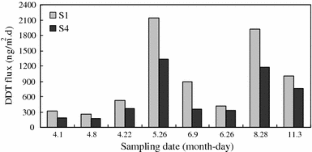 References
Blomqvist S, Håkanson L (1981) A review on sediment traps in aquatic environments. Arch Hydrobiol 91:101–132

Chi J, Wang QY, Huang JJ, Huang GL (2008) Sedimentation and seasonal variation of hexachlorocyclohexanes in sediments in a eutrophic lake, China. J Environ Sci Health Part B 43:611–616. doi:10.1080/03601230802234724

Chiu TC, Yen JH, Liu TL, Wang YS (2004) Anaerobic degradation of the organochlorine pesticides DDT and heptachlor in river sediment of Taiwan. Bull Environ Contam Toxicol 72:821–828. doi:10.1007/s00128-004-0318-z

Doong RA, Peng CK, Sun YC, Liao PL (2002) Composition and distribution of organochlorine pesticide residues in surface sediments from the Wu-Shi River estuary. Taiwan Mar Pollut Bull 45:246–253. doi:10.1016/S0025-326X(02)00102-9

Hites RK, Day HR (1992) Unusual persistent of DDT in some western USA soils. Bull Environ Contam Toxicol 48:259–264

Hong H, Chen W, Xu L, Wang X, Zhang L (1999) Distribution and fate of organochlorine pollutants in the Pearl River Estuary. Mar Pollut Bull 39:376–382. doi:10.1016/S0025-326X(99)00081-8

Huang Y, Zhao X, Luan SJ (2007) Uptake and biodegradation of DDT by 4 ectomycorrhizal fungi. Sci Total Environ 385:235–241. doi:10.1016/j.scitotenv.2007.04.023

Iwata H, Tanabe S, Ueda K, Tatsukawa R (1995) Persistent organochlorine residues in air, water, sediments, and soils from the lake Baikal region, Russia. Environ Sci Technol 29:792–801. doi:10.1021/es00003a030

Kalantzi QI, Alcock RE, Joneston PA, Santillo D, Stringer RL, Thomas GO, Jones KC (2001) The global distribution of PCBs and organochlorine pesticides in butter. Environ Sci Technol 35:1013–1018. doi:10.1021/es0002464

Karickhoff SW (1981) Semi-empirical estimation of sorption of hydrophobic pollutants on natural sediments and soils. Chemosphere 10:833–846. doi:10.1016/0045-6535(81)90083-7

Ramesh A, Tanabe S, Murase H, Subramanian AN, Tatsukawa R (1991) Distribution and behavior of persistent organochlorine insecticides in paddy soil and sediments in the tropical environment: a case study in South India. Environ Pollut 74:293–307. doi:10.1016/0269-7491(91)90077-A

Skei J, Larsson P, Rosenberg R, Jonsson P, Olsson M, Broman D (2000) Eutrophication and contaminants in aquatic ecosystems. AMBIO 29:184–194. doi:10.1639/0044-7447(2000)029[0184:EACIAE]2.0.CO;2

Strandberg B, Bavel BV, Bergqvist PA, Broman D, Ishaq R, Naf C, Pettersen H, Rappe C (1998) Occurrence, sedimentation, and spatial variations of organochlorine contaminants in settling particulate matter and sediments in the northern part of the Baltic Sea. Environ Sci Technol 32:1754–1759. doi:10.1021/es970789m

Tang ZW, Yang ZF, Shen ZY, Niu JF, Cai YP (2008) Residues of organochlorine pesticides in water and suspended particulate matter from the Yangtze River catchment of Wuhan, China. Environ Monit Assess 137:427–439. doi:10.1007/s10661-007-9778-z

Wang XF, Li XH, Cheng HX, Xu XB, Zhuang GM, Zhao CD (2008) Organochlorine pesticides in particulate matter of Beijing, China. J Hazard Mater 155:350–357. doi:10.1016/j.jhazmat.2007.11.116

Willett KL, Ulrich EM, Hites SA (1998) Differential toxicity and environmental fates of hexachlorocyclohexane isomers. Environ Sci Technol 32:2197–2207. doi:10.1021/es9708530

Wu W, Xu Y, Schramm KW, Kettrup A (1997) Study of sorption, biodegradation and isomerization of HCH in simulated sediments/water system. Chemosphere 35:1887–1894. doi:10.1016/S0045-6535(97)00266-X

Yang NQ, Matsuda M, Kawano M, Wakimoto T (2006) PCBs and organochlorine pesticides (OCPs) in edible fish and shellfish from China. Chemosphere 63:1342–1352. doi:10.1016/j.chemosphere.2005.09.029

Yang RQ, Lv AH, Shi JB, Jiang GB (2005) The levels and distribution of organochlorine pesticides (OCPs) in sediments from the Haihe River, China. Chemosphere 61:347–354. doi:10.1016/j.chemosphere.2005.02.091

Zhou JL, Rowland SJ (1997) Evaluation of the interactions between hydrophobic organic pollutants and suspended particles in estuarine waters. Water Res 31:1708–1718. doi:10.1016/S0043-1354(96)00323-5
Acknowledgments
The authors are grateful to National Natural Sciences Foundation of China (Contract/grant number: 20677042 and 20777052).
About this article
Cite this article
Chi, J. Vertical Fluxes and Accumulation of Organochlorine Pesticides in Sediments of Haihe River, Tianjin, China. Bull Environ Contam Toxicol 82, 510–515 (2009). https://doi.org/10.1007/s00128-008-9630-3
Received:

Accepted:

Published:

Issue Date:
Keywords
Vertical fluxes

Sediments

HCHs

DDTs

Haihe river