Abstract
Freshwater fish Carassius auratus were chosen as experimental animals, the hepatic biochemical responses to medium-term exposure of five PAHs were measured as ethoxyresorufin O-deethylase (EROD) activity (phase I) and glutathione S-transferase (GST) activity (phase II) to assess sub-lethal effects. The fold increases of EROD and GST activity were calculated and both increased in the order Fluoranthene < Fluorene < Benzo(b)fluoranthene < Benzo(g,h,i)perylene < Indeno(1,2,3-cd)-pyrene. The clear dose–response relationships were found for liver EROD and GST activity induced by PAHs. The enzyme EROD and GST in Carassius auratus were confirmed as useful biomarkers of exposure to both PAH and PAH-like compounds.
Access options
Buy single article
Instant access to the full article PDF.
USD 39.95
Price includes VAT (USA)
Tax calculation will be finalised during checkout.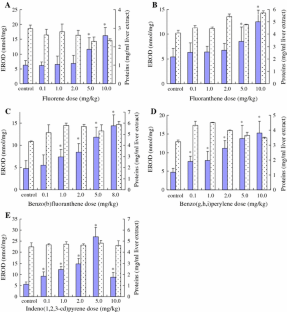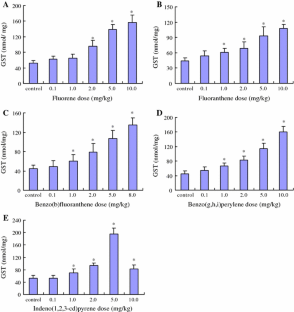 References
Banni M, Bouraoui Z, Ghedira J, Clerandeau C, Guerbej H, Narbonne JF, Boussetta H (2008) Acute effects of benzo[a]pyrene on liver phase I and II enzymes, and DNA damage on sea bream Sparus aurata. Fish Physiol Biochem. Available via DIALOG. http://www.springerlink.com/content/pj725n1721v15200. Accessed 22 March 2008. doi: 10.1007/s10695-008-9210-9

Bosveld ATC, de Bie PAF, van den Brink NW, Jongepier H, Klomp AV (2002) In vitro EROD induction equivalency factors for the 10 PAHs generally monitored in risk assessment studies in The Netherlands. Chemosphere 49:75–83. doi:10.1016/S0045-6535(02)00161-3

Bradford MM (1976) A rapid and sensitive method for the quantification of microgram quantities of protein utilizing the principle of protein-dye binding. Anal Biochem 72:248–254. doi:10.1016/0003-2697(76)90527-3

Chen JP, Xu LH, Wu ZB, Zhang YY, Paul KSL (1999) Molecular ecotoxicological indicators of fish intoxicated by benzo(a)pyrene. China Environ Sci 19:417–420

Delesclue C, Ledirac N, de Sousa G, Pralvorio M, Botta-Fridlund D, Letreut Y, Rahmani R (1997) Comparative study of CYP1A1 induction by 3-methylcholanthrene in various human hepatic and epidermal cell types. Toxicol In Vitro 11:443–450. doi:10.1016/S0887-2333(97)00077-5

Frasco MF, Guilhermino L (2002) Effects of dimethoate and beta-naphthoflavone on selected biomarkers of Poecilia reticulata. Fish Physiol Biochem 26:149–156. doi:10.1023/A:1025457831923

George SG (1994) Enzymology and molecular biology of phase II xenobiotic-conjugating enzymes in fish. In: Mallins DC, Ostrander GK (eds) Aquatic toxicology: molecular, biochemical and cellular perspectives. Lewis Publishers, USA, p 37

Goksøyr A, Förlin L (1992) The cytochrome P-450 system in fish, aquatic toxicology and environmental monitoring. Aquat Toxicol 22:287–312. doi:10.1016/0166-445X(92)90046-P

Habig WH, Jakoby WB (1981) Assays for differentiation of glutathione S-transferases. Methods Enzymol 77:398–405. doi:10.1016/S0076-6879(81)77053-8

Hugla JL, Thome JP (1999) Effects of polychlorinated biphenyls on liver ultrastructure, hepatic monooxygenases, and reproductive success in the barbel. Ecotoxicol Environ Saf 42:256–273. doi:10.1006/eesa.1998.1761

Kennedy SW, Lorenzen A, Jones SP, Hahn ME, Stegeman JJ (1996) Cytochrome P4501A induction in avian hepatocyte cultures: a promising approach for predicting the sensitivity of avian species to toxic effects of halogenated aromatic hydrocarbons. Toxicol Appl Pharmacol 141:214–230

Kong KY, Cheung KC, Wong CKC, Wong MH (2005) The residual dynamic of polycyclic aromatic hydrocarbons and organochlorine pesticides in fishponds of the Pearl river delta, South China. Water Res 39:1831–1843. doi:10.1016/j.watres.2005.02.011

Liang Y, Tse MF, Young L, Wong MH (2007) Distribution patterns of polycyclic aromatic hydrocarbons (PAHs) in the sediments and fish at Mai Po marshes nature reserve, Hong Kong. Water Res 41:1303–1311. doi:10.1016/j.watres.2006.11.048

Mansuy D (1998) The great diversity of reactions catalyzed by cytochromes P450. Comp Biochem Physiol 121C:5–14

Masfaraud JF, Devaux A, Pfohl-Leszkowicz A, Malaveille C, Monod G (1992) DNA adduct formation and 7-ethoxyresorufin O-deethylase induction in primary culture of rainbow trout hepatocytes exposed to benzo[a]pyrene. Toxic in Vitro 6:523–531. doi:10.1016/0887-2333(92)90064-X

Nelson DR, Koymans L, Kamataki T, Stegeman JJ, Feyereisen R, Waxman DJ, Waterman MR, Gotoh O, Coon MJ, Estabrook RW, Gunsalus IC, Nebert DW (1996) P450 superfamily: update on new sequences, gene mapping, accession numbers and nomenclature. Pharmacogenetics 6:1–42. doi:10.1097/00008571-199602000-00002

Pacheco M, Santos MA (2002) Naphthalene and β-naphthoflavone effects on Anguilla anguilla L. hepatic metabolism and erythrocytic nuclear abnormalities. Environ Int 28:285–293. doi:10.1016/S0160-4120(02)00037-5

Shailaja MS, Classy DS (2003) Evaluation of impact of PAH on a tropical fish, Oreochromis mossambicus using multiple biomarkers. Chemosphere 53:835–841. doi:10.1016/S0045-6535(03)00667-2

Stanic B, Andric N, Zoric S, Grubor-Lajsic G, Kovacevic R (2006) Assessing pollution in the Danube River near Novi Sad (Serbia) using several biomarkers in sterlet (Acipenser ruthenus L.). Ecotoxicol Environ Saf 65:395–402. doi:10.1016/j.ecoenv.2005.08.005

Stephensen E, Adolfsson-Erici M, Celander M, Hulander M, Parkkonen J, Hegelund T, Sturve J, Hasselberg L, Bengtsson M, Förlin L (2003) Biomarker responses and chemical analyses in fish indicate leakage of polycyclic aromatic hydrocarbons and other compounds from car tire rubber. Environ Toxicol Chem 22:2926–2931. doi:10.1897/02-444

Teles M, Pacheco M, Santos MA (2005) Sparus aurata L. liver EROD and GST activities, plasma cortisol, lactate, glucose and erythrocytic nuclear anomalies following short-term exposure either to 17β-estradiol (E2) or E2 combined with 4-nonylphenol. Sci Total Environ 336:57–69. doi:10.1016/j.scitotenv.2004.05.004

Viarengo A, Bettella E, Fabbri R, Burlando B, Lafaurie M (1997) Heavy metal inhibition of EROD activity in liver microsomes from the bass Dicentrarchus labrax exposed to organic xenobiotics: role of GSH in the reduction of heavy metal effects. Mar Environ Res 43:1–11. doi:10.1016/S0141-1136(96)00097-9

Voorman R, Aust SD (1987) Specific binding of polyhalogenated aromatic hydrocarbon inducers of cytochrome P-450d to the cytochrome and inhibition of its estradiol 2-hydroxylase activity. Toxicol Appl Pharmacol 90:69–78. doi:10.1016/0041-008X(87)90307-3
Acknowledgments
This research was funded by Program for New Century Excellent Talents in University (05-0481) and Key Laboratory of Integrated Regulation and Resources Development of Shallow Lakes of Ministry of Education (2007KJ002).
About this article
Cite this article
Lu, G.H., Wang, C. & Zhu, Z. The Dose–Response Relationships for EROD and GST Induced by Polyaromatic Hydrocarbons in Carassius auratus . Bull Environ Contam Toxicol 82, 194–199 (2009). https://doi.org/10.1007/s00128-008-9622-3
Received:

Accepted:

Published:

Issue Date:
Keywords
PAHs

Fish

Biotransformation

Dose–response relationships