Abstract
The organophosphorous pesticides (OPPs) contaminations have been reported to occur in some Chinese waters. To describe the contamination status and the spatial distribution of OPPs in the surface water throughout China, samples were collected from over 600 sites located in the surface water of seven major river basins and three main internal rivers drainage areas during 2003 and 2004. The surface water samples were analyzed for the representative OPPs including dichlorvos, demeton, dimethoate, methyl parathion, malathion and parathion. In general, the most frequently detected compound was dichlorvos and demeton, being detected in 89.1% of samples (mean = 17.8 ng/L; range <1.4–1,552.0 ng/L) for dichlorvos, and 78.2% of samples (mean = 35.4 ng/L; range <1.5–2,560.0 ng/L) for demeton. While the detection frequencies of the dimethoate, methyl parathion, malathion, and parathion were all less than 50% in all the surface water samples. Measured concentrations for the six compounds were low and rarely exceed the environment quality standard for surface water of China. The six OPPs compounds were more frequently detected at much higher concentrations in the rivers of north China compared with those of south China. The results of this investigation indicate that OPPs contamination in the Yellow River, Huaihe River, Liaohe River, and Haihe River basins of north China should be of particular concern. When compared with other regions of the world, it appears that the Chinese surface water is some moderately polluted by dimethoate, methyl parathion, malathion, parathion and contaminated by dichlorvos and demeton in certain degree.
Access options
Buy single article
Instant access to the full article PDF.
USD 39.95
Price includes VAT (USA)
Tax calculation will be finalised during checkout.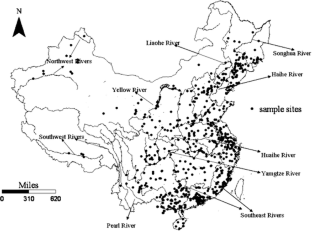 References
Christopher MT, David JS, Matthew JW (2001) Fluorinated phosphorus compounds: part 4. A lack of anticholinesterase activity for four tris (fluoroalkyl) phosphates. J Fluor Chem 107:155–158. doi:10.1016/S0022-1139(00)00394-8

Eto M (1974) Organophosphorous pesticides: organic and biological chemistry. CRC, Ohio

Forney D, Davis D (1981) Effects of low concentrations of herbicides on submerged aquatic plants. Weed Sci 29:677

Fulton MH, Key PB (2001) Acetylcholinesterase inhibition in esturaine fish and invertebrates as an indicator of organophosphorus insecticide exposure and effects. Environ Toxicol Chem 20:37–45. doi:10.1897/1551-5028(2001)020<0037:AIIEFA>2.0.CO;2

Gotz R, Bauer OH, Friesel P, Roch K (1998) Organic trace compounds in the water of the river Elbe near Hamburg. Part II. Chemosphere 36:2103–2118. doi:10.1016/S0045-6535(98)00009-5

Griffini O, Bao ML, Barbieri C, Burrini D, Pantani F (1997) Occurrence of pesticides in the Arno river and in potable water—a survey of the period 1992–1995. B Environ Contam Toxicol 59:202–209. doi:10.1007/s001289900465

Hua XM, Shan ZJ (1999) Production, usage and environmental influence factors of pesticides in China. Sci Technol Anhui (in Chinese) 6:6–10

Huang J, Qiao F, Zhang L, Rozelle S (2000). Farm pesticides, rice production, and human health research report. Economy and Environment Program for southeast Asia

Leonard R (1988) Herbicides in surface water. In: Grover R (ed) Environmental chemistry of herbicides, vol 1. CRC, Boca Raton, pp 45–87

Miyamoto J, Mikami N, Takimoto Y (1990) The fate of pesticides in aquatic ecosystems. In: Hutson DH, Roberts TR (eds) Environmental fate of pesticides. Wiley, Chichester, pp 123–147

Mulla M, Mian L (1981) Biological and environmental impacts of insecticides malathion and parathion on non-target biota in aquatic ecosystem. Res Rev 78:101–135

Pan YH, Wei AX, Zhao GD (1997) Analysis of trace organophosphorus pesticides in water by high performance liquid chromatography/mass spectrometry. Adv Environ Sci (in Chinese) 1:32–40

Planas C, Caixach J, Santos FJ, Rivera J (1997) Occurrence of pesticides in Spanish surface waters. Analysis by high-resolution gas chromatography coupled to mass spectrometry. Chemosphere 34:2393–2406. doi:10.1016/S0045-6535(97)00085-4

Rand GM, Wells PG, Mclarty LS (1995) Introduction to aquatic toxicology. Taylor and Francis, Washington, pp 3–66

Schulz R, Liess M (1999) A field study of the effects of agriculturally derived input on stream macroinvertebrate dynamics. Aquat Toxicol 46:155–176. doi:10.1016/S0166-445X(99)00002-8

Shao ZR, Su F (2004) The prospect for pesticide usage in 2002 and 2003. Pestic Sci Adm (in Chinese) 25:33–35

Shelton LR (1994) Open-File Rep, U.S. Geol. Surv 94–455

Smith GJ (1987) Pesticide use and toxicity in relation to wildlife: organophosphorus and carbamate compounds. United States Department of the Interior, Fish and Wildlife Service, Resource, Washington

Tang YF, Wang YX, Cai HS (2004) Application and pollution of organophosphorous pesticides. J Wuhan Inst Chem Technol (in Chinese) 26:11–14

Zhang ZL, Hong HS, Zhou JL, Yu G, Chen WQ, Wang XH (2002a) Transport and fate of organochlorine pesticides in River Wuchuan, southeast China. J Environ Monit 4:435–441. doi:10.1039/b111204j

Zhang ZL, Dai MH, Hong HS, Zhou JL, Yu G (2002b) Dissolved insecticides and polychlorinated biphenyls in the Pearl River Estuary and South China Sea. J Environ Monitor 4:922–928. doi:10.1039/b206891p

Zhou JL, Hong HS, Zhang ZL, Maskaoui K, Chen WQ (2002) Multi-phase distribution of organic micropollutants in Xiamen Harbour, China. Water Res 34:2132–2150. doi:10.1016/S0043-1354(99)00360-7
Acknowledgments
This work was supported by National Natural Science Foundation of China (20621703;20677075) and National Basic Research Program of China (2006CB403400;2007CB407301).
About this article
Cite this article
Gao, J., Liu, L., Liu, X. et al. The Occurrence and Spatial Distribution of Organophosphorous Pesticides in Chinese Surface Water. Bull Environ Contam Toxicol 82, 223–229 (2009). https://doi.org/10.1007/s00128-008-9618-z
Received:

Accepted:

Published:

Issue Date:
Keywords
Surface water

China

Dichlorvos

Malathion

Dimethoate