Abstract
Polybrominated diphenyl ethers (PBDEs) were investigated in sediments and invertebrates (gammarids and caddisflies) collected in the River Po, upstream and downstream from a polluted tributary. Besides a diffuse contamination by penta-BDE technical mixture, the river sediments identified the tributary as an important source to the main river of decabromodiphenyl ether (BDE-209), which peaked to 64 μg/g (OC) in the downstream stretch. At 10 km downstream from the tributary, a higher bioavailability was evident than at 22 km, and small gammarids accumulated at two/three times the levels of PBDEs found in large gammarids. The congener profiles of sediments and invertebrates were dominated by BDE-47, BDE-99 and BDE-209.
Access options
Buy single article
Instant access to the full article PDF.
USD 39.95
Price includes VAT (USA)
Tax calculation will be finalised during checkout.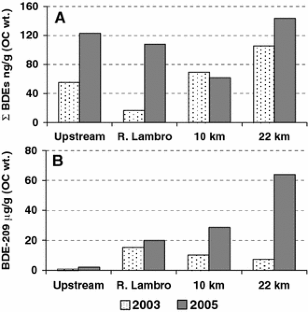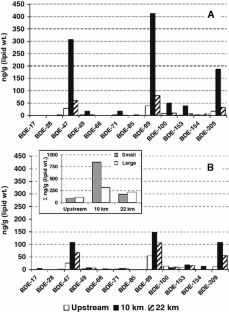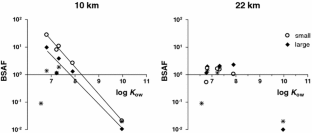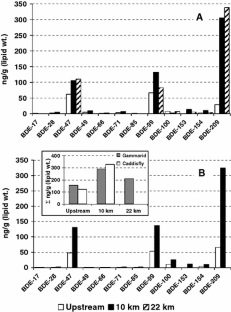 References
Binelli A, Roscioli C, Guzzella L (2006) Improvements in the analysis of decabromodiphenyl ether using on-column injection and electron-capture detection. J Chromatogr A 1136:243–247. doi:10.1016/j.chroma.2006.10.047

Boon JP, Lewis WE, Tjonen-A-Choy MR, Allchin CR, Law RJ, de Boer J, Ten Hallers-Tjabbes CC, Zegers BN (2002) Levels of polybrominated diphenyl ether (PBDE) flame retardants in animals representing different trophic levels of the North Sea food web. Environ Sci Technol 36:4025–4032. doi:10.1021/es0158298

Bragigand V, Amiard-Triquet C, Parlier E, Boundry P, Marchand P, El Hourch M (2006) Influence of biological and ecological factors on bioaccumulation of polybrominated diphenyl ethers in aquatic food webs from French estuaries. Sci Total Environ 368:615–626. doi:10.1016/j.scitotenv.2006.04.001

BSEF, Bromine Science and Environmental Forum (2006) The brominated flame retardant industry. www.bsef.com

Burreau S, Zebühr Y, Broman D, Ishaq R (2006) Biomagnification of PBDEs and PCBs in food webs from the Baltic Sea and the northern Atlantic Ocean. Sci Total Environ 366:659–672. doi:10.1016/j.scitotenv.2006.02.005

Ciparis S, Hale RC (2005) Bioavailability of polybrominated diphenyl ether flame retardants in biosolids and spiked sediment to the aquatic Oligochaete, Lumbriculus variegatus. Environ Toxicol Chem 24:916–925. doi:10.1897/04-179R.1

Covaci A, Gheorghe A, Voorspoels S, Maervoet J, Redeker ES, Blust R, Schepens P (2005) Polybrominated diphenyl ethers, polychlorinated biphenyls and organochlorine pesticides in sediment cores from Western Scheldt river (Belgium): analytical aspects and depth profiles. Environ Int 31:367–375. doi:10.1016/j.envint.2004.08.009

de Boer J, Wester PG, van der Host A, Leonards PEG (2003) Polybrominated diphenyl ethers in influents, suspended particulate matter, sediments, sewage treatment plant and effluents and biota from the Netherlands. Environ Poll 122:63–74. doi:10.1016/S0269-7491(02)00280-4

ECB, European Chemicals Bureau (2004) European Union risk assessment report: update of the risk assessment of bis(pentabromophenyl) ether. Final Environmental draft, Ispra, Italy, p 122

Fisk AT, Nortsrom RJ, Cymbalisty CD, Muir DCG (1998) Dietary accumulation and depuration of hydrophobic organochlorines: bioaccumulation parameters and their relationship with the octanol/water partition coefficient. Environ Toxicol Chem 17:951–961

Gaudette HE, Flight WR, Toner L, Folger DW (1974) An inexpensive titration method for the determination of organic carbon in recent sediments. J Sedim Petrol 44:249–253

Gerecke AC, Hartmann PC, Heeb NV, Kohler HPE, Giger W, Schmid P, Zennegg M, Kohler M (2005) Anaerobic degradation of decabromodiphenyl ether. Environ Sci Technol 39:1078–1083. doi:10.1021/es048634j

Kukkonen JVK, Landrum PF, Mitra S, Gossiaux DC, Gunnarsson J, Weston D (2003) Sediment characteristics affecting desorption kinetics of select PAH and PCB congeners for seven laboratory spiked sediments. Environ Sci Technol 37:4656–4663. doi:10.1021/es0342594

La Guardia MJ, Hale RC, Harvey E (2006) Detailed polybrominated diphenyl ether (PBDE) congener composition of the widely used penta-, octa-, and deca-PBDE technical flame-retardant mixtures. Environ Sci Technol 40:6247–6254. doi:10.1021/es060630m

Law RJ, Allchin CR, de Boer J, Covaci A, Herzke D, Lepom P, Morris S, Tronczynski J, de Wit C (2006) Levels and trends of brominated flame retardants in the European environment. Chemosphere 64:187–208. doi:10.1016/j.chemosphere.2005.12.007

Law K, Halldorson T, Danell R, Stern G, Gewurtz S, Alaee M, Marvin C, Whittle M, Tomy G (2006) Bioaccumulation and trophic transfer of some brominated flame retardants in a Lake Winnipeg (Canada) food web. Environ Toxicol Chem 25:2177–2186. doi:10.1897/05-500R.1

Landrum PF, Tigue EA, Driscoll SK, Gossiaux DC, Van Hoof PL, Gedeon ML et al (2001) Bioaccumulation of PCB congeners by Diporeia spp.: kinetic factors affecting bioavailability. J Great Lakes Res 27:117–133

Leppänen MT, Kukkonen JVK (2004) Toxicokinetics of sediment-associated polybrominated diphenylethers (flame retardants) in benthic invertebrates (Lumbriculus variegatus, Oligochaeta). Environ Toxicol Chem 23:166–172. doi:10.1897/03-68

Li A, Rockne KJ, Sturchio N, Song W, Ford JC, Buckley DR, Mills WJ (2006) Polybrominated diphenyl ethers in the sediments of the Great Lakes. 4. Influencing factors, trends and implications. Environ Sci Technol 40:7528–7534. doi:10.1021/es0609506

Morrison HA, Gobas FAP, Lazar R, Haffner GD (1996) Development and verification of a bioaccumulation model for organic contaminants in benthic invertebrates. Environ Sci Technol 30:3377–3384. doi:10.1021/es960280b

Pastershank GM, Muir D, Fairchild WL (1999) Accumulation and depuration of 2,3,7,8-tetrachlorodibenzofuran and octachlorodibenzo-p-dioxin by caddisfly larvae (Hydropsyche bidens Ross) in miniature laboratory streams. Environ Toxicol Chem 18:2352–2360. doi:10.1897/1551-5028(1999)018<2352:AADOTA>2.3.CO;2

Sawal G, Woitke P, Lepom P (2005) Polybrominated diphenyl ethers in sediments from the River Danube and selected tributaries. Organohal Compds 67:587–590

Sørmo EG, Salmer MP, Jenssen BM, Hop H, Baek K, Kovacs KM, Lydersen C, Falk-Petersen S, Gabrielsen GW, Lie E, Skaare JU (2006) Biomagnification of polybrominated diphenyl ethers and hexabromocyclododecane flame retardants in the polar bear food chain in Svalbard, Norway. Environ Toxicol Chem 25:2502–2511. doi:10.1897/05-591R.1

Stapleton HM, Baker JE (2003) Comparing polybrominated diphenyl ether and polychlorinated biphenyl bioaccumulation in a food web in Grand Traverse Bay, Lake Michigan. Arch Environ Contam Toxicol 45:227–234. doi:10.1007/s00244-003-0165-7

Stapleton H, Brazil B, Holbrook RD, Mitchelmore C, Benedict R, Konstantinov A, Potter D (2006) In vivo and in vitro debromination of decabromodiphenyl ether (BDE 209) by juvenile rainbow trout and common carp. Environ Sci Technol 40:4653–4658. doi:10.1021/es060573x

Viganò L, Farkas A, Guzzella L, Roscioli C, Erratico C (2007) The accumulation levels of PAHs, PCBs and DDTs are related in an inverse way to the size of a benthic amphipod (Echinogammarus stammeri Karaman) in the River Po. Sci Total Environ 373:131–145. doi:10.1016/j.scitotenv.2006.11.006

Viganò L, Roscioli C, Erratico C, Guzzella L (2008) Polybrominated diphenyl ethers (PBDEs) and polychlorinated biphenyls in 0+ juveniles cyprinids and sediments of the Po River. Arch Environ Contam Toxicol 55:282–294. doi:10.1007/s00244-007-9130-1

Xiang CH, Luo XJ, Chen SJ, Yu M, Mai BX, Zeng EY (2007) Polybrominated diphenyl ethers in biota and sediments of the Pearl River estuary, south China. Environ Toxicol Chem 26:616–623. doi:10.1897/06-329R.1
Acknowledgment
This research was funded by the European Community within the EASYRING project, EU Contract No. QLK4-2002-02286.
About this article
Cite this article
Viganò, L., Roscioli, C., Erratico, C. et al. Polybrominated Diphenyl Ethers (PBDEs) in Gammarids, Caddisflies, and Bed Sediments of the Lowland River Po. Bull Environ Contam Toxicol 82, 200–205 (2009). https://doi.org/10.1007/s00128-008-9605-4
Received:

Accepted:

Published:

Issue Date:
Keywords
PBDEs

Echinogammarus

Hydropsychidae

BSAF