Abstract
The sensitivity of harpacticoid copepods was tested against selected pollutants. Acute toxicity tests were carried out for five hyporheic species exposed to pesticides, ammonia, and metals. The stygoxene Bryocamptus zschokkei, B. minutus, B. pygmaeus and Attheyella crassa; and the stygophilous B. echinatus were sampled and cultured during 8 months in controlled conditions. A first test protocol is presented. The acute endpoints among species fell within one order of magnitude. The sensitivity among various species evaluated in this study is consistent and the choice of species for further sediment/groundwater assessment is not specific to a chemical class. These potential test organisms would be more suitable to protect meiofaunal communities.
Access options
Buy single article
Instant access to the full article PDF.
USD 39.95
Price includes VAT (USA)
Tax calculation will be finalised during checkout.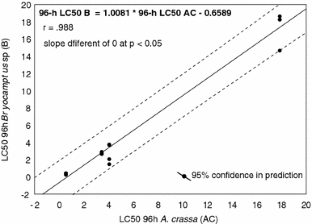 References
Bengtsson BE (1978) Use of a harpacticoid copepod in toxicity tests. Mar Pollut Bull 16:238–241. doi:10.1016/0025-326X(78)90378-8

Brown RJ, Rundle SD, Hutchinson TH, Williams TD, Jones MB (2005) A microplate freshwater copepod bioassay for evaluating acute and chronic effects of chemicals. Environ Toxicol Chem 24(6):1528–1531. doi:10.1897/04-111R.1

Burton SM, Rundle SD, Jones MB (2002) Evaluation of the meiobenthic copepod Bryocamptus zschokkei (Schmeil) as an ecologically relevant test organism for lotic freshwaters. J Aquat Ecosyst Stress Recovery 9:185–191. doi:10.1023/A:1021259123406

Galassi DMP (2001) Groundwater copepods: diversity patterns over ecological and evolutionary scales. Hydrobiologia 453/454:227–253. doi:10.1023/A:1013100924948

Green AS, Chandler GT, Piegorsch WW (1996) Life-stage species toxicity of sediment-associated chlorpyrifos to a marine, infaunal copepod. Environ Toxicol Chem 15:1182–1188. doi:10.1897/1551-5028(1996)015<1182:LSSTOS>2.3.CO;2

Hancock PJ (2002) Human impacts on the stream–groundwater exchange zone. Environ Manag 29(6):763–781. doi:10.1007/s00267-001-0064-5

Hancock PJ, Boulton AJ (2005) Aquifers and hyporheic zones: towards an ecological understanding of groundwater. Hydrogeol J 13:98–111. doi:10.1007/s10040-004-0421-6

Huys R, Gee JM, Moore CG, Hamond R (1996) Marine and brackish water harpacticoid copepods. Part 1. Field Study Council, Shrewsbury

OECD (1995) Guidance document for aquatic effects assessment. OECD Publ. No. 92. OECD, Paris

Mösslacher F, Griebler C, Notenboom J (2001) Biomonitoring of groundwater systems: methods, applications and possible indicators among the groundwater biota. In: Griebler C, Danielopol DD, Gibert J, Nachtnebel HP, Notenboom J (eds) Groundwater ecology. A tool for management of water resources. European Commission, UK, pp 173–182

Notenboom J, Plénet S, Turquin M-J (1994) Groundwater contamination and its impact on groundwater animals and ecosystems. In: Gibert J, Danielopol DL, Stanford JA (eds) Groundwater ecology. Academic Press, San Diego, pp 477–504

Turesson EU, Stiernström S, Minten J, Adolfsson-Erici M, Bengtsson BE, Breitholtz M (2007) Development and reproduction of the freshwater harpacticoid copepod Attheyella crassa for assessing sediment-associated toxicity. Aquat Toxicol 83:180–189. doi:10.1016/j.aquatox.2007.04.002

USEPA (1994a) US Environmental Protection Agency (USEPA). User's guide, Probit V. 1.5. USEPA, Cincinnati, OH

USEPA (1994b) US Environmental Protection Agency (USEPA). User's guide, Trimmed Spearman–Karber (TSK) V. 1.5. USEPA, Cincinnati, OH

USEPA (2000) United States Environmental Protection Agency. Methods for measuring the toxicity and bioaccumulation of sediment-associated contaminants with freshwater invertebrates. USEPA, Washington, DC. EPA 600/R-99/064

Van Damme D, Heip C, Willems KA (1984) Influence of pollution on the harpacticoid copepods of two north sea estuaries. Hydrobiologia 112:143–160. doi:10.1007/BF00006919

Verriopoulos G, Moratou-Apostolopoulou M (1982) Differentiation of the sensitivity to copper and cadmium in different life stages of a copepod. Mar Pollut Bull 13:123–125. doi:10.1016/0025-326X(82)90368-X

Williams DD, Fulthorpe RR (2003) Using invertebrate and microbial communities to assess the condition of the hyporheic zone of a river subject to 80 years of contamination by chlorobenzenes. Canadian J Zool 81:789–802. doi:10.1139/z03-052
Acknowledgments
We thank Ministero degli Affari Esteri (MAE), Rome (Italy), for the financial support. This study was supported by the PASCALIS project granted by the European Community (Contract no EVK2-CT-2001-00121).
About this article
Cite this article
Di Marzio, W.D., Castaldo, D., Pantani, C. et al. Relative Sensitivity of Hyporheic Copepods to Chemicals. Bull Environ Contam Toxicol 82, 488–491 (2009). https://doi.org/10.1007/s00128-008-9603-6
Received:

Accepted:

Published:

Issue Date:
Keywords
Copepods

Freshwater

Hyporheic

Groundwater