Abstract
This study aimed at first cross-border mapping of 10 heavy metals and toxic elements accumulation in moss Hypnum cupressiforme reflecting wet and dry atmospheric deposition in Southern Bulgaria and Northeastern Greece. It is a part of the European moss survey 2005/2006 including first Greek results. Data obtained from 66 sites, covering 20,000 km2, showed different deposition patterns particularly for As, Cd, Cr and Pb. The determined concentrations (ICP–AES), revealed no serious pollution by airborne heavy metals and toxic elements contaminants. Lead was the only element with proved statistical significant difference, between Bulgarian and Greek part of the study area.
Access options
Buy single article
Instant access to the full article PDF.
USD 39.95
Price includes VAT (USA)
Tax calculation will be finalised during checkout.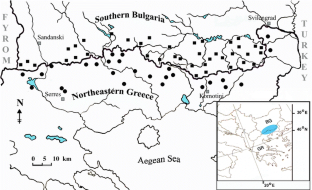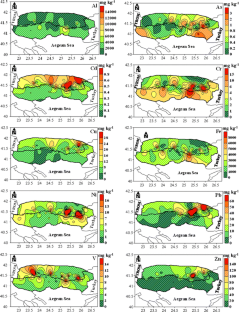 References
Buse A, Norris D, Harmens H, Büker P, Ashenden T, Mills G (eds) (2003) Heavy Metals in European Mosses: 2000/2001 Survey. CEH Bangor, UK, p 45

Clymo RS (1963) Ion exchange in Sphagnum and its relation to bog ecology. Ann Bot NS 27:309–324

Dafis S, Papastergiadou E, Georghiou K, Babalonas D, Georgiadis T, Papageorgiou M, Lazaridou T, Tsiaoussi V (1996) Directive 92/43/EEC The Greek "Habitat" Project NATURA 2000: an overview. Life Contract B4 -3200/94/756, Commission of the European Communities DG XI, The Goulandris Natural History Museum, Greek Biotope/Wetland Centre, p 917

Grodzińska K, Szarek-Łukaszewska G (2001) Response of mosses to the heavy metal deposition in Poland – an overview. Environ Pollut 114:443–451. doi:10.1016/S0269-7491(00)00227-X

Harmens H, Norris DA, Koerber GR, Buse A, Steinnes E, Rühling Å (2007) Temporal trends in the concentration of arsenic, chromium, copper, iron, nickel, vanadium and zinc in mosses across Europe between 1990 and 2000. Atmos Environ 41:6673–6687. doi:10.1016/j.atmosenv.2007.03.062

Harmens H, Norris DA, Koerber GR, Buse A, Steinnes E, Rühling Å (2008) Temporal trends (1990–2000) in the concentration of cadmium, lead and mercury in mosses across Europe. Environ Pollut 151:368–376

Hill MO, Bell N, Bruggeman-Nannenga MA, Brugués M, Cano MJ, Enroth J, Flatberg KI, Frahm J-P, Gallego MT, Garilleti R, Guerra J, Hedenäs L, Holyoak DT, Hyvönen J, Ignatov MS, Lara F, Mazimpaka V, Muñoz J, Söderström L (2006) An annotated checklist of the mosses of Europe and Macaronesia. Bryological Monograph. J Bryol 3:198–267. doi:10.1179/174328206X119998

Ilyin I, Travnikov O, Aas W (2005) Heavy metals: transboundary pollution of the environment. EMEP/MSC-E Status Report 2/2005, p 58 (http://www.msceast.org)

Ilyin I, Rozovskaya O, Travnikov O, Aas W (2007) Heavy metals: transboundary pollution of the environment. EMEP/MSC-E Status Report 2/2007, p 85 (http://www.msceast.org)

Rühling A, Steinnes E (eds) (1998) Atmospheric heavy metal deposition in Europe 1995–1996. Nord 15:1–66

Rühling A, Tyler G (1968) An ecological approach to the lead problem. Bot Notiser 121:321–342

Steinnes E, Rühling Å, Lippo H, Mäkinen A (1997) Reference materials for large- scale metal deposition survey. Accred Qual Assur 2:243–249. doi:10.1007/s007690050141

Tyler G (1990) Bryophytes and heavy metals: a literature review. Bot J Linn Soc 104:231–253. doi:10.1111/j.1095-8339.1990.tb02220.x

Yurukova L (2007) Bulgarian experience during the last 3 EU moss surveys. Proceedings of the 7th Subregional Meeting on Effect-Oriented Activities in the Countries of Eastern and South-Eastern Europe, September 28–October 1, 2006. Baie Mare, Romania, Risoprint, pp. 157–164
Acknowledgements
The authors are grateful to Dr. L. Thöni (FUB, Switzerland) for the partly financial support of the moss sampling in Bulgaria, and to Assoc. Prof. Dr. V. Karagiannakidou (Aristotle University, Greece) for her help on various subjects concerning the first moss sampling in Greece. We thank Mr. G. Derventzis for the transportation along the Greek sampling sites.
About this article
Cite this article
Yurukova, L., Tsakiri, E. & Çayir, A. Cross-Border Response of Moss, Hypnum cupressiforme Hedw., to Atmospheric Deposition in Southern Bulgaria and Northeastern Greece. Bull Environ Contam Toxicol 83, 174–179 (2009). https://doi.org/10.1007/s00128-008-9601-8
Received:

Accepted:

Published:

Issue Date:
Keywords
Atmospheric deposition

Hypnum cupressiforme

Heavy metals