Abstract
A liquid chromatography–mass spectrometry method was developed for the simultaneous determination of ronidazole (RNZ), metronidazole (MNZ) and dimetridazole (DMZ) residues in swine liver. Following liquid–liquid extraction, the HLB solid-phase extraction was used for further purification. The targets were detected by atmospheric pressure chemical ionization (APCI) following the reverse phase liquid chromatography separation. Consequently, the detection limits for the method were 0.5 μg/kg for MNZ, 1.0 μg/kg for RNZ and 0.5 μg/kg for DMZ, respectively. The accuracies were determined using swine liver samples fortified at levels of 0.5, 1, 2, and 4 μg/kg and the mean recoveries of the analytes were between 66% and 81%.
Access options
Buy single article
Instant access to the full article PDF.
USD 39.95
Price includes VAT (USA)
Tax calculation will be finalised during checkout.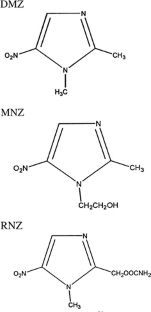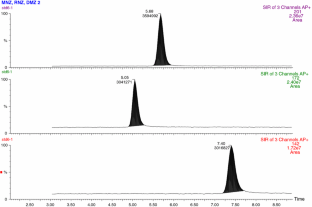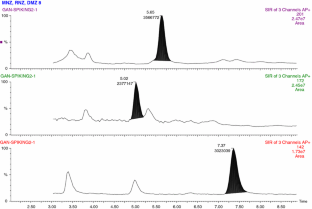 References
Animal Medicinal Drug Use Clarification Act (1994) U.S.

Anne-Catherine H, Leen M, Els D, Terrence F, Christopher E, Philippe D (2005) Development of an ELISA screening test for nitroimidazoles in egg and chicken muscle. Anal Chim Acta 534:157–162. doi:10.1016/j.aca.2004.06.037

Commission Decision (2002) 2002/657/EC, EC

Council Regulation no (1990) 2377/90, EC

Dominique H, Bernard D, Michel L (2000) Determination of four nitroimidazole residues in poultry meat by liquid chromatography–mass spectrometry. J Chromatogr A 882:89–98. doi:10.1016/S0021-9673(00)00336-8

IARC (1987) Monographs on the evaluation of carcinogenic risks to humans. Overall evaluations of carcinogenicity. Supplement 7

Regulation No 193 (2002) Ministry of agriculture, P.R. China

Polzer J, Gowik P (2001) Validation of a method for the detection and confirmation of nitroimidazoles and corresponding hydroxy metabolites in turkey and swine muscle by means of gas chromatography–negative ion chemical ionization mass spectrometry. J Chromatogr B Biomed Sci Appl 761:47–60. doi:10.1016/S0378-4347(01)00299-7
Acknowledgments
Funding supports from Natural Science Foundation of China (20621703) and the Foundation of Ministry of Science & Technology of China (2002BA906A75) are gratefully acknowledged.
About this article
Cite this article
Wang, H., Wang, Z., Liu, S. et al. Quantification of Nitroimidazoles Residues in Swine Liver by Liquid Chromatography–Mass Spectrometry with Atmospheric Pressure Chemical Ionization. Bull Environ Contam Toxicol 82, 411–414 (2009). https://doi.org/10.1007/s00128-008-9591-6
Received:

Accepted:

Published:

Issue Date:
Keywords
Nitroimidazoles

LC–APCI–MS

Swine liver