Abstract
Persistence and efficacy of bifenthrin (25 and 50 g ai ha−1), fipronil (50 and 100 g ai ha−1) and indoxacarb (70 and 140 g ai ha−1) has been studied in okra fruits. The initial deposits varied from 0.259–0.382 μg g−1 at low and 0.461–0.688 μg g−1 at high rate of application. The residues persisted upto 10 days with half-life of 1.32–1.58 days for bifenthrin, 0.65–1.12 days for fipronil and 0.58–1.02 days for indoxacarb. Based on ADI, the suggested waiting period was 1 day for bifenthrin and indoxacarb and 3 days for fipronil. All the insecticides were found effective against leafhopper and shoot and fruit borer.
Access options
Buy single article
Instant access to the full article PDF.
USD 39.95
Price includes VAT (USA)
Tax calculation will be finalised during checkout.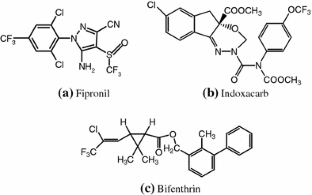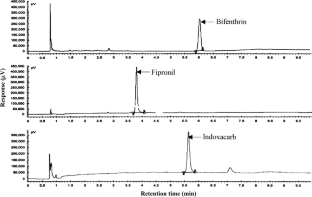 References
Afzal M, Rasheed A, Ullah MS (1995) The comparative efficacy of some latest spray-schedules against the bollworms of FH-682 cotton. Pak Entomol 17:87–89

Anonymous (1996) 'Fipronil' Worldwide technical bulletin. Rhone-Poulenc, Research Triangle Park, p 20

Anonymous (2007) Codex alimentarius: notes on Pesticides: bifenthrin—http://www.codexalimentarius.net/mrls/pestdes/pest_ref/prfe_178.htm; fipronil—http://www.codexalimentarius.net/mrls/pestdes/pest_ref/prfe_202.htm; indoxacarb—www.who.int/entity/ipcs/food/jmpr/summary_2005.pdf

Bharadwaj V, Devi N, Raj D (2005) Effect of insecticides/bio-pesticides on the diamondback moth, Plutella xylostella (Linn.), and its parasitoid complex. Pest Manag Econ Zool 13(2):231–234

Bhargava KK, Bhatnagar A (2001) Bioefficacy of imidacloprid as a seed dresser against sucking pests of okra. Pest Manag Econ Zool 9(1):31–34

Bharpoda TM, Sisodiya DB, Patel JR (2003) Effectiveness of indoxacarb 15% SC in controlling insect-pests of 'H 6' upland cotton (Gossypium hirsutum). Indian J Agric Sci 73(4):203–205

Flemming R, Retnakaran A (1985) Evaluating single treatment data using Abbot's formula with reference to insecticides. J Econ Entomol 78:1179–1181

Kumar M, Singh AK (2001) Bioefficacy of insecticides against the cotton jassid, Amrasca biguttula biguttula (Ishida) on okra. Pest Manag Econ Zool 9(1):55–58

Kumari B, Madan VK, Kumar R, Kathpal TS (2002) Monitoring of seasonal vegetables for pesticide residues. Earth Environ Sci 74(3):263–270

Murthy MS, Jagadish PS, Sannaveerappanavar VT (2006) Efficacy of plant products and new insecticides against diamondback moth, Plutella xylostella (L.) (Yponomeutidae: Lepidoptera) on cabbage. J Plant Prot Environ 3(2):1–5

Prasad RT, Reddy GPV, Murthy MMK, Prasad VD (1993) Efficacy and residues of certain newer insecticides on okra. Indian J Plant Prot 21(1):47–50

Reddy AV, Sreehari G, Kumar AK (2005) Evaluation of certain new insecticides against chilli thrips (Scirtothrips dorsalis) and mites (Polyphagotarsonemus latus). Res Crops 6(3):625–626

Rushtapakornchai W, Petchwichit P (1996) Efficiency of some insecticides for controlling tobacco whitefly Bemisia tabaci and leaf miner Liriomyza trifolii on tomato. Kaen Kaset Khon Kaen Agric J 24(4):184–189

Sahu BB, Senapati B, Mohapatra LN (2004) Bioefficacy of certain insecticides against brinjal shoot and fruit border Leucinodes orbonalis Guen. Orissa J Hortic 32(2):81–86

Saleem M, Ahmad AS, Khan AH, Mustafa K, Husain R (2001) Effect of different insecticides against insect pests of CIM–443, cotton. Pak Entomol 23:87–89

Singh S, Choudhary DP, Mathure YS (2005a) Efficacy of some newer insecticides against fruit borer, Helicoverpa armigera (Hubner) on tomato. Indian J Entomol 67(4):339–341

Singh V, Thakur BS, Chandraker MK (2005b) Bio-efficacy of insecticides against insect pests of chilli. Environ Ecol 23S(Special 3):600–604

Sudhakar K, Punnaiah KC, Krishnayya PV (1998) Efficacy of certain selected insecticides on the sucking pest complex of brinjal. Indian J Entomol 60(3):241–244
About this article
Cite this article
Gupta, S., Sharma, R.K., Gupta, R.K. et al. Persistence of New Insecticides and Their Efficacy Against Insect Pests of Okra. Bull Environ Contam Toxicol 82, 243–247 (2009). https://doi.org/10.1007/s00128-008-9581-8
Received:

Accepted:

Published:

Issue Date:
Keywords
Bifenthrin

Fipronil

Indoxacarb

Okra

Persistence

Bioefficacy