Abstract
Up to 7% of pesticide products in the European market are illegal, counterfeit or of poor quality. As a result, regulatory authorities are required to determine a wide variety of impurities in many different pesticide formulations. A simple, rapid and exceptionally reliable LC-MS-MS method for the determination of carbendazim residual quantities in sulphur formulations, used in organic agriculture, has been developed and validated. Linearity of response was established (R 2 = 0.9997) over a wide range of concentrations (0.01–2 μg/mL). Recovery ranged from 94% to 101%. LOD and LOQ were 0.003 μg/mL and 0.005 μg/mL, respectively, and lack of interference was confirmed.
Access options
Buy single article
Instant access to the full article PDF.
USD 39.95
Price includes VAT (USA)
Tax calculation will be finalised during checkout.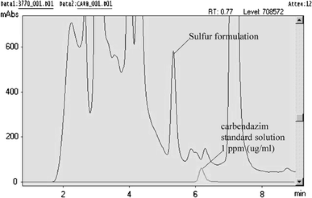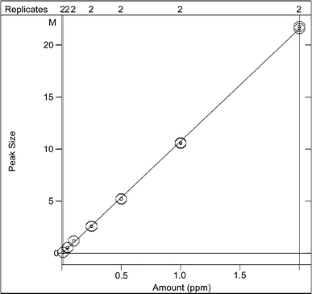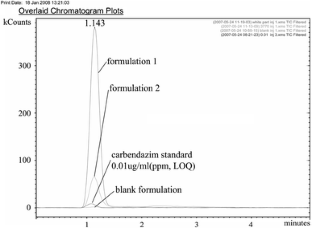 References
Brito NM, Navickiene S, Polese L, Jardim EFG, Abakerli RB, Ribeiro ML (2002) Determination of pesticide residues in coconut water by liquid–liquid extraction and gas chromatography with electron-capture plus thermionic specific detection and solid-phase extraction and high performance liquid chromatography with ultraviolet detection. J Chromatogr A 957:201–209. doi:10.1016/S0021-9673(02)00351-5

CIPAC (1998) Handbook Vol. H analysis of technical and formulated pesticides. In: Dobrat W, Martijn A (eds) Black Bear Press Ltd, King's Hedges Road, Cambridge, UK

ECPA (2006) news release, 26 April 2006 http://www.ecpa.be/website/page.asp?mi=1&news=15310, reached on 30th January 2008

ECPA (2006) news release, 17 October 2006, http://www.ecpa.be/website/page.asp?mi=1&news=15722

ECPA (2007) news release, 29 March 2007, http://www.ecpa.be/website/page.asp?mi=1&news=16139, reached on 30th January 2008

EPA (1996) Pesticide registration-PR-notice 96-8/31.10.1996

Michel M, Buszewski B (2004) Optimization of a matrix solid-phase dispersion method for the determination analysis of carbendazim residue in plant material. J Chromatogr B 800:309–314

Naftemporiki (2007) Issue of 27-9-2007 p 10

Pizzutti IR, de Kok A, Zanella R, Adaimea MB, Hiemstra M, Wickert C, Prestes OD (2007) Method validation for the analysis of 169 pesticides in soya grain, without clean up, by liquid chromatography–tandem mass spectrometry using positive and negative electrospray ionization. J Chromatogr A 1142(2):123–136
About this article
Cite this article
Balayiannis, G.P., Anagnostopoulos, H. & Kellidou, I. Facile and Rapid Determination of Contamination in Sulphur Pesticide Formulations by Liquid Chromatography–Tandem Mass Spectrometry. Bull Environ Contam Toxicol 82, 133–136 (2009). https://doi.org/10.1007/s00128-008-9555-x
Received:

Accepted:

Published:

Issue Date:
Keywords
Pesticides

Impurities

Organic agriculture

LC-MS-MS