Abstract
The spillage of crude oil in the soil damages the environment. Polycyclic aromatic hydrocarbons (PAHs) are one of the crude oil components that may be harmful for living organisms. PAHs can disappear from the environment by volatilization and biodegradation. The effect of different NaCl concentrations (0%–5%) on PAHs reduction from the heavy crude oil-contaminated soil was studied. Our results showed that increasing NaCl concentration in soil had decreasing effect on total crude oil and PAHs reduction. The biodegradation of total crude oil was higher in 0% NaCl (41%) while higher total PAHs reduction was observed in 1% NaCl (35%). The lower total crude oil and PAHs reduction were observed in 5% NaCl (12% and 8% respectively). Phenanthrene, anthracene and pyrene reduction were higher in 1% NaCl, while fluoranthene and chrysene reduction were higher in 0% NaCl.
Access options
Buy single article
Instant access to the full article PDF.
USD 39.95
Price includes VAT (USA)
Tax calculation will be finalised during checkout.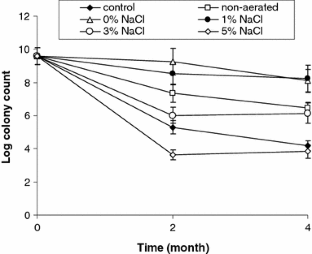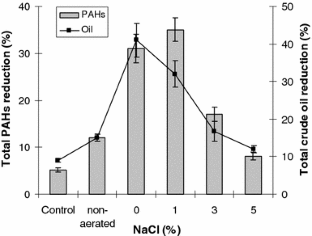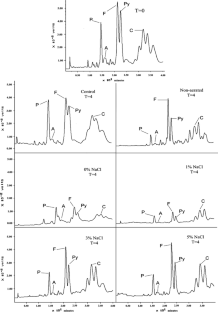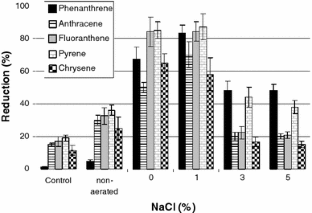 References
Ahn Y, Sanseverino J, Sayler GS (1999) Analyses of polycyclic aromatic hydrocarbon-degrading bacteria isolated from contaminated soils. Biodegradation 10:49–157. doi:10.1023/A:1008369905161

Armstrong B, Hutchinson E, Unwin J, Fletcher T (2004) Lung cancer risk after exposure to polycyclic aromatic hydrocarbons: a review and Meta-analysis. Environ Health Persp 112:970–978

Cappuccino JG, Sherman N (1996) Microbiology, a laboratory manual, 4th edn. Benjamin/Cummings Pub.Company, California, USA, pp 115–118

Cerniglia CE (1992) Biodegradation of polycyclic aromatic hydrocarbons. Biodegradation 3:351–368. doi:10.1007/BF00129093

Cerniglia CE (1984) Microbial metabolism of polycyclic aromatic hydrocarbons. Adv Appl Microbiol 30:31–70. doi:10.1016/S0065-2164(08)70052-2

Diaz MP, Boyd KG, Grigson SJW, Burgess JG (2002) Biodegradation of crude oil across a wide range salinities by an extremely halotolerant bacterial consortium MPD-M, immobilized onto polypropylene fibers. Biotechnol Bioeng 79:145–153. doi:10.1002/bit.10318

Gibbs GW (1997) Estimating residential polycyclic aromatic hydrocarbon (PAH) related lung cancer risk using occupational data. Ann Occup Hyg 41:49–53

Gibson DT, Venkatanayarana M, Jerina DM, Yagi H, Yeh H (1975) Oxidation of the carcinogens benzo[a]pyrene and benzo[a]anthracene to dihydrodiols by a bacterium. Science 189:295–297. doi:10.1126/science.1145203

Hammond EC, Selikoff IJ, Lawther PL, Seidman H (1976) Inhalation of benzpyrene and cancer in man. Ann NY Acad Sci 271:116–124. doi:10.1111/j.1749-6632.1976.tb23100.x

Johnsen AR, Wick LY, Harms H (2005) Principles of microbial PAH-degradation in soil. Environ Pollut 133:71–84. doi:10.1016/j.envpol.2004.04.015

Juhasz AL, Britz ML, Stanley GA (1997) Degradation of fluoranthene, pyrene, benzo[a]anthracene and dibenz[a, h]anthracene by Burkholderia cepacia. J Appl Microbiol 83:189–198. doi:10.1046/j.1365-2672.1997.00220.x

Kanaly RA, Harayama S (2000) Biodegradation of high-molecular-weight polycyclic aromatic hydrocarbons by bacteria. J Bacteriol 182:2059–2067. doi:10.1128/JB.182.8.2059-2067.2000

Kastner M, Breuer-Jammali M, Mahro B (1994) Enumeration and characterization of the soil microflora from hydrocarbon-contaminated soil sites able to mineralize ploycyclic aromatic hydrocarbons (PAH). Appl Microbiol Biotechnol 41:267–273. doi:10.1007/BF00186971

Mille G, Almallah M, Bianchi M, Wambeke F, Bertrand JC (1991) Effect of salinity on petroleum biodegradation. Fresenius J Anal Chem 339:788–791. doi:10.1007/BF00321746

Minai-Tehrani D, Herfatmanesh A (2007) Biodegradation of aliphatic and aromatic fractions of heavy crude oil-contaminated soil, a pilot study. Bioremediation J 11:71–76. doi:10.1080/10889860701351589

Minai-Tehrani D, Shahriari MH, Saveghebi-Firoozabadi G, Kalantari F, Azizi M (2007) Effect of light crude oil-contaminated soil on growth and germination of Festuca arundinacea. J Appl Sci 7:2623–2628

Mueller JG, Chapman PJ, Pritchard PH (1989) Action of fluoranthene-utilizing bacterial community on polycyclic aromatic hydrocarbon components of creosote. Appl Environ Microbiol 55:3085–3090

Moore JWS, Ramamoorthy S (1984) Aromatic hydrocarbons-polycyclics. In: organic chemicals in natural waters: applied monitoring and impact assessment. Springer-Verlag, New York, NY, pp 67–87

Robertson GP, Coleman DC, Bledsoe CS, Sollins P (1999) Standard soil methods for long-term ecological research. Oxford Univ. Press, Newyork, USA

Rosenberg E, Ron EZ (1996) Bioremediation of petroleum contamination. In: Crowford RL, Crowford DL (eds) Bioremediation principles and applications. Cambridge Univ Press, UK, pp 100–124

Shiaris MP (1989) Seasonal biotransformation of naphthalene, phenanthrene and benzo[α]pyrene in surficial estuarine sediments. App Environ Microbiol 55:1391–1399

Shuttleworth KL, Cerniglia CE (1995) Environmental aspects of PAHs. Appl Biochem Biotechnol 54:291–302. doi:10.1007/BF02787927

Trzesicka-Mlynarz D, Ward OP (1995) Degradation of polycyclic aromatic hydrocarbons (PAHs) by a mixed culture and its component pure cultures, obtained from PAH-contaminated soil. Can J Microbiol 41:470–476

Walter U, Beyer M, Klein J, Rehm HJ (1991) Degradation of pyrene by Rhodococcus sp. UW1. Appl Microbiol Biotechnol 34:671–676. doi:10.1007/BF00167921

Wang Z, Fingas M, Shu YY, Sigouin L, Landriault M, Lambert P (1999) Quantative characterization of PAHs in burn residue and soot samples and differentiation of pyrogenic PAHs from petrogenic PAHs- the 1994 mobile burn study. Environ Sci Technol 33:3100–3109. doi:10.1021/es990031y

Ward DM, Brock TD (1978) Hydrocarbon degradation in hypersaline environments. Appl Environ Microbiol 35:353–359
Acknowledgements
This project was supported by the grant from Shahid Beheshti University.
About this article
Cite this article
Minai-Tehrani, D., Minoui, S. & Herfatmanesh, A. Effect of Salinity on Biodegradation of Polycyclic Aromatic Hydrocarbons (PAHs) of Heavy Crude Oil in Soil. Bull Environ Contam Toxicol 82, 179–184 (2009). https://doi.org/10.1007/s00128-008-9548-9
Received:

Accepted:

Published:

Issue Date:
Keywords
Biodegradation

Crude oil

NaCl

PAHs

Soil