Abstract
There has been increasing concern in regards to organophosphate (OP) pesticide exposure among farm workers and their families in Thailand's agricultural areas. Therefore, the development of an analytical method for estimating OP pesticide exposure is necessary to allow for monitoring of OP pesticide exposures within these populations. This paper describes an analytical method developed to measure dialkylphosphate (DAP) metabolites in urine. The methods in this study are important in the biological monitoring of OP metabolites in agricultural families in Thailand and can be used as an initial guidance procedure in any environmental toxicological laboratory in Thailand.
Access options
Buy single article
Instant access to the full article PDF.
USD 39.95
Price includes VAT (USA)
Tax calculation will be finalised during checkout.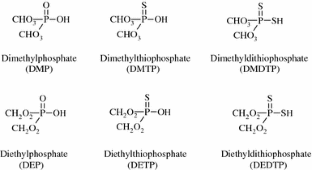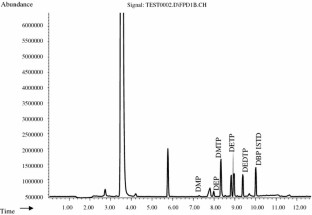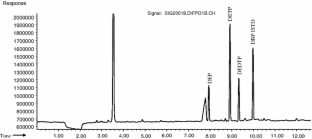 References
Aprea C, Sciarra G, Lunghini L (1996) Analytical method for the determination of urinary alkylphosphates in subjects occupationally exposed to organophosphorus pesticides and in the general population. J Anal Toxicol 20:559–563

Barr DB, Needham LL (2002) Analytical methods for biological monitoring of exposure to pesticides: a review. J Chromatogr B 778:5–29. doi:10.1016/S1570-0232(02)00035-1

Bravo R, Caltabiano LM, Weerasekera G, Whitehead RD, Fernandez C, Needham LL, Bradman A, Barr DB (2004) Measurement of dialkyl phosphate metabolites of organophosphorus pesticides in human urine using lyophilization with gas chromatography-tandem mass spectrometry and isotope dilution quantification. J Expo Anal Environ Epidemiol 14:249–259. doi:10.1038/sj.jea.7500322

Fenske RA, Lu C, Simcox NJ, Loewenherz JT, Moate TF, Allen EH, Kissel JC (2000) Strategies for assessing children's organophosphorus pesticide exposures in agricultural communities. J Expo Anal Environ Epidemiol 10:662–671

Hardt J, Angerer J (2000) Determination of dialkyl phosphates in human urine using gas chromatography-mass spectrometry. J Anal Toxicol 24:678–684

Integrated Pest Management (IPM) Thailand (2003) Did you take your poison today? A report by the IPM DANIDA project. http://www.ipmthailand.org

Loewenherz C, Fenske RA, Simcox NJ, Bellamy G, Kalman D (1997) Biological monitoring of organophosphorus pesticide exposure among children of agricultural workers in central Washington State. Environ Health Perspect 105:1344–1353

Lu C, Knutson DE, Anderson JF, Fenske RA (2001) Biological monitoring of organophosphorus pesticide exposure among preschool children in the seattle metropolitan area. Environ Health Perspect 109:299–303. doi:10.2307/3434700

Moate TF, Lu C, Fenske RA, Hahne RMA, Kalman DA (1999) Improved cleanup and determination of dialkyl phosphates in the urine of children exposed to organophosphorus insecticides. J Anal Toxicol 23:230–236

Nutley BP, Cocker J (1993) Biological monitoring of workers occupationally exposed to organophosphorus pesticides. Pestic Sci 38:315–322. doi:10.1002/ps.2780380406

Oglobine AN, Elimelakh H, Tattam B, Geyer R, O'Donnell GE, Holder G (2001a) Negative ion chemical ionization GC/MS-MS analysis of dialkylphosphate metabolites of organophosphate pesticides in urine of non-occupationally exposed subjects. Analyst 126:1037–1041. doi:10.1039/b102004h

Oglobine AN, O'Donnell GE, Geyer R, Holder GM, Tattam B (2001b) Routine gas chromatographic determination of dialkylphosphate metabolites in the urine of workers occupationally exposed to organophosphorus insecticides. J Anal Toxicol 25:153–157

Stiles R, Yang I, Lippincott RL, Murphy E, Buckley B (2007) Identifying potential sources of background contaminants resulting from solid phase extraction and solid phase microextraction. J Sep Sci 30:1029–1036. doi:10.1002/jssc.200600358

Weisskopf CP, Seiber J (1989) New approaches to analysis of organophosphate metabolites in the urine of field workers. In: Wang RG, Franklin CA, Honeycutt RC, Reinert C (eds) Biological monitoring for pesticide exposure. Measurement, estimation and risk reduction. American Chemical Society, Washington DC, pp 206–214
Acknowledgements
This study was supported by National Research Center for Environmental and Hazardous Waste Management (NRC-EHWM), Chulalongkorn University. The authors also thank the Reference Laboratory and Toxicology Center, Bureau of Occupational and Environmental Disease, Department of Disease Control, Ministry of Public Health, for providing the facilities and assistance in developing method for dialkylphosphate metabolite measurement. We also thank Dr. Dana Barr for her helpful suggestions in revising this manuscript. Support was also provided by NIEHS P30 ES05022.
About this article
Cite this article
Petchuay, C., Thoumsang, S., Visuthismajarn, P. et al. Analytical Method Developed for Measurement of Dialkylphosphate Metabolites in Urine Collected from Children Non-Occupationally Exposed to Organophosphate Pesticides in an Agricultural Community in Thailand. Bull Environ Contam Toxicol 81, 401–405 (2008). https://doi.org/10.1007/s00128-008-9515-5
Received:

Accepted:

Published:

Issue Date:
Keywords
Dialkyphosphate

Analytical method

Non-occupational exposure

Organophosphate

Pesticide