Abstract
Human breast milk samples (n = 30) were collected from mothers within the age range of 19–40 years from Thohoyandou area, South Africa. DDT and its metabolites were extracted from the milk samples using diethyl ether. The crude extracts were subjected to column chromatography. The eluates were then evaporated on a stream of nitrogen up to 0.5 mL. One microliter of the cleaned extracts were injected into GC-ECD for selected organochlorine compounds. The sum total of DDT and its metabolites from each village ranged from not detectable for DMS, GNN and THN to 1,930 ng g−1 fat wt for BDL while ΣDDE ranged from 1.32 ng g−1 fat wt for GNN to 2,570 ng g−1 fat wt for TKD. ΣDDD ranged from not detectable for GNN to 4,060 ng g−1 fat wt for MNN. ΣDDE was the most predominant followed by ΣDDD and finally ΣDDT. This was an indication of breakdown of the parent compound, DDT. Some villages namely, Lufule and Budeli, and Maniini and Makhuvha exhibited similar DDT occurrence of 89% in their areas. Other villages, DMS, TLM, and MND and TKD showed a similarity percentage of 82% while others showed similarities of 75% for GNN and MTT, 69% and 65% for MPG and THN respectively. A significant cluster of DDT and its metabolites between the infants' weight range of 2.5–3.9 kg/body wt was observed. Increase in lipid content was followed by a decrease in the sum DDT in the older mothers (27–30). The estimated daily intake varied from 260 to 4,696 ng/g, nd-10,551 ng/g and nd-4,237 ng/g for DDE, DDD and DDT respectively. These values are significantly (p < 0.05) higher than the FAO/WHO acceptable daily intake (ADI) of 20 ng/g. The ΣDDT was found to decrease with increasing age of the mothers. The observed high levels of DDE compared to DDT indicated chronic exposure of the mothers to DDT, which is metabolised to DDE and retained in the body.
Access options
Buy single article
Instant access to the full article PDF.
USD 39.95
Price includes VAT (USA)
Tax calculation will be finalised during checkout.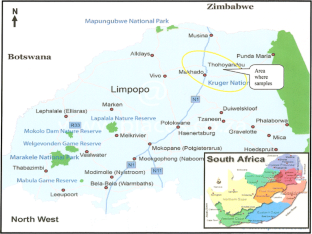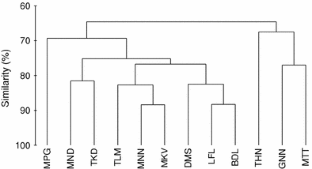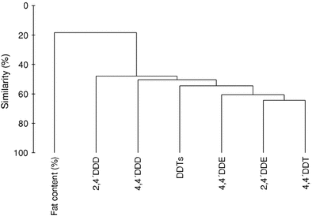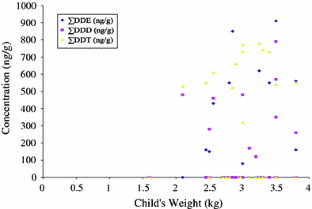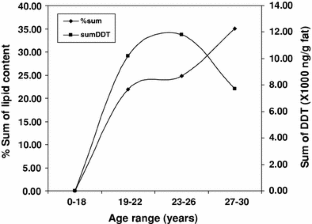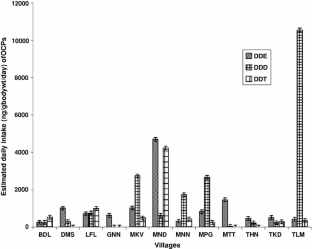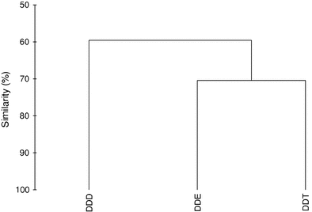 References
Atuma SS, Aune M (1999) Method for the determination of PCB congeners and chlorinated pesticides in human blood serum. Bull Environ Contam Toxicol 62:8–15. doi:10.1007/s001289900834

Aune M, Atuma SS, Darnerud PO, Wicklund-Glynn A, Cnattingius S (1999) Analysis of organochlorine compounds in human milk. Organohalogen Compd 40:87–90

Bouwman H, Reinecke AJ, Cooppan RM, Becker PJ (1990) Factors affecting levels of DDT and metabolites in human breast milk from KwaZuilu. J Toxicol Environ Health 31:93–115

Bouwman H, Becker PJ, Cooppan RM, Recinecke AJ (1992) Transfer of DDT used in malaria control to infants via breast milk. Bull World Health Org 70:241–250

Bouwman H, Sereda B, Meinhardt R, Kylin H (2006) DDT and pyrethroid residues in human breast milk from KwaZulu-Natal, South Africa. DIOXIN 2006. 26th International symposium on Halogenated Persistent Organic Pollutants, Oslo, Norway, 21–25, 2006

Burke RE, Holden AJ, Shaw IC (2003) A method to determine residue levels of persistent organochlorine pesticides in human milk from Indonesian women. Chemosphere 50:529–535. doi:10.1016/S0045-6535(02)00492-7

Cheek AO, Kow K, Chen J, McLachlan JA (1999) Potential mechanisms of thyroid disruption in humans – interaction of organochlorine compounds with thyroid receptor, transthyretin, and thyroid-boning globulin. Environ Health Perspect 107:273–278. doi:10.2307/3434593

Chikuni O, Skaare JU, Nyazema N, Polder A (1991) Residues of organochlorine pesticides in human milk from mothers living in the greater Harare area of Zimbabwe. Central African J Med 37(1):36–41

Cok I, Bilgil A, Ozdemir M, Ozbek H, Bilgil N, Burgaz S (1997) Organochlorine pesticide residues in human breast milk from agricultural regions of Turkey. Bull Environ Contam Toxicol 59:577–582. doi:10.1007/s001289900518

Colborn T, Dumanoski D, Myers JP (1996) Our stolen future. Dutton, New York, pp 68–86

Collins GB, Holmes DC, Hoodless RA (1982) Organochlorine pesticide residues in human breast milk in Great Britain 1979–1980. Human Toxicol 1:425–431

Dewailly E, Ayotte P, Laliberté C, Webber JP, Gingras S, Nantel AJ (1996) Polychlorinated biphenyl (PCB) and dichlorophenyldichloroethylene (DDE) concentrations in the breast milk of women in Quebec. Am J Public Health 86:1241–1246

Duarte-Davidson R, Harrad SJ, Allen SC, Jones KC (1992) The relative contribution of individual PCBs, PCDDs and PCDFs to toxic equivalent values derived for bulked human breast milk samples from the UK. Chemosphere 25:1653–1663. doi:10.1016/0045-6535(92)90312-F

Farhand L, Weintranb JM, Petreas M, Eskenazi B, Bhatia R (2005) Association of DDT and DE with birth weight and length of gestation in the child health and development studies, 1959–1967. Am J Epidemiol 162(8):717–725

Hernández LM, Fernández MA, Hoyas E, Gonzáles MJ, Garćia JF (1993) Organochlorine insecticida and polychlorinated biphenyl residues in human breast milk in Madrid (Spain). Bull Environ Contam Toxicol 50:308–315

Kelce WR (1995) Persistent DDT metabolite p,p′-DDE is a potent androgen receptor antagonist. Nature 375:581–585

Minh NH, Someya M, Minh TB, Kunisue T, Iwata H, Watanabe M, Tanabe S, Viet PH, Tuyen BC (2004) Persistent organochlorine residues in human breast milk from Hanoi and hochinminh city, Vietnam: contamination, accumulation kinetics and risk assessment for infants. Environ Pollut 129:431–441

Mutshatshi TN, Okonkwo JO, Botha B, Agyei N, (2008) Organochlorines residues in maternal milk from inhabitants of the Thohoyandou area, South Africa. J Toxicol Environ Chem (in press)

Norén K (1988) Changes in the levels of organochlorine pesticides, polychlorinated biphenyls, dibenzo-p-dioxins and dibenzofurans in human milk from Stockholm, 1972–1985. Chemosphere 17:39–49

Okonkwo JO, Kampira L, Chingakule DDK (1999) Organochlorine insecticides residues in human milk: a study of lactating mothers in Siphofaneni, Swaziland. Bull Environ Contam Toxicol 63:243–247

Okonkwo JO, Kampira L (2002) Organochlorine pesticide residues in human milk in Swaziland 1996–1997. Bull Environ Contam Toxicol 68(5):740–746

Saxena MC, Siddiqui MKJ (1982) Pesticides pollution in India: organochlorine pesticides in milk of women, buffalo and goat. J Dairy Sci 65:430–434

Schecter A, Fuerest C, Meemken HA, Groebel W, Constable JD (1989) Levels of polychlorinated dibenzofurans, dibenzodioxins, PCBs, DDT, DDE, hexachlorobenzene, dieldrin, hexachlorocyclohexanes and ocychlodane in human breast milk from the United States of America, Thailand, Vietnam and Germany. Chemosphere 18:445–454

Spicer PE, Kereu R (1993) Organochlroine insecticide residues in human breast milk: a survey of lactating mothers from remote area in Papua New Guinea. Bull Environ Contam Toxicol 50:540–546

Skaare JU, Polder A (1990) Polychlorinated biphenyls and organochlorine pesticides in milk of Norwegian women during lactation. Arch Environ Contam Toxicol 19:640–645

Vos JG, Dybing E, Grein HA, Ladefoged A, Lambrć C, Tarazona JV, Brandt I, Vethaak AD (2000) Health effects of endocrine-disrupting chemicals on wildlife, with special reference to the European situation. Crit Rev Toxicol 30:71–133
Acknowledgments
The authors are indebted to the National Research Foundation of South Africa and Tshwane University of Technology for financial support. The mothers who donated their precious food, breast milk, and the nurses who participated in this project are indebted to.
About this article
Cite this article
Okonkwo, J.O., Mutshatshi, T.N., Botha, B. et al. DDT, DDE and DDD in Human Milk from South Africa. Bull Environ Contam Toxicol 81, 348–354 (2008). https://doi.org/10.1007/s00128-008-9495-5
Received:

Accepted:

Published:

Issue Date:
Keywords
DDT

DDE

DDD

Human milk

South Africa