Abstract
Analysis of soil, fodder and water samples collected from some localities of Udaipur district, Rajasthan, India revealed high fluoride concentrations indicating the areas endemic for fluoride pollution. Concentration of micro and macro minerals was estimated in blood samples collected from cattle reared in these localities, and with clinical lesions suggestive of chronic fluoride toxicity. In comparison to healthy controls, zinc, copper and manganese levels were significantly (p < 0.05) lower, while cobalt and magnesium concentrations were significantly (p < 0.05) higher in fluoride-intoxicated cattle. Results of the present study suggested that interaction of fluoride with other minerals possibly played a role in pathogenesis of chronic fluoride intoxication.
Access options
Buy single article
Instant access to the full article PDF.
USD 39.95
Price includes VAT (USA)
Tax calculation will be finalised during checkout.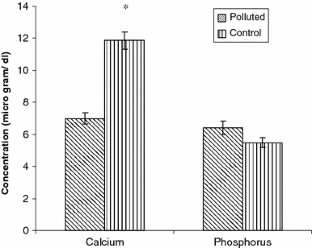 References
AOAC (1995) Fluoride in plants. AOAC official method 975.04, vol 3. Association of Official Analytical Chemists, Virginia, p 14

Bhargavi V, Khandare AL, Venkaiah K, Sarojini G (2004) Mineral content of water and food in fluorotic villages and prevalence of dental fluorosis. Biol Trace Elem Res 100:195–203. doi:10.1385/BTER:100:3:195

Cernik AA, Cooke JA, Hall RJ (1970) Specific ion electrode in the determination of urinary fluoride. Nature 227:1260–1261. doi:10.1038/2271260a0

Choubisa SL (1999) Some observations on endemic fluorosis in domestic animals in southern Rajasthan (India). Vet Res Commu 23:457–465. doi:10.1023/A:1006325710222

Gitelman HJ (1967) An improved automated procedure for the determination of calcium in biochemical specimen. Anal Biochem 18:521–531. doi:10.1016/0003-2697(67)90110-8

Gomorri G (1942) A modification of colorimetric phosphorus determination for the use with the photoelectiric colorimeter. J Lab Clin Med 27:955–960

Han-Bo, Shi Y, Han B, Shi Y (2001) Studies on the alleviation of bovine endemic fluorosis. J Yangzhou Univ. Nat Sci Ed 4:31–34

Jagadish S, Singh LK, Samad A, Bhalerao DP (1998) Bovine fluorosis I: clinical pathology and investigations into source of fluorine. Indian Vet J 75:335–337

Kanwar KC, Singh M (1981) Zinc depletion following experimental fluorosis in mice. Sci Total Eniviron 22:79–83. doi:10.1016/0048-9697(81)90083-8

Khandare AL, Harikumar R, Sivakumar B (2005a) Severe bone deformities in young children from vitamin D deficiency and fluorosis in Bihar-India. Calcif Tissue Internat 76:412–418. doi:10.1007/s00223-005-0233-2

Khandare AL, Suresh P, Kumar PU, Lakshmaiah N, Manjula N, Rao GS (2005b) Beneficial effects of copper supplementation on deposition of fluoride in bone fluoride and molybdenum fed rabbits. Calcif Tissue Internat 77:233–238. doi:10.1007/s00223-005-0071-2

Kolmer JA, Spaandling EH, Robinson HW (1951) Approved laboratory techniques, 5th edn. Appleton Century Crafts Inc, New York, pp 1090–1091

Krishnamachari KA (1986) Skeletal fluorosis in humans: a review of recent progress in the understanding of the disease. Prog Food Nut Sci 10:279–314

Liu GY, Kang SL (2003) Effects of adding selenium to diets on the function of thyroid of fluorotic chicks. J Shanghai-Jiaotong Univ Agri Sci 21:177–180

Madhavan N, Subramanian V (2002) Fluoride in fractioned soil samples of Ajmer district, Rajasthan. J Environ Monit 4:821–822. doi:10.1039/b208151b

Maiti SK, Das PK (2004) Biochemical changes in endemic dental fluorosis in cattle. Indian J Anim Sci 74:169–171

Patra RC, Dwivedi SK, Bhardwaj B, Swarup D (2000) Industrial fluorosis in cattle and buffalo around Udaipur, India. Sci Total Environ 253:145–150. doi:10.1016/S0048-9697(00)00426-5

Radostits OM, Gay CC, Blood DC, Hinchcliff KW (2000) Veterinary medicine, 9th edn. W.B. Saunders Company Ltd., London, pp 1594–98

She YX, Gesang DZ, Tian FY, Suo LZ, She YX, Gesang DZ, Tain FY, Suo LZ (2002) Analysis of fluorine concentration in rabbit blood and trace elements in its muscels. Chinese J Anim Quarantine 19:23–24

Shupe JL, Olson AE, Sharma RP (1979) Effects of fluoride in domestic and wild animals. In: Oheme FW (ed) Toxicity of heavy metals in the environment (Part II). Marcel Dekker Inc., New York and Basel, pp 517–540

Singh JL, Swarup D (1999) Biochemical changes in serum and urine in bovine fluorosis. Indian J Anim Sci 69:776–778

Snedecor FW, Cocharan WG (1989) Statistical methods. 9th edn. Affiliated East-West Press Pvt Ltd, Iowa State University Press, Iowa

Spencer H, Kramer L, Osis D, Wiatrowski E (1985) Effects of aluminium hydroxide on fluoride and calcium metabolism. J Environ Pathol Toxicol Oncol 6:33–41

Spencer H, Kramer L, Wiatrowski E, Osis D (1977) Magnesium-fluoride interrelationships in man. I. Effect of fluoride on magnesium metabolism. Am J Physiol 233:E165–E169

Swarup D, Dwivedi SK (2002) Environmental pollution and effects of lead and fluoride on animal health. Indian Council of Agricultural Research, Pusa, New Delhi

Vasisth SN, Vineeta K, Lall D, Kumar R (1998) Mineral status and serum alkaline phosphatase activity in lambs fed diets supplemented with fluoride and boron. Indian Vet J 75:17–21

WHO (2002) Fluorides. Environmental health criteria 227. World Health Organization, Geneva

Wheeler SM, Fell LR (1983) Fluorides in cattle nutrition: a review. Nutr Abstr Rev B 53:741–769

Wheeler SM, Turner AD, Brook TB, Teasdale DC (1988) The effect of 30 mg/ l fluoride in drinking water of ewes and their lambs and current bone levels of sheep in NSW Australia. Fluoride 21:60–68

Xin T, Rong XZ, Zhem WY (2006) Effects of dietary fluoride levels on growth, serum indexes and anitoxidant systems in growing pigs. Turkish J Vet Anim Sci 30:65–70
Acknowledgement
Authors are thankful to Mr. Brijesh Tyagi (Technical Officer) Division of Medicine, IVRI, Izatnagar for technical support in laboratory analysis.
About this article
Cite this article
Ranjan, R., Swarup, D., Bhardwaj, B. et al. Level of Certain Micro and Macro Minerals in Blood of Cattle from Fluoride Polluted Localities of Udaipur, India. Bull Environ Contam Toxicol 81, 503–507 (2008). https://doi.org/10.1007/s00128-008-9492-8
Received:

Accepted:

Published:

Issue Date:
Keywords
Cattle

Fluoride

Minerals

Toxicity