Abstract
The distribution of polychlorinated biphenyls and organochlorine pesticides was investigated in one- and two-year-old pine needles collected at eight locations in Zagreb in 2006. Concentration medians for most analyzed compounds in two-year-old needles were higher or similar to the concentration medians of the same compounds in one-year-old needles, with the exception of PCB-28, PCB-52, PCB-153, and PCB-138. The pollution profiles seems to have remained the same over the 2 years. These results were compared to those obtained in samples collected at the same locations in 1998.
Access options
Buy single article
Instant access to the full article PDF.
USD 39.95
Price includes VAT (USA)
Tax calculation will be finalised during checkout.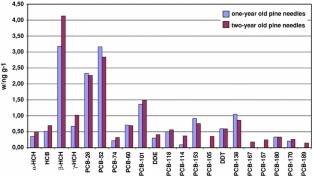 References
Di Guardo A, Zaccara S, Cerabolini B, Acciarri M, Terzaghi G, Calamari D (2003) Conifer needles as passive biomonitors of spatial and temporal distribution of DDT from a point source. Chemosphere 52:789–797. doi:10.1016/S0045-6535(03)00256-X

Hellström A, Kylin H, Strachan WMJ, Jensen S (2004) Distribution of some organochlorine compounds in pine needles from Central and Northern Europe. Environ Pollut 128:29–48. doi:10.1016/j.envpol.2003.08.033

Herceg Romanić S (2006) Microwave-assisted extraction of polychlorinated biphenyls from pine needles, 12th International Symposium on Separation Sciences, Lipica, Slovenia, Book of Abstracts, 181–182

Herceg Romanić S, Krauthacker B (2004) Distribution of organochlorine compounds in pine needles collected at urban sites in Croatia. Bull Environ Contam Toxicol 72:1203–1210

Jensen S, Eriksson G, Kylin H (1992) Atmospheric pollution by persistent organic compounds: monitoring with pine needles. Chemosphere 24:229–245. doi:10.1016/0045-6535(92)90396-9

Ockenden WA, Steinnes E, Parker C, Jones KC (1998) Observation on persistent organic pollutants in plants: implications for their use as passive air samplers and for POP cycling. Environ Sci Technol 32:2721–2726. doi:10.1021/es980150y

Wenzel KD, Weißflog L, Paladini E, Gantuz M, Guerreiro P, Puliafito C, Schüürmann G (1997) Immission paterns of airborne pollutants in Argentina and Germany II. Biomonitoring of organochlorine compounds and polycyclic aromatics. Chemosphere 34:2505–2518
Acknowledgments
We wish to thank Mrs. Mirjana Kralj for excellent technical assistance during experimental work and Blanka Krauthacker, PhD for valuable suggestions during realisation of this paper. This work was supported by the Ministry of Science, Education and Sports, Croatia.
About this article
Cite this article
Kožul, D., Romanić, S.H. Distribution of Organochlorine Compounds in Pine Needles Collected in Zagreb. Bull Environ Contam Toxicol 81, 339–342 (2008). https://doi.org/10.1007/s00128-008-9476-8
Received:

Accepted:

Published:

Issue Date:
Keywords
PCBs

Organochlorine pesticides

Conifer

Environmental pollution